Original URL: http://www.theregister.co.uk/2008/09/01/review_creative_zen_x_fi_16gb/
Creative Zen X-Fi 16GB media player
Burdened with a fair amount of frankly pointless functionality
Posted in Personal Tech, 1st September 2008 11:48 GMT
Review When details of the Creative Zen X-Fi PMP began to leak out, many thought it would replace the Zen Vision W. As soon as you get the X-Fi out of the box you realise this is not the case.
The Vision W had a 4.3in screen, but the X-Fi makes do with a mere 2.5in panel. So what we have here is an MP3 player with ideas above its station, not a fully fledged PMP.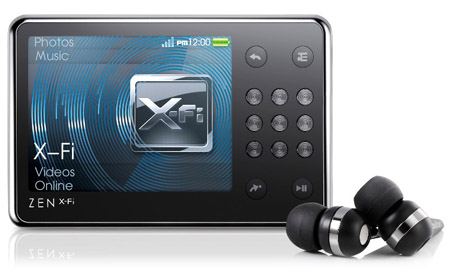 Creative's Zen X-Fi: loaded to the gunwales with gizmos
Creative seems to have decided that what we all want in a flagship product is a small-screen device loaded to the gunwales with gizmos, including Wi-Fi, instant messaging, a loudspeaker, an FM radio with 32 pre-sets though without RDS, a voice recorder, a calender, a to-do list and a contacts book. Phew. Of course, some would argue that many if not all those functions are largely unnecessary on a device whose main role is to play music and video.
Despite the function bloat, the X-Fi is still a small device, weighing in at 70g and measuring up at 55 x 83 x 12.5mm. It's pretty well made too, looking and feeling like a fairly high quality product. All the buttons work with a pleasant click, and SD cards slide in and out of their slot smoothly. They're flush with the casing when in place.
The exterior controls of the X-Fi are a little unusual with no less than 13 buttons on the front. The cardinal buttons of that 3 x 3 grid perform the same functions as the navpad on the Zen - previous/next track, volume up/down, skip forward/back etc - while the central button acts as an action key. That doesn't tell you what the buttons at the four corners are for - they come into play when you fire up the IM application, but more on that below.
Above and below the 3 x 3 grid are four more buttons - again largely as per the Zen – for play/pause/record, a user-defined shortcut key, options and menu/back. Tucked away around the back of the player is the on/off/lock switch. It took us a while to work out this was actually the power switch as well as the lock switch – the coin dropped only after an fruitless five minutes trying to get the thing to spring into life. Guess we should have read the instructions.
In everyday use, the main control buttons on the X-Fi are just - but only just - big enough not to became a major pain in the posterior. So the control array is an interesting idea that works reasonably well but one unlikely to spark a new trend in MP3 player command and control.
As, of course, Sony found when it tried the notion with its Vaio music player back in 2004.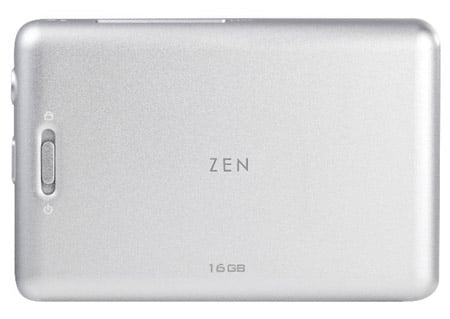 It took us a while to work out that the lock switch doubled as the power button
Continuing the external tour, the top of the player is home to the SD card slot and microphone. Around the right-hand side you will find a 3.5mm headphone jack and mini-USB port. At bottom is a narrow slot for the built in speaker.
An interesting and useful feature on the X-Fi is the fully configurable menu. If you never use a certain function, you can remove it from the menu tree. In a player with so much peripheral functionality this is a boon, as is the fact you can set the shortcut button to one nine pre-set functions including volume control.
Again, though, editing the menu isn't new - the iPod's had it for a while.
The only thing we don't like about the menu structure is that there is no easy or direct way to get back to the Now Playing... screen, this not being an option to set the shortcut key to.
The 2.5in, 320 x 240, 16.7m colour screen is largely the same as that found in the Zen. Allied to sensible background, text colours and sizes, and simple stylised graphics and icons it makes for a clear and easily read UI environment even in direct sunlight.
File support is resolutely middle of the road: MP3, WMA, AAC (unprotected), WAV and Audible for audio; JPEG for still images; and WMV, MPEG 4, DivX and XviD for video. Video formats have to be encoded to 320 x 240 and 30f/s or less to play, but the bundled Creative Centrale software suite makes a steady if slow job of transformatting – re-sizing a 660 x 272 .avi file of Star Wars: Episode III took a shade over an hour and ten minutes.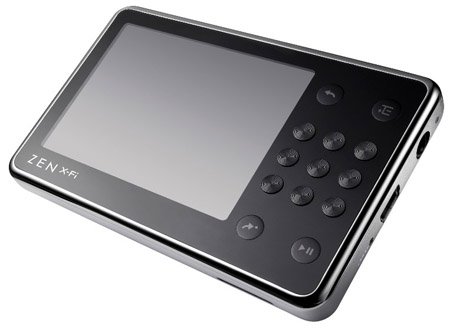 The 2.5in, 16.7m colour screen is much the same as that found in the Zen
Loading up content is straightforward for Windows users who can sync via any MTP media player app, the bundled Creative software or with drag and drop. Life is less easy for Mac and Linux users – our X-Fi refused point blank to show up as an MSC device on either nor could we find any way to set it manually to such. With the right hacks and libraries a workaround is doubtless possible, but that's not the point.
On the positive side, once loaded with media the X-Fi had no problems reading ID3 tags correctly or picking up album artwork.
Sound-wise the X-Fi is not at all bad though this is as much down to Creative bundling a more than decent set of earphones as anything else. The in-ear EP-830 'phones are not only very comfortable – and come with three sizes of rubber bud - but they also produce an excellent sound that is both well balanced and tightly focused.
Swapping to our - cheaper - Griffin TuneBuds, the X-Fi compared well to both the Sansa Fuze and Samsung P2, producing a clear and natural sound. As well as a nicely non-invasive set of EQ pre-sets and a Bass Boost setting that's best avoided, the Big Deal sound modifier on the X-Fi is the... X-Fi, which comes in two parts: the Crystalizer and the Expander.
Now lack of space and an unwillingness to bore the hell out of you all mitigates against us getting into too much detail about this first-time appearance of Creative's X-Fi technology in a mobile device, suffice to say that the Crystalizer is essentially a stereo widener which does a good job of opening up the sound-scape without making things sound too artificial, on either the "On" or "Max" settings. The Expander reinforces the lower frequencies, which often suffer from electronic stereo widening.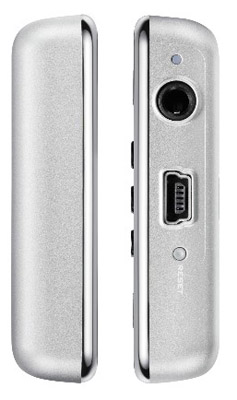 Re-charging is through the USB cable only
By way of test we listened to Kate Bush's Aerial - yup, both discs - and Sir John Barbirolli's glorious Berlin Philharmonic Mahler 9, and while the X-Fi didn't have us on our knees weeping for the beauty of it all neither did it have us wishing we were listening to another player.
Video play isn't bad either, being crisp and colourful, though the screen is rather prone to washout if viewed from much off 90°. In both video and audio playback, and irrespective of file size, the X-Fi is blessed with very a smooth and fluid fast forward/rewind facility that ramps up nicely the longer you hold the control down.
In its 16 and 32GB iterations, the X-Fi comes with Wi-Fi, albeit with pretty poor reception. It struggled to pick up a signal in the office and is the first device we've ever had a problem with there.
The WLAN allows the X-Fi to do three things most MP3 players can't. Firstly, it allows you to stream music from your Windows PC, either to listen to or download. This is a good idea and works well. Secondly, it allows you access podcasts from Creative's MediaBox, which again is a good idea and works well so long as you don't want to download and keep anything - and assuming Creative expand and update the available content. Thirdly, it allows you to chat with your chums over IM. This is a good idea, probably, but it works badly. Very badly.
To start with, you have to log in to Creative's own chat server. This in turn allows you to access your MSN and Yahoo accounts – AIM and Google Talk users are stuffed. So far, so good, if a bit ponderous. Where the idea falls flat on its face is trying to input text via the 3 x 3 keypad.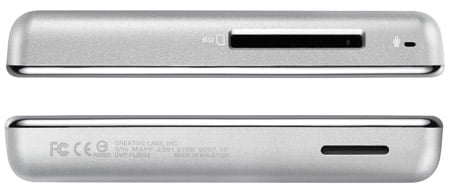 An SD card slot on top - the slot on the bottom's the speaker
You see, the 3 x 3 button array is used to navigate about a 3 x 4 virtual keyboard, the corner buttons allowing you to move from key to key diagonally. Once you have highlighted the relevant key the centre button lets you flip through the three letters, upper and lower case, and number that key represents. The problem is that navigating about the virtual on-screen keypad in this way is just a soul-destroyingly slow and clunky way of typing. Seriously, you can hack messages into rock using only a blunt soup spoon faster.
The X-Fi's SD card arrangement is another classic example of Creative hit and miss. Hit? It takes full sized SDHC cards which are a lot less hard to lose than their Mini and Micro siblings, and once plugged in you get a whole dedicated menu to manage it. Miss? Well, to start with the player's on-board and SD card storage are not on speaking terms so they don't combine seamlessly as they do on the Sansa Fuze, and bizarrely if you transfer data from the card, the X-Fi puts it into a folder that only recognises JPEG files.
We have to assume this last feature is a bug that a firmware update will fix – right now our test device has a Linkin' Park album sat in the transfer folder and as far as the X-Fi is concerned it doesn't exist. OK, that's not wholly true, we can see the artwork, but that's not really the point.
Just to make things a little more odd, if you want to download media to the X-Fi over the WLAN, it asks you where it should put the file. So why can't it do the same for files imported from a memory card? At the end of the day, the best way to handle the X-Fi's SD expansion is to use the card to store your videos – it's quicker to transfer video files directly to the SD card anyway – and leave the on-board storage for your music.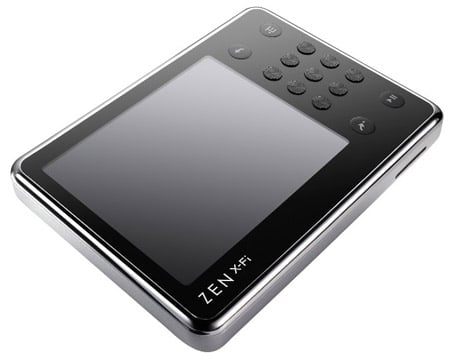 Despite the function bloat the X-Fi is still a pretty small device
Other minor niggles? Well, as soon as you unplug the headphones the speaker comes on, even if you have manually turned it off beforehand. The player has an annoying habit of switching itself off rather than going into hibernation if left unattended. It can't do two things at once: access your media server while listening to music and the music shuts down. While you can set up playlists, the procedure is Byzantine in its complexity.
Creative quotes a battery life of 25 hours of audio playback and five of video. With the WLAN off, the best we managed was 19 and 3.75, respectively. Use the wireless features constantly and you can reduce those numbers dramatically. Re-charging is through USB cable only.
The X-Fi starts at around £100 for the WLAN-less 8GB version rising to a rather dizzying £240 for the 32GB version and that's iPod Touch money, albeit for one with less storage. In between, you can get a 16GB version for £150.
Verdict
All in all, the X-Fi's a bit of a disappointment. The lack of storage integration, the odd controls and the truly hopeless text input system all combine to take shine off a decent looking and sounding little player.
It's hard to avoid the feeling that Creative have missed an open goal here by making the X-Fi so small. If it was broader and taller and came with a decent resolution 4 or 4.5in screen, we'd crawl over our dead grandmother to get one, superfluous applications notwithstanding.