Original URL: https://www.theregister.co.uk/2008/08/29/musk_cots_vasimr_iss_delivery/
Elon Musk might deliver new plasma drive to ISS
Private space couriers vie for NASA deliveries
Posted in Science, 29th August 2008 14:34 GMT
A high-efficiency plasma drive designed for faster interplanetary journeys may be lifted into space by a privately-developed launcher. The candidates for the job include PayPal zillionaire Elon Musk's Falcon 9 rocket.
Flight International reports today that Dr Franklin Chang-Díaz, former astronaut and inventor of the Variable Specific Impulse Magnetoplasma Rocket (VASIMR), has recently been in talks with NASA. Space-agency officials seemingly suggested that tests of a VASIMR unit at the International Space Station - previously hinted at by NASA chief Mike Griffin - would use a commercial launcher to deliver the plasma drive.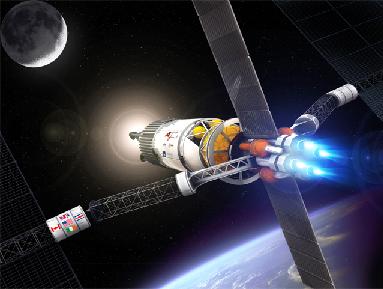 Using the Sun to get to the Moon. Credit: Ad Astra Rocket Co.
NASA has a so-called commercial off the shelf (COTS) programme, designed to secure its ability to supply the space station. Reportedly Chang-Díaz was told that any of the contending COTS designs - none of which have yet been tested - might take his brainchild up for its first orbital tests.
This might see the VASIMR travelling aboard Musk's Falcon 9, intended to follow the present Falcon 1 (which has now suffered three consecutive failures in three launches, though Musk appears undeterred). Alternatively, a Taurus II lifter from Orbital Sciences - the other COTS competitor - might be used. According to Chang-Díaz, the Japanese government's H-II cargo lifter might also be employed.
"We have a number of options, everything is on the table," the Shuttle veteran and MIT plasma physicist told Flight.
It wasn't specifically mentioned, but this would seem to suggest that VASIMR might even go to space aboard a "Jules Verne" cargo ship from the European Space Agency.
VASIMR itself isn't suitable for lifting payloads off the Earth, having too low a thrust-to-weight ratio. It comes into its own once outside the atmosphere, using electrical power to squirt out hydrogen reaction mass much faster than any conventional rocket can manage. This means that a given amount of fuel does a lot more work, and allows a VASIMR-driven spacecraft to do things which ordinary rocket jobs can't.
In the near future, the idea will be to test VASIMR's suitability for maintaining the ISS or similar low-orbiting spacecraft in suitable orbits, using electric power from solar panels. This would save a lot of manoeuvring fuel over the life of the given platform, and so economise on mass lifted to orbit - or permit more shifting about, which could be useful in some cases.
Chang-Díaz, however, has loftier goals for his technology. He says that, given enough power, it could deliver high levels of sustained thrust over the course of long interplanetary trips. At present, spacecraft making such voyages coast along unpowered for almost the whole journey, taking many months or even years to get anywhere. VASIMR, however, could drive a ship to Mars in just 39 days.
The snag is that a feasible amount of solar cells won't provide enough juice for this kind of application. Fast-travelling interplanetary plasma drive ships would need something with a bit more oomph. The only such thing currently available would be smallish nuclear reactors, according to Chang-Díaz, of the same sort used in submarines.
He'll probably have some trouble getting that kind of ship put together, however. Nuclear power has been used in space for generations, but almost always by top-secret spy satellite programmes. On those few occasions where nukes in space have been public - as a VASIMR Mars ship would be - they have drawn especially strong protests. Perhaps in acknowledgement of this, Chang-Díaz has also suggested that his drive could usefully make solar-powered flights to the Moon, carrying more cargo than ordinary ships of the same mass (see pic).
Before he even starts thinking about that kind of thing, though, Chang-Díaz needs to get his first basic test unit into orbit. NASA plainly has no room for it on the remaining Shuttle flights, so if it's to happen soon he needs the COTS private space-delivery programmes - or Japan, or Europe, or someone - to come good.
The Flight report is here. ®