Original URL: https://www.theregister.co.uk/2008/08/29/emc-blogger-attacks-netapp-and-hp/
EMC blogger tears into HP and NetApp
Incoming, incoming, white papers alert
Posted in The Channel, 29th August 2008 14:16 GMT
EMC has set out to rubbish its competition on storage capacity efficiency and claimed its new CX4 array is much more efficient than HP and NetApp arrays.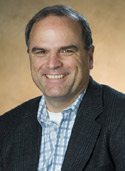 It's EMC's VP for Technical Alliances, Chuck Hollis, who is blogging on this topic and not some engineer shooting his mouth off. So we should take it seriously, more so as he says white papers on the topic are coming. Those NetApp guys should never have submitted the EMC CX3 kit to an SPC-1 test which EMC refused to do. Natch the result showed that the FAS 3040 out-performed the CX3. That rankled with EMC.
Payback Time
Hollis had his guys run up a storage capacity efficiency model, asking what an array would need to deliver 120 x 146GB drives, meaning 17.52TB, of usable storage. They took a mid-range'ish view here, and configured EMC, HP EVA and NetApp FAS arrays for an Exchange application with as equivalent as possible allowances for hot sparing, snapshot reserve space, RAID parity space and internal management overhead. This would be applicable to general database and SAP applications but not to file serving, backup to disk or decision support-type applications.
Okay, the bad news first. The CX4 is dreadful. To deliver 120 x 146GB drives of usable space they needed 171 x 146GB drives, meaning 24.966TB of raw capacity. The darn thing needs 30 per cent of this leaving 70 percent for the users. So it's efficiency rating is 70 per cent.
Now the really good news, for EMC that is. HP and NetApp are just so baaad.
HP's EVA needed to have 254 x 146GB drives, meaning 37.084TB raw capacity. It needed 53 per cent of this space for its own resources leaving just 47 per cent available for users. Ouch. EMC is 150 per cent better.
But NetApp, and here's the big time payback coming, the NetApp FAS array needed 357 x 146GB drives, meaning a huge 52.122TB of raw capacity. It used up 66 per cent of this space for internal needs leaving a miserly 34 per cent available for users. EMC is 200 per cent better.
EMC helpfully points out that all these internal use-only drives have to be powered and cooled, making EMC the greenest storage provider of the three.
Mr. Hollis kindly provides the HP and NetApp configuration material links for this exercise and assures both HP and NetApp that he'll gladly change the numbers if they provide more accurate information that applies to his Exchange use case guidelines. Isn't he helpful!
This is such a highly aggressive and provocative EMC way of marketing against the competition. HDS and IBM must be in the firing line for this too. Maybe a pre-emptive strike is called for? ®