Original URL: https://www.theregister.co.uk/2008/08/27/review_nokia_6210_navigator/
Nokia 6210 Navigator phone
Modest GPS-enabled mobile from Nokia
Posted in Personal Tech, 27th August 2008 11:02 GMT
Review The upgraded successor to last year's 6110 Navigator, the 6210 is a tidy slider-design handset, bearing more than a passing resemblance in looks and specs to the recently-launched 6220 Classic.
It's another of Nokia's S60 3.2 smartphones, packing in much of the functionality and applications found on Nokia's higher-end N series. While high-speed HSDPA 3G mobile data connectivity is in, though, Wi-Fi is out on this model.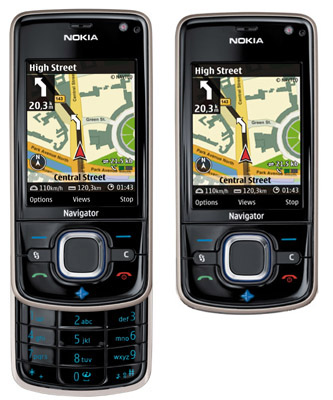 Nokia 6210 Navigator: equipped with HSDPA 3G, but no Wi-Fi
The main camera is a 3.2-megapixel affair with autofocus, a step-up from the original 6110 Navigator's rather ordinary two-megapixel snapper, though a notch below the 6220 classic's snazzy five-megapixel Carl Zeiss-branded shooter.
Satellite navigation is the zoom-in feature though. Following its recently completed multi-billion dollar purchase of Navteq, there's no mistaking that Nokia is getting seriously serious about location-finding phones.
The Assisted GPS (A-GPS) set-up on the 6210 Navigator works with pre-loaded Nokia Maps software, and Nokia supplies a 1GB Micro SD card in the box containing maps of the UK and Ireland. In addition, Nokia includes a six-month licence for its Drive and Walk step-by-step navigation package, providing voice guidance to go with standard on-screen route planning and mapping.
A solid rather than ultra-slim slider design, at 117g the 6210 Navigator feels comfortably weighty in the hand without being too bulky – it measures a reasonable 103 x 49 x 14.9mm. Its slider mechanism is smoothly weighted too, and its glossy plastic numberpad and control panel feel responsive to finger dabbing.
The slide out keypad is well spaced and springy without being creaky, while the slightly concave control area under the display helps separate the buttons and raise the large, ridged D-Pad and menu button slightly proud of the panel. Under this navigation key is a blue compass-shaped Navigator button, for activating the Nokia Maps system.
Screen legibility is important if you're looking at maps, and the display used here is a decent-sized 2.4in screen, a bright and clear 320 x 240, 16m-colour affair. It's not as big as most touchscreen phones, or a standalone in-car satnav, but it does the job.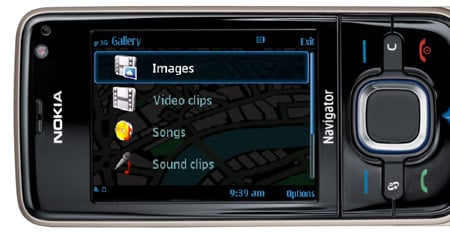 An accelerometer provides motion-sensing orientation of the display
Inside the phone, an accelerometer provides motion-sensing auto-orientation of the display depending how it's being held. It works during menu operation and a number of other features, including the browser, RealPlayer video player, image gallery, music player, and one of the installed games.
The 6210 Navigator's menu system is a typical S60 set up, with half a dozen user-definable shortcut options lined up as icons on the top of the standby screen, plus soft-menu shortcuts. The main menu and sub-menus are busy, with plenty of applications and options to play with, but the phone responds quickly to button tapping, even when several applications are open at the same time.
The most direct route to the Nokia Maps application is via the blue Navigator key. Tap the star-shaped button, and the headline A-GPS system kicks in. Nokia Maps starts up, and usually within 30 seconds we'd found our precise location pinpointed on the map. It can take longer – Nokia reckons between a few seconds and several minutes – depending on where you are, but in our tests it was a pretty consistent and trouble-free process, much as it was with the N82 and 6220 Classic.
As well as the A-GPS technology, there's a compass mode that you can calibrate with some flicking of the wrist. Designed to help pedestrians, this orientates the maps automatically to match the direction you're looking in.
Nokia Maps 2.0 is now a user-friendly and intuitive way of finding your way around. As well as being able to search and find addresses by road name of postcode, view them on the map and plan paths to them, you can search for businesses, entertainment venues, restaurants, services, tourist sites and so on. It's a quick and efficient system - routes and favourite locations can be stored, and route instructions sent to other phones as messages.
With Drive and Walk activated you can get turn-by-turn voice guidance as you drive along. It looks good too, with the main viewpoint similar to what you'd expect from standard in-car satnav, with 3D and 2D views, night view options and simple turn only arrow option. Satellite views are also available, for a Google Maps-style overview.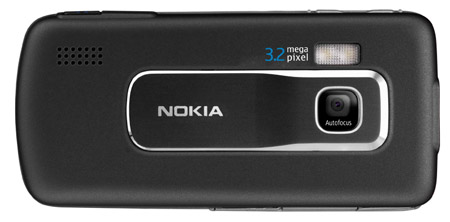 The 3.2-megapixel snapper: good, but not great
On the road, the satnav guidance system worked efficiently, locking firmly onto satellites as it was moving. Map transitions were smooth. The cranked-up loudspeaker was loud enough in the car for voice instructions to be audible.
In addition to the voice guidance package, Nokia offers add-on extras you can buy, including Lonely Planet city guides and traffic updates. While the Nokia Maps application will update mapping info over the air when you go outside of your preloaded map area, you can cut data costs by downloading other country maps using a PC and the supplied Nokia Map Loader software.
If camera quality is an issue in your buying decision, the 6210 Navigator doesn't press all the high-end buttons Nokia's five-megapixel Carl Zeiss lens snappers do - but it's not bad.
The main 3.2-megapixel sits on the back panel - there's a secondary front facing low-res camera above the display for 3G video calls - and clicking the camera button on the side of the phone auto-rotates the screen viewfinder into familiar horizontal mode. The phone has an LED flash rather than the more precise and powerfully illuminating xenon option used on Nokia's top shooters.
Still, the autofocus camera works well enough, putting in a decent shooting performance. It can capture acceptably detailed images and is pretty good too at close-up range. Colour rendition was generally good, though the auto metering system sometimes produced slightly washed out tones in certain lighting conditions. The performance though was overall fine for a cameraphone at this level, and there's room for adjusting settings pre-shooting plus basic picture editing software inside.
In addition, Nokia provides a Share Online application to help upload images directly to image and video sharing sites, including Flickr and Nokia's own Ovi portal. Video footage can be uploaded too: the 6210 shoots at maximum 640 x 480 quality, but at 15f/s, the results aren't particularly impressive.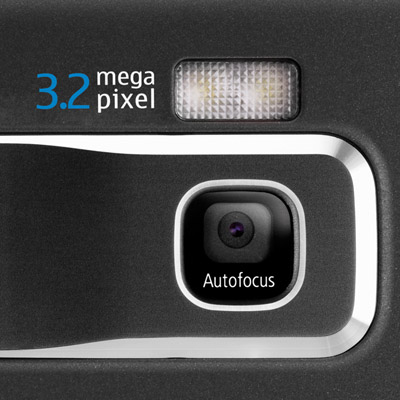 The autofocus works puts in in a decent performance
There are typical Nokia S60 music and video applications on board. The RealPlayer application can play full-screen downloaded clips or PC-transferred video smoothly, while the music player is set up for no-hassle handling. Tracks are arranged with the usual sort of categories and playlist options, and the navpad provides player controls.
The earphones boxed with the 6210 Navigator produce are underwhelming, however. You can improve audio quality considerably by adding higher-quality headphones - but you'll first need to source your own 2.5-to-3.5mm jack adaptor. It would've been much better if Nokia had just fitted a standard 3.5mm socket, as it does with others in the range.
Getting music onto the phone follows the usual procedure: you can sync with Windows Media Player or Nokia Media Manager. Alternatively, you can drag and drop tracks with the 6210 in mass storage mode, or Bluetooth tracks across. Some 120MB of user storage is available on the phone, and you can use some spare capacity of the 1GB MicroSD card supplied. Our sample had around 750MB free.
Nokia Music Store is supported on this phone, so you can buy and download DRM-protected tracks over HSDPA, or tunes and videos from your mobile operator's music service. You can also download podcasts over the air, though be wary that data charges will apply if you haven't got an inclusive deal. A Nokia Podcasting application can be used to find and subscribe to podcasts. The FM radio offers another, no-cost way of supplementing your audio entertainment.
The high-speed mobile connectivity gives a boost to the 6210's browser, as well as speeding up online Nokia Maps searches. The full web browser is pretty speedy at pulling up sites, and offers a choice of page rendering, including full page or mobile-optimised views, plus MiniMap page, pan and zoom options, and a toolbar for certain options. It's a familiar Nokia smartphone experience, in fact.
The phone supports RSS feeds too. In addition, Nokia has included its own WidSets web-based widgets application, and pre-loaded the Yahoo! Go all-under-one-app email, info and web-services application.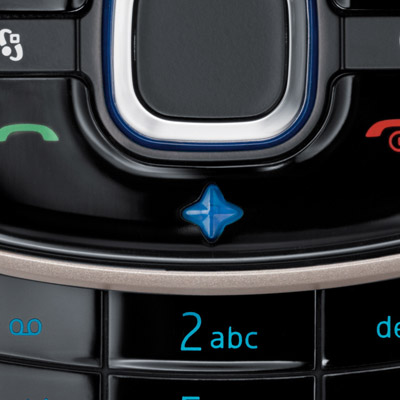 Press the blue star key for satellite navigation
The 6210 Navigator does come with a healthy amount of standard issue gear. The organiser features include calendar, notes, convertor, calculator, clock and alarm functions, plus voice recorder. Document viewers from QuickOffice and Adobe can open files copied over to the phone or received as email attachments, and there's a neat dictionary that works with the on-board text-to-voice message reading function to pronounce words aloud.
Nokia estimates the battery life on this handset to vary between 3-5 hours of talktime, depending on whether it's being used on a 3G or GSM network. It reckons on an optimum standby time of 231-244 hours, again depending on network. Limiting our satnav route finding, we managed a couple of days between charges with our typical usage patterns.
But as with any GPS-packing phone, sustained use of the satnav function will reduce battery power considerably quicker than normal phone use, and real-life power performance will depend on how heavily this – and other multimedia functions - are employed. If you're using it for on the road navigation, we'd suggest getting a car charger.
Verdict
The 6210 Navigator is another attractively equipped GPS-enabled mobile from Nokia. It may lack the Wi-Fi connectivity and camera quality of some high-end Nokias, but it has a very decent mix of S60 smartphone functionality, high-speed HSDPA connectivity and user-friendly satellite navigation capability. It's a sound, mid-range phone that has plenty of appeal.