Original URL: https://www.theregister.co.uk/2008/08/27/nvidia_budget_gpu/
Nvidia rolls out budget GeForce 9 chip
Low, low cost
Posted in The Channel, 27th August 2008 08:34 GMT
Nvidia has introduced its latest GeForce 9 graphics chip, punting the part as an ultra-low cost alternative to integrated GPUs.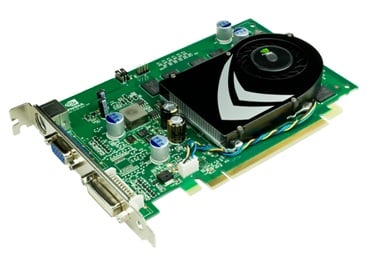 Nvidia's GeForce 9400 GT: cheap, cheerful
The GeForce 9400 GT is expected to appear in cards costing as little as $59 (£32/€40). That buys you just 16 unified shader pixel-processing cores, all running at 1400MHz while the GPU as a whole ticks over at 550MHz. That's good for 4.4bn texels per second of graphics processing power.
The GPU supports a standard complement of 512MB of memory connected over a 128-bit bus and clocked to 400MHz.
Cheap the 9400 GT may be, but it still supports HD video codecs and Nvidia's PhysX physics processing technology. It'll support HDMI through an adaptor connected to boards' DVI ports, with sound routed through an SPDIF link.
Nvidia said the GeForce 9400 GT is available now from the usual suspects.