Original URL: https://www.theregister.co.uk/2008/08/27/boffer_usb_fornication_optimizer/
UK etailer punts bovine coitus thumb drive
'A niche market'
Posted in Policy, 27th August 2008 01:55 GMT
An army of online deal seekers has called for a boycott of Boffer.co.uk, after the "daily deal" site fooled them into coveting a non-existent bovine sex device.
With each new day, Boffer offers up a single "amazingly low priced" piece of consumer merchandise, and late last night, at 11:59pm Greenwich Mean Time, it tempted inveterate penny pinchers with a brand new and completely free "USB Fornication Optimiser":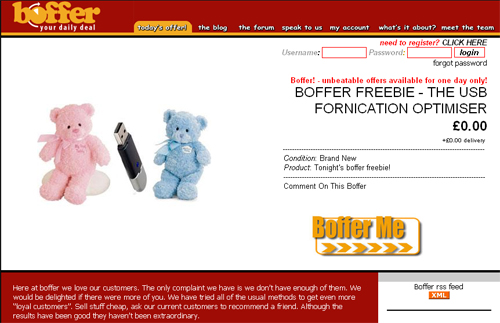 Last night's Boffer offer
In a lengthy open letter posted to its home page, the company called on loyal customers to reproduce themselves. "Here at boffer we love our customers. The only complaint we have is we don't have enough of them," it read. "Since kidnapping people and forcing them to buy stuff off us is a bit extreme, we have decided that you guys will have to help us by manufacturing new customers...
"With this in mind, we have teamed up with The Shenzhen Cattle Breeding Company to launch by way of a freebie (that's right at no cost to you) a brand new product...We bring you THE USB FORNICATION OPTIMISER."
This specialized thumb drive, the company explained, "helps reduce the time it takes to conceive your baby."
Judging from the sale-happy forums over at MoneySavingExpert.co.uk, hundreds of deal seekers immediately ordered the free sex facilitator - despite the accompanying disclaimer: "This product was originally produced for cattle, [but] the manufacturer assures us that with their modifications, it will now work on humans. We can take no responsibility whatsoever if it doesn't."
Those deal seekers include one loyal Reg reader - who prefers to remain nameless. Just seconds after hitting that "Boffer me" button, he received an e-missive from the company offering to "upgrade" his free USB Fornication Optimiser for "something much better." All he had to do was click on an embedded url. Naturally, he did, and this took him to YouTube, where he was presented with a late-80s dance pop video:
If this makes little sense to you, we won't attempt to explain it. Suffice to say, there is no USB Fornication Optimiser.
Some deal seekers were extremely disappointed. "I thought it was a useful tool for people trying to conceive," writes one net poster. "Although you can get the same on one of the fertility websites. It says it comes with test sticks, which are presumably ovulation test sticks, which can be expensive, so I thought it was a good freebie all be it for a niche market."
But many more are calling for a worldwide Boffer embargo. "I have emailed them about it," says another. "I think it very cruel to find amusement in what can be a very difficult emotional, physical and mental time for some people."
Presumably, she means Rick Astley - a man condemned to life as an internet meme. ®