Original URL: https://www.theregister.co.uk/2008/08/25/review_advent_4211/
Advent 4211 mini notebook
Dixons tempts with cut-price Wind
Posted in Personal Tech, 25th August 2008 08:02 GMT
Review OK, so the Advent 4211 is MSI's Wind, sold under a different name, in this case DSG's in-house PC brand. But it's worth a look because of a couple of differences, most importantly the price.
As the original notion of the Small, Cheap Computer, as embodied in the Asus Eee PC 701, has grown to take in bigger screens, better touchpads, faster CPUs, Windows and hard drives, the price has inevitably gone up.
MSI wants £329 for the Wind, which is clearly the wrong side of the £300 barrier. Some would even argue that that's too much, and £200 should be the maximum SCC price point. Now that the original Eee can be had on special offer for well below that, why opt for a well more expensive Wind?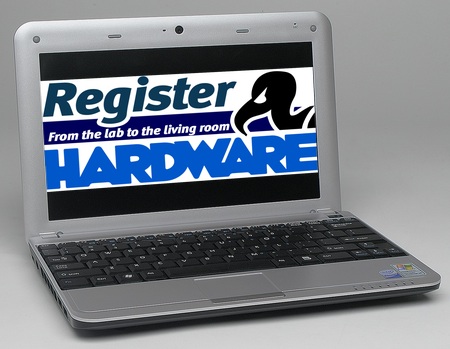 Advent's 4211: Wind, cheaper
Well, the 4211 means you can have one without paying that much. PCWorld and other members of the chain formerly known as Dixons have priced the 4211 at £280, which brings it a lot closer to the SCC ideal.
For your money, you get Intel's 1.6GHz Atom N270 processor - as per the Acer Aspire One (AA1), the Asus Eee PC 901 and its later stablemates - 1GB of DDR 2 memory and an 80GB hard drive. You also get Windows XP SP3, but since this boy is cheaper than the Linux version of the Wind, you're still saving money if you choose to install Ubuntu instead.
The 4211 sports a bright 10.1in display, but the resolution remains the customary 1024 x 600, so the image is simply bigger than the one on the 901 or AA1, not of a higher resolution.
A larger screen means a bigger chassis, and the 4211 takes advantage of this to offer a bigger keyboard than even the AA1 and to locate the touchpad buttons in the right place - below the pad, not either side of it. For us, that makes using the 4211 without a mouse a goer, something we wouldn't care to do with the AA1 or the original Eee.
That said, while our review unit came equipped with a Synaptics touchpad, many shipping units use Sentelic pads. It's claimed that most of the demo models on show used the superior Synaptics pad.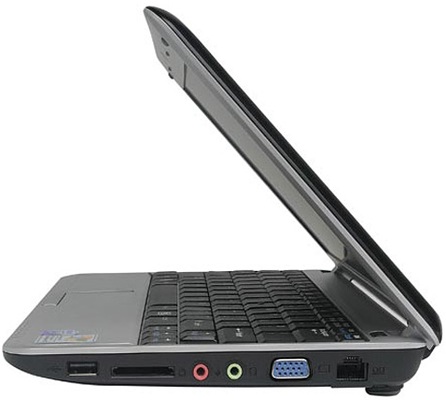 Standard SCC port array
This may be an issue if you want to install Linux - Sentelic pads aren't as common as Synaptics ones, so the driver support may not be as solid. On Windows, the new pad is said to be very sensitive, with movements often mis-read as a click. Tap-to-click can't be disabled. Some forum posters complain about the lack of a speed-scroll option too, but that's less of an issue, we feel, lack of features being less important than having features that work.
We asked DSG about this, and the company would only say that "there are no planned changes to the current model in the forseeable future". Alas, that doesn't tell us anything useful, so this is a true caveat emptor situation.
Our advice: ask to have the box opened and try before you buy. We're not saying there's a problem with the Sentelic pad, only that we haven't tried it and a fair few folk don't appear to like it. It may be fine for you, however.
The 4211's keyboard has a little flex, but it's reasonably solid and, because of it's size, good to type quickly on. It's way better than the smaller Eee keyboards in both size and feel, though there's not really that much to choose between it and the AA1's similarly Eee-beating keyboard.
One of the other things we like about the AA1 is its secondary SD card slot, used specifically to extend the on-board solid-state storage. With an 80GB hard drive on board, you don't need that with the 4211, though it to has a primary SDHC slot for file exchange. That said, we don't like the extent to which an inserted card still pokes out.
Back to the hard drive, and while it's not entirely in the true SCC spirit, it does bring an advantage beyond sheer capacity: it's faster than most of the SSDs fitted into low-cost laptops today. Our PCMark05 results show that graphically, but we found the 4211 to be generally more responsive than SSD-based SCCs we've used.
PCMark05 Results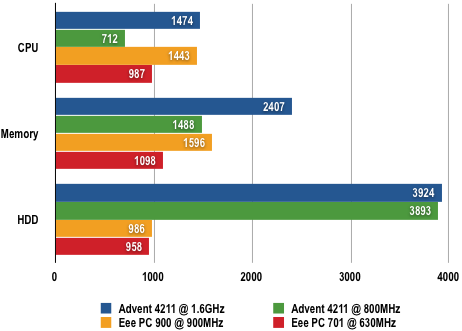 Longer bars are better
Installing apps is much quicker and, with Windows at least, there's no need to pare it back or to switch off Virtual Memory's page file, either for space reasons or to reduce unwanted writes to your SSD. An HDD also gives you room to hibernate the machine for fast restarts and reduced power loss when you're not using the machine.
Oh, and there's room for a back-up partition too, which Advent's put in place if you need to nuke and pave your system.
Yes, an HDD is more susceptible to drops than SSDs, but it's nice not to have to worry about having enough room for apps as you do on 4GB and even 8GB systems. Though, warranted, that's far less of a worry with Linux.
In addition to PCMark05, we ran our usual SCC benchmark using The Gimp's Gaussian Blur filter on a big image. The 4211 yielded a time of around 7.1s, neck-and-neck with the AA1 and a couple of seconds faster than the Eee PC 901's best speed setting.
Gimp Test Results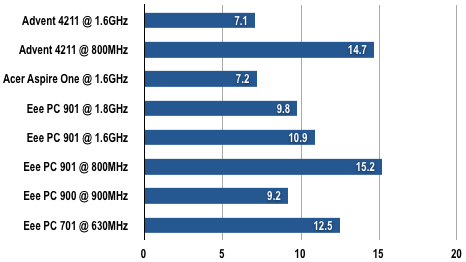 Time in Seconds
Shorter bars are better
Like the 901, the 4211 has a battery boost mode too. Press Fn+F10 and it underclocks the CPU to 800MHz, the better to eke out the battery's charge. You can see the performance to battery life balances these settings provide in the charts.
Battery Test Results
Time in Minutes
Longer bars are better
Note that the Wind used had a six-cell battery - the Advent tested had a three-cell power pack.
All these tests were conducted with Wi-Fi on, the screen set to maximum brightness and the sound at 50 per cent. We played a standard definition H.264 file using the VLC media player until the battery died. For more casual use, we reckon you can add an hour or so onto our timings.
Note that the 4211's 800MHz mode also drops the screen brightness considerably, but we turned the backlight back up for our test. The results show that the slower clock speed didn't make much difference to the battery life. Which goes to show how much more the screen and drive contribute to a laptop's overall power consumption.
Keeping the screen dimmed as per the power-saving setting saw the battery life rise to 108 minutes. Better, but not fantastic.
The 4211's fan runs frequently, but since we found it to be very quiet we didn't mind, and it kept the machine barely warm to the touch.
Another advantage: the 4211 comes in sober black and metallic-grey colour scheme rather than the more bright kid-friendly colours sported by the Wind. Why did so many SCC makers settle on shiny white as the standard? Ugh...
Beyond that, the 4211 ticks all the correct SCC connectivity boxes: VGA, 10/100Mb/s Ethernet, audio ports, 802.11b/g Wi-Fi and a trio of USB 2.0 ports. Unlike many of its rivals it has Bluetooth on board, if you need it. The webcam is a 1.3-megapixel job.
Downsides? The 4211's AC adaptor is a little on the large side and since the battery life isn't out of this world, this is a piece of hardware you are going to have to carry around with you. The 4211 itself is the wrong side of a kilo, though we found it no less portable for that.
There's no easy way into the 4211 beyond taking the back plate off, a process that involves removing nine screws and unclipping one half of the casing from the other.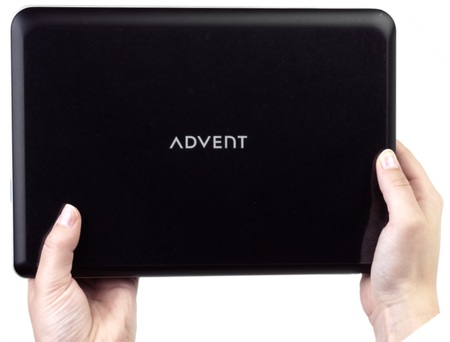 Sober styling
It's the same price as Acer's version of the One that comes with a 120GB HDD and Windows XP but only has 512MB of memory. If you want a 1GB AA1, it'll cost you around £300. Given an SCC should be used as a secondary machine, not your main laptop, we'd rather have the memory than the extra hard drive capacity, so we'd chose the 4211 over the HDD-equipped AA1 any day.
That's if you must have Windows - if you're happy with Linux, go for the AA1, it's cheaper still, especially if you storage capacity is not an issue for you. It's also physically smaller
We haven't had a chance to have a play with the Eee PC 1000 series yet, so we can't comment on how well the 4211 stands alongside it. But since the comparably specced 1000H costs £70 more than the 4211, we'd almost certainly forego the latter's 802.11n Wi-Fi - the 4211 has 802.11g, which is usually sufficient. We reckon you'll soon be able to buy an extended battery for less than that.
Verdict
If you like your Small, Cheap Computers to be not too small, the Advent 4211, with its 10.1in display, will appeal. So will its price, which puts it well ahead of the similarly sized competition. But watch out for that touchpad, OK?