Original URL: https://www.theregister.co.uk/2008/08/22/review_asus_m930_windows_smartphone/
Asus M930 Windows Mobile smartphone
Built like the proverbial brick dunny
Posted in Personal Tech, 22nd August 2008 11:08 GMT
Review Asus has clearly decided that if it can't distinguish its phones from others in the market by way of software or styling, it'll do so by forging them out of solid granite.
We thought the P750 was a well bolted together bit of kit. However, it feels like a badly assembled Airfix model next to the M930, a device that you could easily use to bludgeon whales to death with.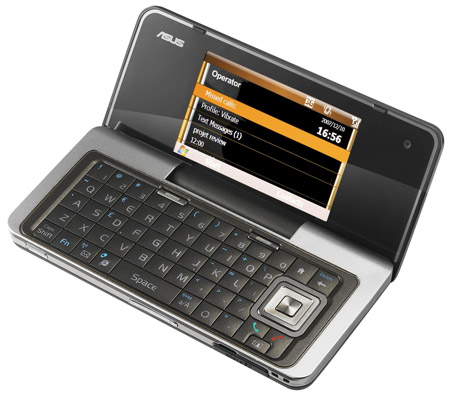 Asus' M930: solid as a rock
One thing the 930 isn't is light. It weighs in at 158g so you'll know you have something in your pocket - and, as it measures 113 x 54 x 19mm, so will everyone else.
Still, all that bulk does contain a decent enough specification, with the 930 packing in 3.6Mb/s HSDPA 3G, tri-band GSM/GPRS/Edge, 802.11b/g Wi-Fi, A2DP Bluetooth stereo streaming, a Micro SDHC slot, a two-megapixel camera and 256MB of storage. What really separates the 930 from the herd are the screen and keyboard.
Sorry, screens and keyboards plural - it has two of each.
If the handset itself looks a little generic, the plastics and metals used to construct the subtle grey, black and silver casing and chassis are top drawer. Everything about the 930 feels well made and solid, and we suspect it will stay looking good no matter what's thrown at it. Even the plug for the Micro SD slot clips into place with a satisfying snick.
The 930 is driven by Windows Mobile 6 Standard. With no pretensions to touchscreen jiggery-pokery this may be the most usable of the current iterations of WM. It's certainly faster and more stable than its Professional siblings and just gets on with the job in hand without trying to be an iPhone. Of course, the flipside of all this is that it's also as dull as dishwater, but you can't have everything.
Out front, you have a regular numeric keypad along with the usual main menu and backtrack keys, soft-menu buttons, and answer/end keys, the latter all flanking a rather fine and extremely well calibrated metal navpad. Above them all is an unremarkable though nicely bright and colourful 2in, 400 x 240, 65,536-colour screen. So far, so work-a-day.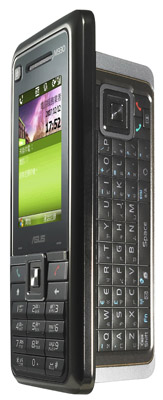 Nokia E90 inspired?
Prise the 930 open about the finely crafted left-hand hinge and things get more interesting. You're presented with a full Qwerty keyboard and 2.6in, 400 x 240 screen - again with 65,000 colours - and a VGA camera for 3G video calls.
The quality of the keyboard is fully deserving of an encomium. To start with, the hinge mechanism allows the screen to fold slightly back and under the lower half of the device so when laid on a flat surface the keyboard is canted up at about 20° from the horizontal, the screen at about 25°.
The keyboard has a lot stuffed into it too. On top of the usual Qwerty layout you also get a full numeric row; a decent spattering of dedicated function keys, including a Home key and a handy Mode button that cycles through five shortcuts; a duplicate of the front navpad; an action key; and call/end keys. When the phone is open these latter automatically fire up the speaker phone, which we found useful.
All in all, it's a bit like an HTC TyTn, just a little better. If we have one caveat it's that the main screen looks just a little lost – it may be 55mm side to side, but the black faceplate it is set into is over 105mm side to side.
For a handset equipped with such a great keyboard it's a little strange that all you get bundled are ClearVue viewers for Excel, PowerPoint, Word and PDF files rather than applications to create them from scratch. Actually scratch that, it's not strange, it's perverse, and Asus deserves a major rap on the knuckles for it. A Qwerty keyboard, but no word processing application? What was it thinking?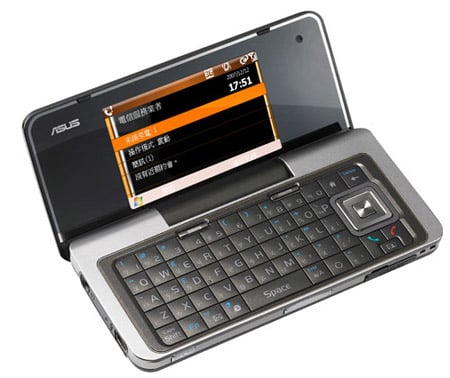 Inside, a full Qwerty keyboard and 2.6in screen
Like the 750, the 930 comes with a Micro SD card slot that is stated as good to go with HC cards. Unlike the 750, the 930 actually worked with an HC card, which was nice.
The camera is a pretty humdrum two-megapixel unit that lacks even autofocus and so does what you'd expect looking at the spec, but not a jot more. Asus only goes half the way with the headphone jack: yes there is one, but it's 2.5mm rather than 3.5mm.
There's better news on the battery front: the 1100mAh unit that lurks up the 930's back passage proved capable for solid two days' operating between charges even with pretty heavy phone usage and intermittent use of both the Wi-Fi radio and Bluetooth.
Asus' official figures quote four hours of talk time and 200 on standby, which seem plausible enough. Either way, it's one of the better-performing Windows smartphones on this front.
We had no complaints when it came the day-to-day usage, the 930 sounding clear as a bell and having no problems holding onto cellular or Wi-Fi signals.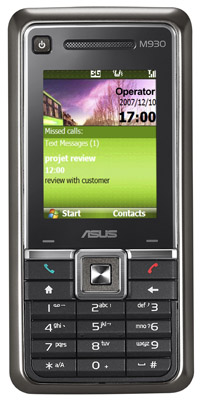 No touchscreen jiggery-pokery here
The M930 comes bundled with a pretty cheap pair of headphones and a rather swish faux-leather belt-fitted carry case. Alas you have to undo your belt to slip it on - in our book no mobile phone holder should require the partial removal of your pants in order to use it. Folk get arrested for far less in Brown's Britain.
Finding the M930 on contract may take some doing. We tried and came up empty handed, but Expansys, for one, is knocking them out for £330 unlocked. Google's Froogle lists others.
Verdict
As we expected after looking at the P750, Asus' M930 is a solid, well built and thoughtfully designed smartphone. If little is broken by way of new ground, the excellent keyboard and nicely executed hinge mechanism go some way to distinguishing the Asus from the competition. It's a shame about the lack of a decent Windows Mobile office suite, though - that could be a deal breaker.