Original URL: https://www.theregister.co.uk/2008/08/21/review_acer_aspire_8920g_934g64bn/
Acer Aspire 8920G 18.4in laptop
Does a video-friendly 16:9 screen make any real difference?
Posted in Personal Tech, 21st August 2008 11:02 GMT
Review Acer is just one manufacturer vying for our attention amid the furore over the new netbooks, and it's hoping the Aspire 8920G will re-interest us in full-size laptops.
Those of you lamenting the industry's switch to a widescreen 16:10 aspect ratio from the old, squarer 4:3 should look away now, as the 8920G's USP is the use of an even wider 16:9 display. Unfortunately for those not fond of widescreen panels, it's a feature that's about to be rolled out across the industry. Unlike the change from 4:3 to 16:10, where screens simply became larger, the new panels lose vertical pixels, with a maximum of 1080 pixels currently available.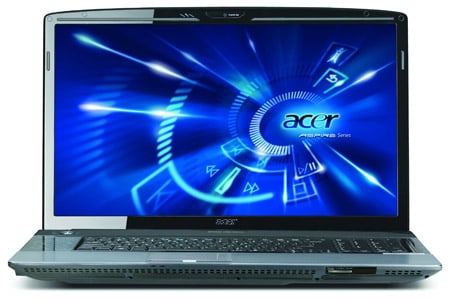 Acer's Aspire 8920G: 18.4in, 16:9 aspect ratio display
The 8920G's screen has grown to a massive 18.4 inches, the better to highlight HD content played back on its 1920 x 1080 resolution - spot on for 1080p content. Even upscaled DVD material plays back without the letterbox black bars on the top and bottom of the display thanks to the 16:9 ratio.
There's no arguing with the quality of HD content on the Acer, and pin-sharp details make it a good laptop for watching your DVDs too. That said, many 17in 1920 x 1200 (WUXGA) panels offer an equally impressive viewing experience.
As with nearly every consumer laptop, the Aspire has a glossy coating, suffering from the usual reflections in direct sunlight, but bright and vivid in other conditions. Most colours, along with blacks, are recreated faithfully, although greens appeared slightly over-saturated, we felt. The screen can show 16.7m colours - many laptop panels only do 260,000-odd - using them to display 90 per cent of the colours within the RGB gamut.
Rather than any increase in usability or quality, the most noticeable aspect of the 18.4in screen is its sheer size. Where some 17in laptops,– such as the bigger of Apple's two MacBook Pros, retain an element of portability, the ultra-wide Acer is definitely going to be deskbound. You'll do well to find a laptop bag it'll actually fit in.
So you know, the whole thing weighs 4.1kg (9.05lbs) and measures 414 x 300 x 40-44mm. Compact it ain't.
Although the display restricts mobility, it does result in one of the most spacious chassis' available, with enough room to fit a full-sized keyboard and numeric pad alongside. The keys feature a tactile rubber-like finish, and a quiet typing action creates a sense of quality. With so much width on offer, it's a shame the number pad is right next to the main board, rather than slightly apart from it, making it easier to clip by accident when typing at speed.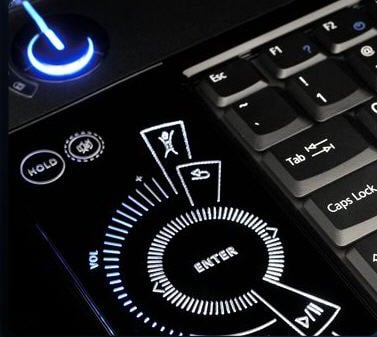 Make way for CineDash
Part of the reason for its close proximity is because the left-hand side of the chassis is taken up by Acer's oversized CineDash control – a "capacitive human interface device", according to the company's bumf. It's actually a set of back-lit touch-sensitive buttons for controlling media playback – providing you use Acer's own player app to do so. It doesn't support other programs, such as Windows Media Player. Beauty is definitely in the eye of the beholder, but we found it garish and fussy, and it ruins what is otherwise a cohesive and tidy design.
A cylinder at the rear of the laptop incorporates the screen hinges and a sub-woofer. It's part of Dolby's 5.1 Home Theatre sound setup, which includes a couple of speakers in the panel above the keyboard and two more on the front of the chassis. We found sound quality to be reasonable – it's certainly an improvement on most laptops' tinny, two-speaker sound - but we'd still be tempted to hook a set of external speakers when watching films.
Networking features sit on the left-hand side of the machine – with a modem socket and Gigabit Ethernet in place. Wireless connectivity comes in the form of 802.11n Wi-Fi and Bluetooth.
Those wanting to connect external displays can do so using the VGA port, and HD content can be sent out over HDMI. Audio options include line-out, a microphone and SPDIF sockets. You'll also find two USB ports. The power connection is neatly integrated into the outer side of the cylindrical hinge.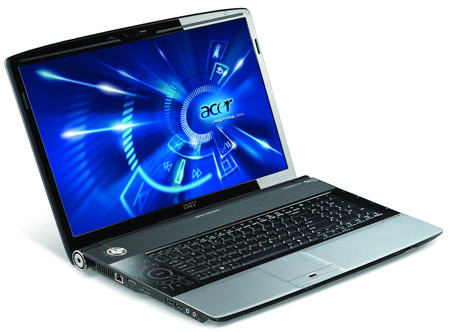 All the networking ports are on the left side
A further two USB ports sit on the right side of the Aspire, along with an ExpressCard 54 slot and a Blu-ray Disc drive that doubles up as a multi-format DVD writer.
Speakers aside, the only feature on the front of the laptop is a media card reader, stated as being capable of supporting SD, MMC, MMCplus, MS, MS PRO and XD. We also had no trouble with SD HC cards.
The rear of the Aspire is free from ports, as it's covered by the bottom of the display when the laptop is open. Inside the laptop, there's a fingerprint scanner located between the touchpad buttons. A 1.3-megapixel webcam sits on top of the display, with a microphone on either side for web calls. The microphones operate in sync to improve voice pick-up.
Build quality is one of the 8920G's better features, with tough plastics in use throughout. The screen is firmly held in place, and doesn't wobble when you're typing. The top of the laptop remained impressively cool to the touch, even when used for gaming or for long periods of time.
Reflecting its status as the flagship machine in Acer's consumer line-up, our review model featured a high-end Intel Core 2 Duo T9300 processor. It's a 45nm 'Penryn' chip running at 2.5GHz and provides enough performance for all but the most demanding users.
You'll find 4GB of memory included as standard, although 1GB of this is made redundant by the use of a 32-bit version of Windows Vista Ultimate, which is only capable of recognising 3GB. Storage space comes in the form of two 320GB hard drives, configurable to suit your storage or backup needs.
PCMark05 Results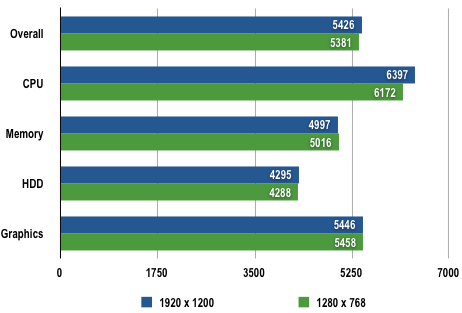 Longer bars are better
An overall score of 5426 in our PCMark05 benchmark is above average for a regular laptop, and we found the OS booted quickly and ran largely without trouble during the time we spent with the Aspire.
The Aspire is one of the first laptops with an Nvidia GeForce 9M-series card that we've had the opportunity to test extensively. It's a GeForce 9650M GS chip, which replaces the GeForce 8700M GT. With 512MB of dedicated GDDR 3 memory and 32 processing cores, it bestows the Acer with performance not far off previous-generation gaming laptops.
3DMark06 Results

Longer bars are better
Like Dell's XPS M1730, the Acer is capable of supporting PhysX, a technology that enables games and programs to handle complex physics calculations using the GPU rather than the CPU. Although it may prove beneficial during specific games, it didn't help during our 3D benchmarking, which doesn't take advantage of either PhysX.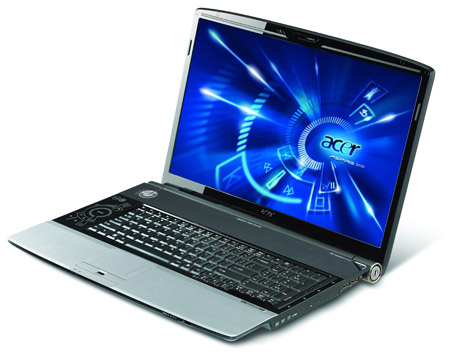 Build quality is of Acer's usual high standard, with tough plastics used throughout
You'll struggle to play the latest games – such as Crysis – in such high resolutions or with full detail settings, but dropping the resolution to 1280 x 768 saw a performance increase of over 25 per cent in our benchmarks. This helps to make the Acer a useful family machine, where you'll be able to run regular applications or play most games without compromise.
But then, with its screen, this is really a machine that's more about movie viewing than gaming.
The Windows Experience rating of 5.1 – out of 5.9 – was brought down by the memory. It scored 5.9 for graphics, 5.6 for gaming, and 5.4 for both processor and hard drives.
Verdict
The Aspire 8920 is a well-made laptop offering a powerful specification, and is worth a look if your needs are centre on watching movies and maybe casual gaming too. The switch to a 16:9 aspect ratio doesn't offer any great benefits, however - who can't live with some slim black bars above and below the picture? It's difficult to see the latest screen sizes as anything other than a cynical ploy by manufacturers to sell more laptops.