Original URL: https://www.theregister.co.uk/2008/08/20/review_sony_ericsson_w760i_walkman_3g_slider_phone/
Sony Ericsson Walkman W760i 3G sliderphone
Positively packed with features: some pointless, some practical
Posted in Personal Tech, 20th August 2008 11:02 GMT
Review A bit more where-it's-at functionality has been added into the mix with the W760i - alongside a typical spread of music mobile features, Sony Ericsson has introduced integrated A-GPS for the first time.
As part of Sony Ericsson's first wave of GPS-packing handsets, the W760i has Google Maps software pre-loaded, plus a three-month trial version of Wayfinder Navigator satnav software for turn-by-turn voice navigation. In addition, Sony Ericsson has loaded up its Tracker GPS-based sports training app, providing more active music phone users with a satnav-accurate way to monitor running performance.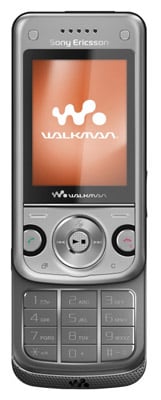 Sony Ericsson's W760i: now with A-GPS
While Sony Ericsson has included Google Maps software in many of its recent mid- and high-end phone releases, with A-GPS technology inside – using a combination of GPS satellite location-finding and mobile network cellsite tracking – the W760i is able to deliver far more precise positioning and calculate locations quicker.
Pitched towards the higher end of the Walkman phone range, the W760i features tri-band 3G UMTS with HSDPA high-speed data connectivity (up to 3.6Mb/s) and quad-band GSM support. It's loaded with the latest version of Sony Ericsson's Walkman music player, which again includes Shake phone-flicking track-changing gimmickry, and SensMe mood- and tempo-based playlist selection options.
While HSDPA enables the high-speed downloading of music, videos and other content, one regular 3G feature absent from the W760i is face-to-face video calling, as there's no fron- facing camera on this device. Sony Ericsson has included just one main snapper, a 3.2-megapixel camera similar to the one used on the W890i, with no flash or autofocus system.
The W760i isn't from the super-slim side of the Sony Ericsson family. Its sliderphone dimensions are an average-sized 103 x 48 x 15mm, and it tips the scales at a reasonable 103g - slightly stockier than the 12mm-thick W910i.
The phone's plastic casing feels sturdy enough, if not as immediately as eye-catchingly enticing as the W890i's metal-fronted bodywork. Its 2.2in, 240 x 320 (QVGA), 262,000-colour display dominates the front panel. Motion sensor technology has been worked into the phone too. When you're looking at content in the media gallery - images, video, music, RSS feeds and so on - or when using the web browser, the screen automatically switches orientation between landscape and portrait mode as the phone's rotated physically.
The screen sits above a nicely spaced set of controls around a central navigation navpad. There are Walkman player controls etched into the navpad buttons - along with a satnav icon at the top of the pad. Conventional call and end keys and twin soft-menu keys are given plenty of room, along with a clear key, and Sony Ericsson's useful Activity menu button - taking you quickly into a list of key functions and useful applications.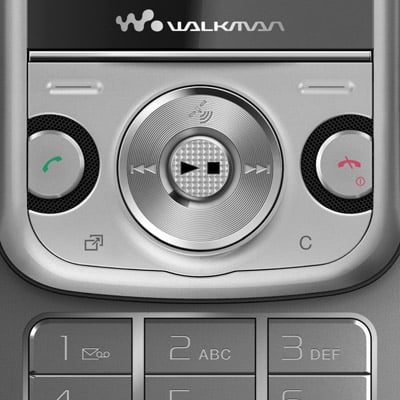 Satnav and music straight from the navpad
Menu operation is standard mid-tier Sony Ericsson, with an main menu grid of icons funnelling you into a variety of sub-menu lists and tabbed options – very easy to follow and painless to navigate.
Above the display, Sony Ericsson has added a couple of gaming controls , used when playing games in landscape mode. As well as regular 3D Java gaming, the W760i supports motion-sensor control for certain games, including the pre-loaded Need for Speed ProStreet car racer. The slide-out numberpad is straightforwardly functional, with a responsive enough feel to the large and adequately spaced keys.
There's no separate camera button – you'll need to set up one of the navpad shortcuts for that – but there is a Walkman button on the side to fire up the music player.
While the Walkman player is doing its music stuff, the Walkman button on the side also comes into play for the Shake control. Press it down and flick the phone in one direction, and tracks fast-forward; shake the other way and you go back through tracks. Shake it back and forwards and you start track shuffling, while up and down motions can be used to adjust volume.
Frankly, Shake is very gimmicky, and is unlikely to impress anyone above voting age. It's far simpler and more precise to use the music buttons, and you don't run the risk of launching your phone across the room when you change tracks.
The rest of the Walkman experience is pretty impressive, though. Using the latest Walkman user interface, it's again an intuitive, easy-to-use music player. Track classifications include artists, albums, tracks, playlists, year and genre, plus podcasts and audio books. Sony Ericsson's SensMe option can compile a playlist automatically from your choice of mood and tempo, selected graphically. However, it only uses tracks suitably rated with Sony Ericsson's supplied Media Manager software.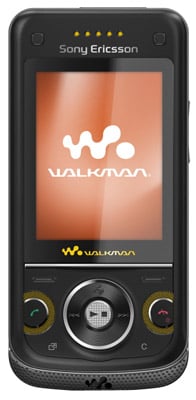 Available in black or silver, the plastic casing feels fairly sturdy
Although again veering towards the gimmicky, you could at least see this being useful for workouts, or for runners using the W760i's Tracker software. The audio performance is high quality too. The supplied two-piece earphone set is much better than average for a mobile, and gives a pleasant sound delivery, with proper amounts of bass and lots of detail.
Although the W760i uses a typical awkwardly bulky side-mounted headphone/charger/USB connector, it's easy to add your own better quality headphones, thanks to the standard 3.5mm headphone socket included on the phone side of the two-piece boxed headset. Stereo Bluetooth wirefree headphones are supported too.
The loudspeaker on the W760i can be cranked up loud – it needs to be for its satnav duties – but doesn't produce quality sound output for music: it's bass-light and harsh when at high volume.
The W760i has 40MB of on-board user storage, but comes supplied with a 1GB Memory Stick Micro memory card - there's an easy-access handy slot on the top for popping it in. Copying tracks over from a PC involves either using Media Manager or drag-and-dropping tracks, or Bluetoothing files across.
Other usual music features are present too, including a decent quality FM radio with RDS, TrackID song identification software, and the Walkman-staple Music Mate application.
Whether you're after a pocketable version of your in-car satnav kit or just occasionally need a bit of 'where am I?' location finding, GPS technology in your mobile - a device you always carry with you - is a genuinely useful piece of gadgetry.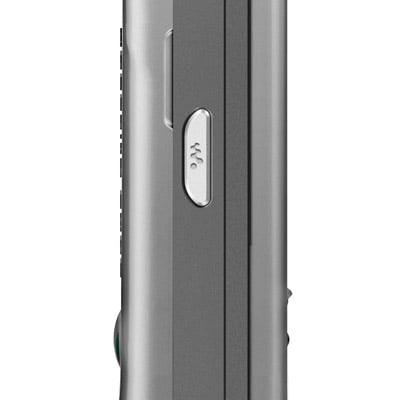 The Walkman button on the side is also used for the 'shake control'
The precise accuracy of A-GPS means you can track your movements, and get turn-by-turn instructions in real time. Google Maps is obviously enhanced by A-GPS, allowing you to plans routes, navigate to locations and search for local services more effectively. You can also do national searches across a wide range of categories.
Wayfinder Navigator satnav software provided voice instructions as well as the usual 2D and 3D-style satellite navigation views. Like Google Maps, mapping and search information is downloaded over the air, so will incur data costs if you're not on an inclusive data deal. Maps aren't presented as quickly or smoothly as they are on a standalone satnav unit, or on a GPS smartphone set up with maps already pre-loaded.
We found that the GPS receiver inside wasn't as responsive and quick to lock onto satellites as we've seen on recent Nokia phones, like the 6220 Classic. We had to wait a couple of minutes to be ready for action. And it seemed to need a clearer view of the sky to get locked on satisfactorily.
On the road, the system proved accurate enough and did what was required in getting us from A to B. The Wayfinder system is OK, but not the most user-friendly mobile satnav package around. It may not be time to chuck out your in-car kit satnav, but it's a useful and effective application from a regular phone.
The other A-GPS feature, Tracker, is quite a neat way of keeping tabs on your running performance too. You can get accurate recordings of distance, times, speeds and even estimates of energy used during workouts. It's nowhere near as sophisticated or useful as Samsung's miCoach phone and training package, but offers a touch more out-of-the-box distance measurement accuracy. Another decent extra rather than a must-have.
Sony Ericsson is at last up-rating the megapixel count of its Walkman phones. The 3.2-megapixel camera included on the W760i, though, is nothing to get particularly excited about. Similar to the W890i shooter, it lacks the quality of Sony Ericsson's equivalent Cyber-shot cameraphone models. There's no autofocus or flash, while shots have to be taken in portrait mode.

Without a flash, the camera struggles in low-light conditions
Results from the camera offer a limited improvement over its two-megapixel predecessors. We found general shooting quality to be underwhelming, with some shots a touch softer than we'd expect, even in good light conditions. Colours were sometimes over-saturated too, affecting the level of detail in certain images where colour tones were similar.
Without a flash, the camera struggles in low-light conditions and dark environments, with picture noise creeping in. Processing and saving images is also a bit sluggish too.
Apart from the option to geo-tag images – so you can get precise location data embedded in picture files to show up on mapping applications like Google Maps – it has a fairly regular set of setting adjustments, basic picture tweaking tools, and blog uploading options. With an average, so-so quality video capture performance, shooting at maximum 320 x 240 (QVGA) resolution, this phone certainly isn't trying to fly on its imaging qualities alone.
There are few surprises in the rest of the multimedia features, as Sony Ericsson has stacked up the W760i with a standard mid-tier package of applications. Within its media section, you get a smooth and attractive user interface consistent with the Walkman look and feel. The video player can play back downloaded and copied videos full-screen in acceptably smooth style too.
Access' NetFront web browser is included, with the usual tidy opening screen that has Google search topping a logical line-up of options. Propelled by HSDPA, the browser offers a reasonable surfing experience for a feature phone, pulling up pages fairly smartly, though as usual some take a while to fully appear. There's the usual selection of page optimisation options for full page or Smart-Fit views, plus pan and zoom options. RSS feed support is included too, so you can get webpage and blog updates without having to regularly negotiate the browser. These can be displayed in news ticker fashion on the standby screen.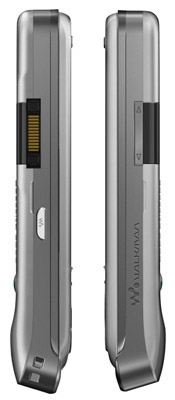 The W760i comes with 40MB plus a 1GB Memory Stick Micro card
A solid helping of organiser features and productivity tools are loaded up. You get the standard-issue calendar, tasks, notes, voice recorder plus timer, stopwatch, world clock, calculator and convertor applications, plus a weather forecast application from AccuWeather.com. A generous half dozen games have been loaded up, too – though not all have that movement sensor motion slickness.
The W760i gets the phone fundamentals right, with consistently high quality in our voice calls tests. On battery life, Sony Ericsson reckons on the battery providing up to four hours talktime on 3G networks or up to nine hours on GSM - standby time is quoted at up to 350 hours with 3G connections or 400 hours on GSM. Alternatively, using the phone purely for music playing, 20 hours is the quoted figure.
While these look pretty good, in practice steady use of the mix of functionality will reduce these figures significantly. In our tests, with our typical levels of usage we managed to achieve a reasonable two days between charges on average, but engaging the satnav or the music player, for example, for a substantial length of time will sap battery power much faster.
Verdict
Although the W760i benefits from having A-GPS and satnav software inside, it does a fine job in its core function as a higher-tier Walkman phone. The music player is capable of delivering a high-class, ear-pleasing audio performance. Despite the 3.2-megapixel shooter, the camera performance was disappointing. It's a shame too that there's no Wi-Fi to complement the HSDPA high-speed mobile connectivity. Nonetheless, the W760i's offers a solid, decent set of features to go with the music player, and the A-GPS satnav functionality adds significant appeal to the package, making it one of the more attractive models in the current Walkman range.