Original URL: http://www.theregister.co.uk/2008/08/19/review_alienware_area_51_m15x/
Alienware Area-51 m15x gaming laptop
Out of this world - or the laptop that fell to Earth
Posted in Personal Tech, 19th August 2008 11:02 GMT
Review Alienware claims that its Area-51 m15x gaming laptop is the "fastest 15.4in notebook ever". Not true if you opt for the basic m15x with Intel Core 2 Duo T8100 processor however.
You can get a comparable Sony Vaio BZ11 for £850, and it's safe to say that any time Sony is being used as a comparison, the value-for-money part of the equation is taking a back seat. So we'd suggest you shy away from the vanilla m15x.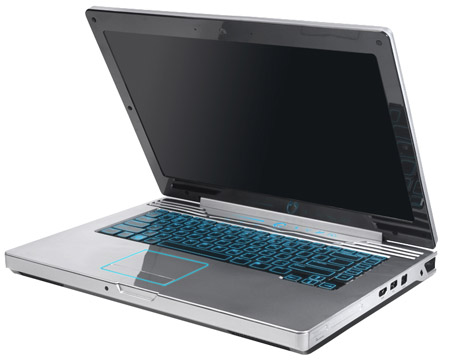 Alienware's Area-51 m15x: quite possibly the fastest laptop ever
Our review sample was packed with the fastest hardware that money can buy so we'd like to start this review by stating on the record that this is the fastest notebook we've ever seen, regardless of screen size.
The two key components are the 2.8GHz Core 2 Extreme X9000 mobile 'Penryn' processor and GeForce Go 8800M GTX graphics chip, both of which pack a punch and also bump the price up to stratospheric levels. We've previously seen the 8800M in the Rock Xtreme 770 and were extremely impressed: this GPU has epic gaming performance.
As you'd expect, the 8800M will suck the life out of your battery when they're working at full tilt during a game, but it's a different story when you're surfing the web or writing emails as the power saving features in 8800M are surprisingly effective.
You pay a surcharge of around £318 to step up from GeForce Go 8600M GT graphics to GeForce Go 8800M GTX, but that's nothing compared to the extra £575 that you have to pay for the Core 2 Extreme X9000. While the X9000's 2.8GHz clock is welcome, we're none too sure about the value of an unlocked Extreme Edition CPU in a laptop.
You might have plans to overclock your laptop by a few hundred megahertz, but you'll pay a steep price for the privilege, and if it was our money we'd very likely choose the 2.5GHz Core 2 T9300 that's £400 cheaper than the X9000.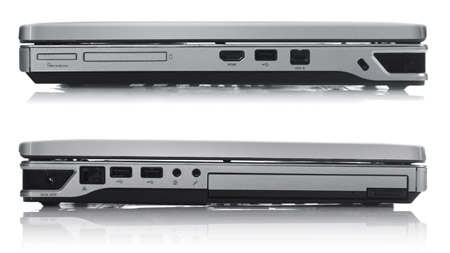 All the ports you could possibly need?
The rest of the specification of our review sample is less controversial than the processor. For instance, we're reasonably happy to pay £127 to step up from the 720p screen to a higher resolution, 1920 x 1200 WUXGA screen that has the same 15.4in diagonal size. In a similar vein, 2GB of RAM is a necessity with Windows Vista.
If you fancy, you could specify Windows XP instead of Vista for – get this – a premium of £32 in which case you might consider 1GB of RAM, but it would be a bizarre move that would kiss off the possibility of DirectX 10 gaming.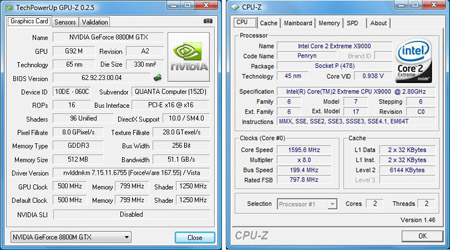 Top-line GPU and CPU tech
The slimline optical drive is a Sony NEC Optiarc 8x DVD writer so you can't expect to play Blu-ray movies, even though the screen supports 1080p, unless you splash out another £190 for a BD-Rom or £253 for a Blu-ray writer. We're not sure that's such a good idea as the two cooling fans for the CPU and GPU get a bit noisy when the m15x gets to work, and the headphone support from the Realtek HD audio is no better than average.
In terms of graphics outputs, Alienware has gone for the stylish and simple approach of a single HDMI port, which is all well and good if you're hooking up to an HDTV, but most projectors and TFT displays use VGA or DVI so you need to buy yet another extra. This time it's an HDMI-to-DVI adapter that costs £13, and while you have your credit card out you might consider an adapter to convert the nine-pin Firewire 800 port to a regular six-pin Firewire 400, which will cost you another 13 quid.
If Alienware had simply stuffed the components into a mid-sized chassis, we would probably have been deeply unimpressed, but thankfully it has been considerably more imaginative that that.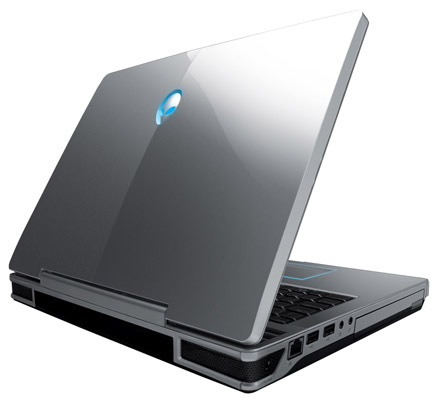 At 3.6kg, it's not as heavy as you might think
The overall impression is a large, solid laptop that looks like a slab of smooth silver plastic. Our sample had the Ripley option, which is to say that the lid is smooth, or you can have the ribbed Skullcap look. We're assuming this option is a [tenuous] link to the film Alien 3.
When you turn the laptop on by pressing the alien-head power button, a series of lights burst into life behind the keyboard, around the touchpad and behind the Alienware logo that sits below the screen. It's a similar set-up to the bling that we saw on the Alienware A-51 ALX CLX and once again you can use the AlienFX Editor utility to change the colour of the LEDs in the different zones. It may sound like a piece of unnecessary frivolity, but we rather like the effect.
Above the keyboard and next to the power button there are four illuminated buttons and a volume slider that pretty much sum up this laptop as they are quite clever, but unfortunately they don't work quite as well as we would hope.
The four buttons are touch controls for Bluetooth, Wi-Fi, Stealth and Binary GFX. The first two are self-explanatory and the idea is that you rest your finger on the symbol for a second and the control toggles on or off as appropriate.
In practice, the touch control is a bit hit-or-miss and you're likely to end up pressing it unnecessarily hard for what feels like an age. The problem is that touch controls look great but they're far less practical than simple flick switches that you can eyeball to confirm whether they are on or off.
Stealth mode had us baffled at first as the m15x was delivered with it enabled so the CPU, memory and graphics performance were throttled to save battery life. With Stealth off – would this be Blatant mode? – the performance leapt up to the level that we expected, but the difference in battery life wasn't as significant as we would have expected.
Battery Life Results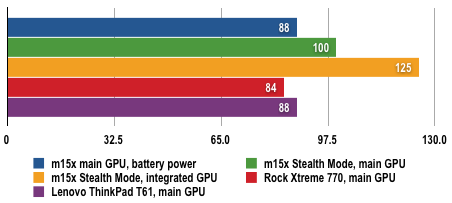 Battery life in minutes
Longer bars are better
The tests also show you really do need to ensure your m15x is plugged into the mains to get the best out of it.
3DMark06 Results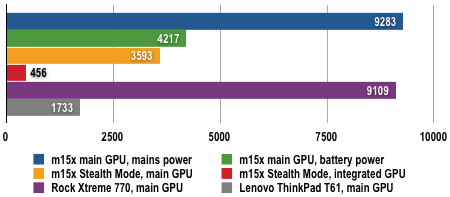 Longer bars are better
PCMark05 Results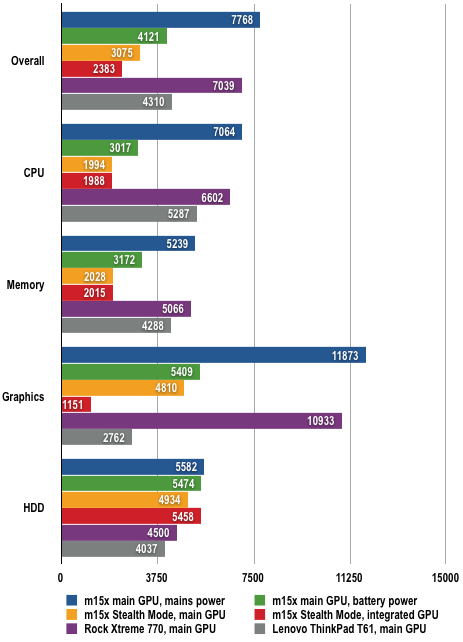 Longer bars are better
By toggling the fourth button, Binary GFX, and restarting the Alienware, we could switch from the GeForce Go 8800M graphics to the integrated Intel GPU built into the laptop's 965GM chipset. Combined with Stealth mode this boosted battery life beyond two hours of continuous use. The problem, of course, is that performance was greatly reduced yet you would still have to lug a 3.6kg laptop from pillar to post.
The alternative is to step up from the 6-cell battery to a 9-cell for £95 and maybe swap out the DVD writer for a 6-cell SmartBay battery for another £80. Or simply choose only to play games when you're connected to the mains.
Verdict
You pay a steep price for the Alienware m15x with all the bells and whistles and in return you get a colossal amount of gaming power with graphics that would shame many a desktop PC.