Original URL: http://www.theregister.co.uk/2008/08/18/ten_a2dp_heapdhones/
Ten of the Best... Bluetooth Stereo Headphones
A2DP ahoy!
Posted in Personal Tech, 18th August 2008 11:58 GMT
Round-up The first Bluetooth headsets were simple mono devices, however as handsets developed into advanced accessories that can play music and video, so headsets have started to develop too.
The first step was to add stereo capabilities using a technology known as A2DP (Advanced Audio Distribution Profile). And, of course, the headsets needed to gain a second earpiece in order to accommodate stereo output. This led to a number of different approaches to the design of stereo headsets. Some manufacturers simply put two identical earpieces into the box – which leaves you walking around with two silly-looking bits of plastic dangling out of your ears - stand up Etymotic and iSkin.
Other manufacturers, such as Nokia and Plantronics, have focused more on the music side of things, producing traditional headphone designs. Recently, though, there's been a third-wave of stereo headsets that attempt to combine technology with fashion, such as the 'dog tag' design of the Jabra BT3030.
One word of warning: always buy headphones or headsets that use Bluetooth 2.0, as this provides higher bandwidth and audio quality than the original Bluetooth 1.x, even though A2DP will work over it.
Creative CB8100 Wireless Headphones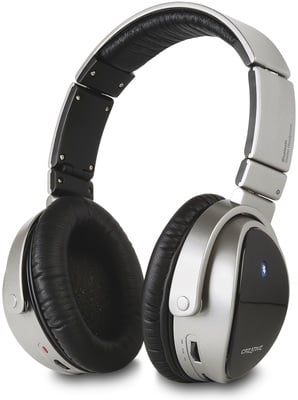 The CB8100 headphones are designed purely for listening to music, so there's no microphone that will allow you to take calls on your mobile. However, the 'phones do include a separate Bluetooth adaptor that allows you to add Bluetooth capabilities to a device, such as an iPod, that may not have it already built-in. The audio quality is a little muffled – perhaps because the CB8100 is using the older Bluetooth 1.2 standard, which has more limited bandwidth. However, the only real problem is the price, which, at £159, makes this far and away the most expensive set of headphones in this group.
Price £159
Available from Creative
Reg Rating 70%
Etymotic Research Ety8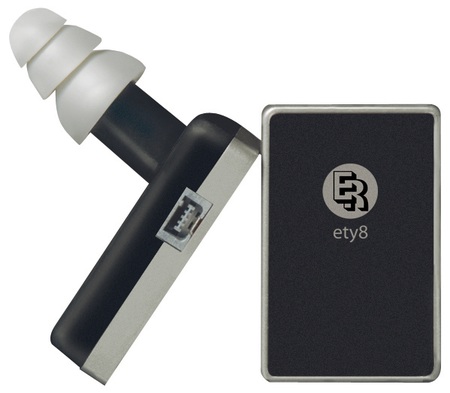 They're expensive, and we're not wild about the design, but we can't fault the audio quality of the Ety8s. The design lacks elegance: two large rectangular lozenges, each almost the size of an iPod Shuffle, dangling out of your ears connected by a piece of string - which you'll need, as the weight of the earpieces means that they fall out fairly easily. However, the audio quality is very good – clear and distinct, and you don't feel you're compromising on quality in order to get the convenience of a wireless connection. There's also an '8-mate' Bluetooth adaptor included, specifically for use with iPods.
Price £110
Available from Amazon
Reg Rating 80%
Gear4 BluPhones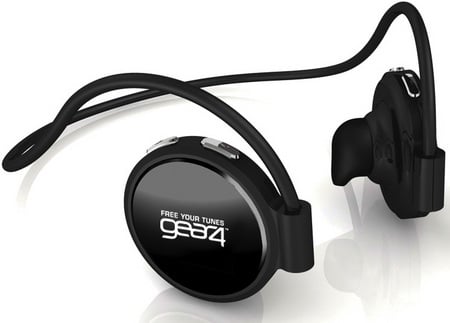 The fiddly neck-strap is a bit annoying - it took us about ten minutes to figure out which earpiece went into which ear - but at least it's fairly strong and secure, and stops the BluPhones from falling out all the time. The 'phones themselves provided good stereo output for listening to music. A bit more bass wouldn't go amiss, but that's asking a lot from such a compact pair of headphones. Our only real complaint is that the microphone is set quite far away from your mouth, so you can't mumble too much when you're making calls.
Price £50
Available from Gear4
Reg Rating 80%
iSkin Cerulean F1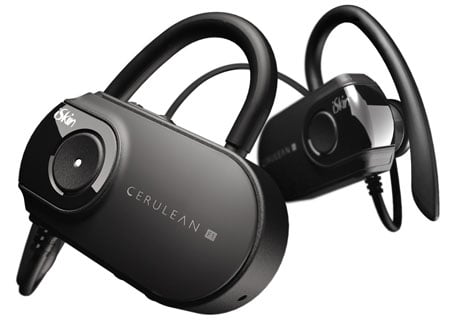 We were pleasantly surprised by the audio quality provided by the Cerulean F1 headset: clean and clear, and with a little more bass than a fair few of the other headphones in this group. They pump out a reasonable volume too, and the sound doesn't break up even with the volume turned right up. You even get a choice of two sets of earhooks, so you can pick whichever ones you find most comfortable. If required, you can also buy the F1 with an optional Bluetooth adaptor for an iPod. The price is a bit of a shock, though.
Price £130
Available from Channel Dynamics
Reg Rating 85%
Jabra BT3030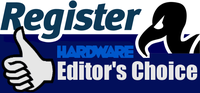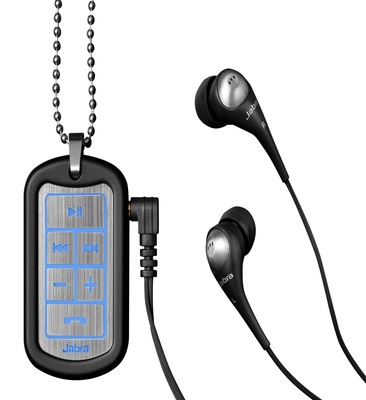 Jabra's BT3030 is a neat combination of high-street fashion and hi-tech. The BT3030 is a Bluetooth adaptor shaped like a metallic dog tag that you wear around your neck. It also has a standard 3.5mm audio socket, into which you plug a conventional set of earphones. The little earbuds supplied with the BT3030 sound a bit tinny – which is hardly surprising given the cost of the device – but the use of the standard audio jack means that you can plug in your own headphones if you want. There's also a small microphone built into the dog tag part, and it can automatically fade out your music whenever you receive a call on your mobile.
Price £40
Available from Amazon
Reg Rating 85%
Motorola MotoRokr S9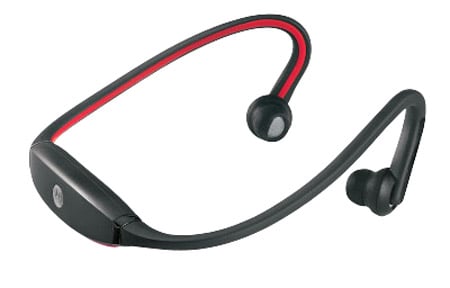 The S9 is an extremely lightweight set of headphones, constructed out of water- and sweat-resistant plastic, which makes it a good choice for people who want to listen to their music or take calls while they're working up a sweat at the gym. The stereo output is very good – a clean, clear sound with quite pronounced left/right separation – although a little more volume might be nice for those occasions when you're really going for the burn. For an extra £10, you can buy the 'S9 Universal' version, which comes with a separate Bluetooth adaptor for an iPod.
Price £90
Available from Motorola
Reg Rating 80%
Nokia BH-604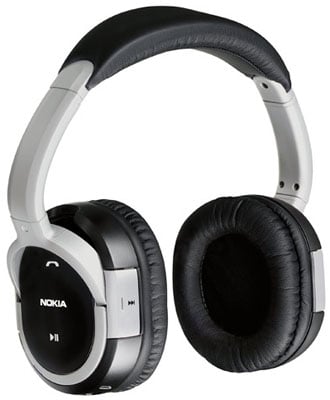 The traditional closed-can design of Nokia's BH-604 – not to mention the packaging picture of the DJ in a smoke-filled nightclub – makes it clear that the emphasis with these headphones is very much on the music side of things. The closed-can design works well in that context, as the headphones pump out plenty of volume while the padded earpieces help to block out background noise in noisy clubs or bars. The sound quality is good – though not exceptional – and the headphones do include a built-in microphone just in case you need to take a call on your mobile in the middle of a gig.
Price £69
Available from Nokia
Reg Rating 80%
Plantronics Audio 990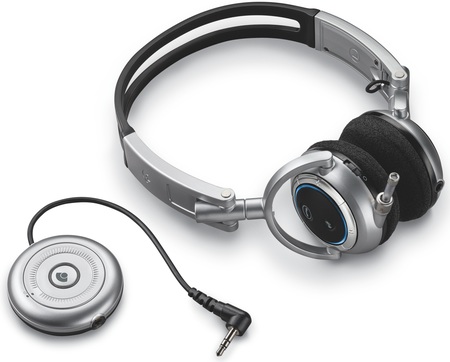 Our enjoyment of the Audio 990 was marred only by the woefully inadequate Quick Start guide, which left us scratching our head even when performing simple tasks such as plugging the unit into the mains to charge the battery. The headphones work on their own with any Bluetooth phone or MP3 player, but also include a separate Bluetooth adaptor that can be plugged into any non-Bluetooth audio device, such as an iPod or CD player. The audio quality is good – though it does suffer from a slightly muffled sound, and isn't quite as clear as the best headphones in this group.
Price £80
Available from Amazon
Reg Rating 75%
Sony Ericsson HBH-DS220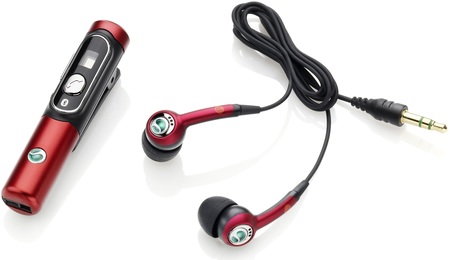 The DS220 is a more restrained and businesslike version of the Jabra BT3030. Like the BT3030, it consists of a small Bluetooth adaptor, along with a separate set of earphones that plug into an ordinary 3.5mm audio jack on the body of the adaptor. The DS220 is a little more expensive than the BT3030, but the bundled earbuds provide better audio quality – though their tendency to fall out on a fairly frequent basis meant that we were still inclined to plug in our own headphones instead. There's a built-in microphone as well, so you can easily switch between music and calls when you need to.
Price £50
Available from Sony Ericsson
Reg Rating 80%
Philips SHB7100

They're don't have the street cred of the Jabra BT3030, but Philips' SHB7100 headphones work well and are currently available for a knock-down £35 from Amazon. Like the BT3030, the SHB7100 consists of a Bluetooth adaptor that you hang around your neck or clip onto your clothing, along with a separate set of earbuds that plug into a standard 3.5mm audio jack on the adaptor. The earbuds supplied with the SHB7100 produce very good audio quality, with a nice balance between upper and lower frequencies. However, they tended to fall out quite easily so we'd be tempted to switch them for our normal headphones fairly quickly.
Price £35
Available from Amazon
Reg Rating 85%