Original URL: https://www.theregister.co.uk/2008/08/15/review_samsung_sgh_f400_music_mobile/
Samsung SGH-F400 music phone
Bang & Olufsen speakers on a handset? Oh yes.
Posted in Personal Tech, 15th August 2008 11:23 GMT
Review Some phones get all the luck. Some get to be called Soul, or Tocco - we found out it's Italian for 'touch' - or even Omnia. But others get lumbered with a less emotive moniker. Like F400.
The Samsung handset is fairly standard to look at, with silvered sides and a glossy black front. At 17mm thick, it's chunky, but then it feels a little lighter than it looks - it's 108g. Despite this, it doesn't feel cheap – it's a respectably-built mid-range device.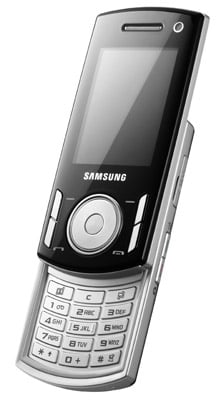 Samsung's SGH-F400: good-sized keyboard with well-defined, responsive buttons
On the side is a Micro SDHC memory card slot which will allow you to boost the meagre 20MB of on-board memory by up to 8GB. Next to it, you'll find volume buttons, a power/headphone socket, and dedicated buttons for both music player and camera.
The phone slides open easily - perhaps a little too easily if you plan on keeping it in a jeans pocket - and opens with a nice, cushioned thunk. The keypad revealed is a good size with well-defined, responsive buttons – nothing too clever or fancy; perfect for texting really.
The averaged-sized 2.2in, 262,000-colour screen is clear, bright and offers excellent definition, though it's not the easiest to read in bright sunlight thanks to its glossy covering.
Beneath it are call start and end keys plus two soft-menu keys. Between them all is a circular navpad with a rotating outer rim which you can use like a scrollwheel for whizzing through menus. It also works in the normal way, with four compass-point pressure sensors and an action button in the middle.
There's a little bit of give when the phone slides back into the closed position. Push it a little bit further and you can see why: the Bang & Olufsen ICEpower speakers rise above the screen, giving notice that this is a phone that takes its music seriously.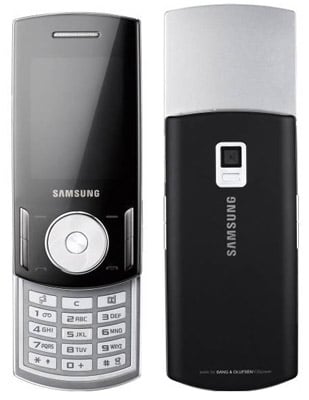 The camarea has autofocus and an LED flash - which is better than nothing
The last Samsung handset to boast the B&O connection was the Serene, the mad-looking one that resembled a make-up compact with a circular keypad. While that design was never going to fly, the combination of hi-fi know-how with a music-centred mobile phone was clearly an idea worth revisiting. Despite the well-respected audio moniker, however, these are still very much mobile phone speakers.
Yes, there's a stereo image - just about - but the speakers are too close together to really define this. There's not a great deal of bass, although what there is is quite clearly defined and not rubbery or raspy as it can be on cheaper speakers, even when cranked up to max volume. It's certainly better than your average phone loudspeaker, and will go significantly louder too without succumbing to distortion, but there'll be no need to trade in your hi-fi just yet.
You can keep the music running while you do other things on the phone, and the play controls are displayed on the home screen. The F400 supports all the most popular music formats, including MP3, WMA and the three flavours of AAC. Usefully, there's also a set of numerical shortcuts so you get one-touch access to the ten-preset graphic equaliser, shuffle, repeat and rating controls.
But good and groovy as all this is, it's a shame that the playing controls don't seem to have been fully thought out. Pressing the music button on the side of the phone gets you into play mode and the last track played, but from there you need to go through several menu options to access your playlists and other music menus not directly related to the track that's playing. Switching between loudspeaker and headphones also takes you away from the track so you'll need to start again at the main menu.
In loudspeaker mode, you lose the numerical shortcuts too, and there's no way to access them without the keypad. Minor niggles, perhaps, but they all detract from what should be a smooth music-playing experience – you just don't get these sort of complaints with a Walkman, for instance.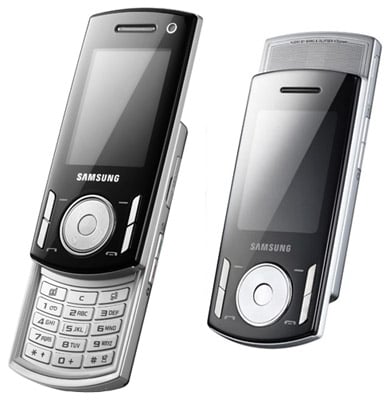 Despite the awesome audio branding, these are still just mobile phone speakers
The headphones are pretty good though, and come with a choice of three interchangeable rubberised gromits to ensure a snug fit in your lugholes. The dynamics seem better than most 'phones, and there's a decent level of bass too. If you need to upgrade, there's a 3.5mm headphone jack plug hidden under a flap on the top of the handset, or there's the option to use the stereo Bluetooth link for a wireless pair.
You'll need the headphones for the FM radio, since they double-up as the aerial, though there is the option to switch on the loudspeaker as well. The radio has RDS to identify stations and offer additional info. Should you find any songs that you like but don't know the name of, there's a web-based track identifier on board, similar to Sony Ericsson's TrackID service.
Lest we get carried away with all this music talk, this is also a 3G handset with 3.6Mb/s HSDPA. There's a 0.3-megapixel (VGA) camera on the front for video calling, but it's a pity Samsung didn't make more of the browser to take advantage of the fast connection, since it's pretty basic.
There's a pretty decent three megapixel camera on board too. The shutter button on the side gets you into camera mode fairly quickly (less than three seconds), which makes it perfectly viable for quick snaps. It has autofocus and an LED flash, which is better than nothing, but as usual with these things, they're useless at distances of more than a metre or two from your subject.
In camera mode, the navpad provides four shortcuts: flash, timer (up to ten seconds), icons toggle (on-screen camera settings on or off, plus framing guidelines) and brightness. If you slide the keypad out there are also numeric shortcuts for most of the other settings, including multi-shot and panorama modes, and effects.
Picture quality was perfectly fine in good light, though as might be expected it struggled a little in dimmer conditions, suffering perhaps a little too readily from grain. Video fared less well since it only offers a 320 x 240 resolution, which is only ever really much use in an emergency.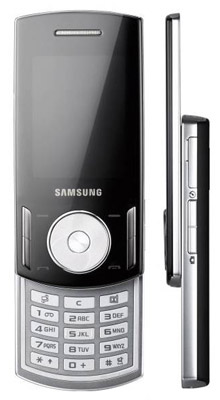 On the side is a Micro SD card slot, boosting the onboard memory up to 8GB
There's a fairly decent little list of picture editing options, allowing you to add blur - if it's not there already - and tone effects over part or all of your pics; adjust brightness, tone and colour; rotate and flip the shot; and adjust the resolution. You can also crop your pics and add frames, text, clip art or emoticons, plus you can print directly from the phone via Bluetooth or USB.
Battery life is decent if not spectacular for this level of handset, granting us a little over three days of moderate use. Call quality was entirely fine.
Verdict
Samsung's F400 is a bad music-centred phone with a nice N95-esque dual slide action, plus FM radio and a fairly good three-megapixel camera. Its music chops are a little way behind the best of Sony Ericsson's Walkman series or Apple's iPhone, but at least it's nudging into the same ballpark.