Original URL: https://www.theregister.co.uk/2008/08/13/yelp_sales_pitch/
Yelp 'pay to play' pitch makes shops scream for help
User generated discontent
Posted in Business, 13th August 2008 16:55 GMT
When it debuted in July of 2004, Yelp reinvented the notion of online city guides, giving "real people" the power to write "real reviews." For many, it represents the best of something called Web 2.0, a site built by you and me and everyone else. But in its struggle to turn clicks into cash, the San Francisco startup has been known to hedge this egalitarian ideal, playing games with the very concept that made it so popular.
At least some of Yelp's sales staff hope to make money by offering to hide what you and I have to say.
Over the last year, five San Francisco Bay Area businesses have told The Register that the company has offered to "push bad reviews to the bottom" of their Yelp pages if they paid to advertise on the site.
One restaurant owner was contacted "five or six" times, and each time, the Yelp sales rep insisted that if he forked over $6,000 a year for "sponsored link" status, the site would suppress user posts that put his restaurant in a less-than-positive light.
"They told me I had 60 reviews on my [Yelp] page," said the owner, who requested anonymity, fearing repercussions from Yelp's famously outspoken users. "They told me 'No one is going to read all 60. They're only going to read the first few.'"
In late September, when we first spoke to Yelp CEO Jeremy Stoppelman about this issue, he denied that the company hides reviews. "I think [these business owners] are mis-characterizing what's going on," he said. "There is no bumping of reviews."
But he didn't rule out the possibility that an offer was made. "There is a remote chance that we have some sort of rogue sales person, but I think that it's more likely it's just a business owner that's pissed off about reviews on his page."
The Reg can confirm, however, that multiple sales reps have made the offer to multiple businesses, and some pitches occurred in recent months, well after our initial interview with Stoppelman. Earlier this month, a local San Francisco TV station aired a story on two of these businesses. Selena Kellinger, who runs a San Jose, California business called Razzberry Lips, and Mary Seaton, owner of the Soft Outlet in San Manteo, are among those who told us they too received Yelp's anti-Web 2.0 offer.
"I didn't receive a phone call from Yelp until I received a negative review," Seaton said. "A week after I received a negative review, a sales person contacted me and she said...'We noticed that you have some very positive reviews. We can push your negative reviews to the bottom, so that your positive reviews will come to the top.'"
Yes, Yelp continues to deny these claims. "It's just not true," Stoppelman told us this week. "I challenge you to find any advertiser who's had their negative reviews pushed to the bottom."
Indeed, many advertisers have told The Reg that Yelp does not suppress their bad reviews. This includes Mary Seaton, who forked over $1750 before realizing that her sales rep wouldn't do such a thing.
"Real People. Real Reviews"
Cooked up by PayPal co-founder Max Levchin's internet incubator, MRL Ventures, and headed by two former PayPal golden boys, Stoppelman and Russel Simmons, Yelp brings the Web 2.0 ethos to so-called local search.
Like Citysearch, Yelp is an online guide to stuff in your particular town - only the reviews are written by anyone who wants to write them, not by a staff of editors. Serving dozens of cities across the US, Yelp creates mini-web pages for all sorts of local operations, from restaurants and shops to schools and churches, and the user-at-large is free to post opinions on any of them.
Clearly, there's a fair number of internet mavens who enjoy using this user-generated extravaganza - particularly in the Bay Area. Last year, during his keynote at the Web 2.0 conference in San Francisco, Hitwise general manager Bill Tancer said that Yelp was among the new-age start-ups likely to follow YouTube and Flickr into the internet stratosphere.

Yelp CEO Jeremy Stoppelman
"These sites are ones that attract a certain kind of user and have the best chance of crossing the chasm between early adopters and the mainstream media," he said, citing the behavior of over 25 million users across the web.
But if you're running a business, Yelp can be a minefield. Famously, the San Francisco Chronicle once served up a piece about restaurants who worry their success is now controlled by overly angry reviewers who don't know what they're talking about - and The Reg has heard much the same story from countless other businesses over the past several months. In short, Yelp has them scared.
Some have even said that the company is attempting to leverage this fear as it recruits advertisers.
Deep Fried
Last summer, when we dropped in on our anonymous restaurant owner across the Bay from San Francisco - we'll call him Deep Fried - he was complaining that two Yelpers had bad-mouthed his restaurant because he charged them a dollar for an extra bowl of soup.
Between them, the couple had ordered a single dinner that included a single soup, and when they asked for a second bowl, Deep Fried put an extra buck on the bill. For this - and other reasons that clearly show they're unfamiliar with the sort of cuisine they're reviewing - the couple gave the restaurant a rating of 1 out of 5.
On the whole, Deep Fried's Yelp reviews were very good. His average rating was a 4.5. But he had trouble attracting customers, and he was worried the soup complaint and other less-than-flattering reviews were bringing down his business. After all, he's serving the Bay Area, where Yelp has an almost cultish appeal among young foodies.
Then, several weeks after the soup review, we overheard Deep Fried telling a customer that Yelp had recently called him, asking if he'd like to advertise on the site. Yelp, he said, had offered to push all those bad reviews to the bottom of his page.
Google It's Not
On the surface, Yelp's business model works a little like Google's. Businesses pay for sponsored links that pop to the top of the page when users perform certain searches. For instance, you could pay Yelp to give your restaurant star billing when users search for Mexican joints in San Francisco's Mission District.
Yes, Google makes ridiculous amounts of money with a similar business model. But Yelp faces a problem the Mountain View outfit doesn't.
At Google, advertisers fork over money only when searchers actually click on their sponsored links and visit their websites. But Yelp sponsored links aren't tied to independent sites. They're tied to other Yelp pages. Advertisers can't track hits on their own.
According to another Bay Area restaurant owner - we'll call him Over It - Yelp has tried something akin to Google's per-click model. As recently as 2006, the company said it would give him sponsored link status if he paid just a few cents each time someone visited his Yelp page. But he didn't accept the offer. It just didn't make sense.
"How do I know there's isn't someone in Yelp's offices clicking away on my page?" he asked us.
Yelp confirms that it once charged advertisers on a per-visit basis, much like Citysearch does. "We've tried a bunch of different things," Stoppelman told us. "We started with pay-per-call, where we focused on businesses that took a bunch of phone calls. And then we moved to a program that Citysearch has offered for a number of years."
But the company ditched this model too. "For some local businesses, the [pay-per-visit model] was a little bit hard to understand," Stoppelman said. Sales reps are now urging Deep Fried and other business owners to pay by the month or by the year. And in some cases, they're offering to suppress content.
On multiple occasions last summer, a sales rep told Deep Fried that $6,000 a year would get him more than just sponsored link status: Yelp would also shift his bad reviews.

Yelp CTO Russel Simmons
At around the same time, Louis Kow, the owner of Noodle Theory in Oakland, received much the same offer. For $500 to $1,000 a month, Yelp said it would drive between 10,000 and 50,000 people to his page. Plus, it offered to suppress bad reviews. "They offered to have the best review on top, for a certain rate, and the bad reviews would be last," Kow told us.
Yelp acknowledges that it allows advertisers to move a single review to the top of their pages, but, again, it denies moving bad reviews to the bottom. Kow insists, however, that a Yelp sales rep offered to move bad reviews on two separate occasions.
When we asked Kow how Yelp proposed to drive traffic to his page - and how he could trust their traffic numbers - he said that this was never discussed. But he was obviously skeptical of the company's claims. Whether it charges per click or by the month, Yelp doesn't have the leverage that Google has.
Months after we spoke to Deep Fried and Louis Kow, three other Bay Area businesses told us they received much the same pitch, including Kellinger, Seaton, and a San Francisco business owner who - like Deep Fried - requested anonymity. "My livelihood is at stake," she said.
The Denial
Business owners are so worried about bad Yelp karma, many won't even discuss the site with a reporter. Still, the bad-review issue has made its way to the public before via the Yelp Forums:
"I was talking to a friend the other day and they told me that if a business pays yelp.com some $$, then yelp will sort the reviews for that business w/ the better reviews on top," a user writes. "I'm hoping this isn't true, right?!"
With another post, a Yelp developer denies the claim. But he explained that the company allows advertisers to push one good review to the top of their pages:
"We do not change the ordering of all reviews for a business, advertiser or not. How do I know? I wrote the code the [sic] orders the review on our business pages. For advertisers, we do allow them to call out a specific review (it changes from time to time to keep the page fresh), but it's in a labeled box. There is no sorting changes to the rest of the reviews, and there is no removal of reviews unless they violate the [Terms of Service], for which the same rules apply to both advertisers and regular businesses."
Stoppelman told us much the same thing. The business owners we talked to "mis-characterize that one review on top," he said.
If you visit the page of a paid advertiser, you can see that that one review has indeed been pulled to the top. But, as it stands, these review "call-outs" are not "in a labeled box." Yelp simply puts a strip above the review that says "One of [Insert Business Here]'s Favorite Reviews" and "This business is a Yelp sponsor."
Nonetheless, the call-outs are labeled.
Questionable Sort
Stoppelman insists that Yelp's advertising programs are "biased towards the consumer" - not the advertiser. "We always tie a business to its reputation," he said. "We don't accept advertisers who are below a certain rating threshold." That threshold, he added, is a rating of 3.5.
"We want to help great businesses succeed. If you've got some issues with your business, we can't help you until you rectify them," Stoppelman continued. He insists that if a business has low Yelp ratings, it "has issues," and he's adamant that the company has no interest in dealing with those issues.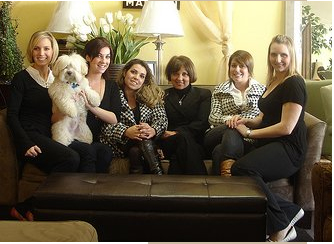 Mary Seaton at the Sofa Outlet
The idea is that businesses should deal with their own poor reviews, and if those reviews are less than accurate, another reviewer will soon weigh in with the truth. "You have to start thinking constructively, say 'How can I address this issue - if one exists?'" Stoppelman said, referring to business owners. "And if it doesn't, a new customer will eventually walk in the door, and they'll post a new review that will move you in a positive direction."
But old reviews have a way of lingering on Yelp pages. For many who visit Yelp, the assumption is that the reviews are chronological. But they're not.
You can re-sort the reviews by date, but the default sort works a bit differently. Until last fall, it was labeled as a "Relevance" sort. Now, it reads "Recent+Votes." This sort takes into account the number of "votes" that a review receives. The Yelp ethos involves people voting on whether various items are "useful," "funny," or "cool".
Stoppelman told us that the sort gives a significant amount of weight to votes, so that reviews with high vote totals are likely to linger towards the top of the page. "There's a mathematical formula we use - I don't know it off the top of my head - but it's basically factoring time along with how much voting has happened on that review," he said. "There's a fairly quick drop off in the [weight given to the] time factor. Initially, a fresh review is valued more highly than anything else, but then it fades out [if it doesn't receive many votes]."
Personal Attacks
If it's nasty enough, a single negative review can seriously damage a small business. Kellinger, Deep Fried, and our anonymous San Francisco business owner - we'll call her Miss Lonelyhearts - were all hit by personal attacks that bordered on the slanderous. Kellinger and her staff were dubbed "racist". Deep Fried was hit with comments about his ethnicity. And Miss Lonelyhearts received an attack that focused on her physical disabilities.
Officially, Yelp does not allow personal attacks. "Feel free to explain your bad experience with a salesman," the site reads, "but Yelp's not the place for vicious attacks or name calling." And you can "flag" such reviews, urging Yelp to take them down. There's an on-site tool that lets you send emails to Yelp customer service reps and alert them to questionable content.
But Kellinger, Deep Fried, and Miss Lonleyhearts all complain that those blatant personal attacks were not removed from their Yelp pages. And this caused no small amount of anxiety for these small business owners.
But even then, all three repeatedly declined advertising agreements.
Kellinger, however, took matters into her own hands, asking longtime customers and friends to post positive reviews to her site. Yelp then removed some of these reviews, accusing Kellinger's Razzberry Lips of gaming the system.
Yelp director of communications Stephanie Ichinose accuses Mary Seaton's Sofa Outlet of much the same behavior, saying that both businesses are biased against the site because positive reviews were taken down. "They're creating fake accounts and writing shill reviews of their own business," Ichinose said. "They were both trying to game the system. If they weren't, their stories would be more legitimate."
Kellinger and Seaton acknowledge they drove the positive reviews. But they say this was their only means of fighting back. Kellinger wouldn't pay an advertising fee. And Seaton believes she was fooled into paying a fee that ultimately did her no good.

"Real People. Real Reviews."
Economics 2.0
For nearly four years, an army of clever marketers has trumpeted that Web 2.0 moniker. "User-generated content," the voices keep saying, will change the world as we know it.
In a way, they're right. There's no arguing with the runaway popularity of sites like YouTube, Flickr, MySpace, Yelp, and so many others. But Web 2.0 is haunted by the same question that brought down what we'll reluctantly call Web 1.0: How will all these sites make their money?
Clicks don't always mean cash. User-generated content may be wildly popular, but that doesn't mean it's wildly lucrative.
Yelp may or may not be a big money maker. But the site's business model is proof that Web 2.0 is only half a proposition. It may change the world. But it doesn't change internet economics.
Unlike Google's or Yahoo!'s, Yelp sales are dependent on old fashioned cold calls to people who may or may not understand how the internet works. At the very least, this is a tough way to make online money. At worst, it could undermine a site's reason for being.
Have you received a similar sales pitch from Yelp? If so, you can contact us privately here ®