Original URL: https://www.theregister.co.uk/2008/08/13/review_redfly_windows_smartphone_terminal/
Celio Redfly Windows smartphone terminal
An expensive horse for a specific course
Posted in Personal Tech, 13th August 2008 11:29 GMT
Review A more focused variation on the pointless ill-fated Palm Foleo, the Redfly attempts to bring laptop/netbook usability to the humble Windows smartphone.
The first thing that strikes you about the Redfly is the quality, it is a very well constructed and a nice looking bit of kit. Measuring 2.5 x 15.2 x 23cm and weighing 0.9kg, it resembles a fashion-conscious netbook, the outer casing being covered in a rather unusual, almost soft touch, satin finish and coming in a sedate, but attractive maroon and grey colour scheme.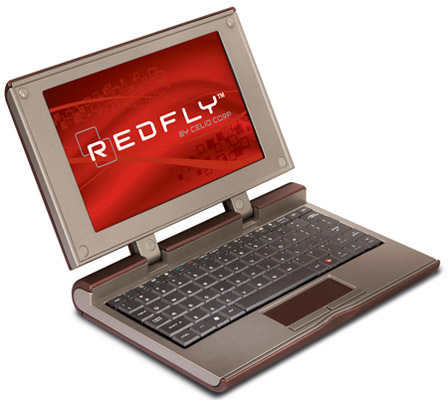 About 75% of the size of a regular laptop, it's a treat to type on
Though only about 75 per cent of the size of a regular laptop keyboard, the Redfly's is a treat to type on. The 25 x 75mm touch pad is also well above par responding smoothly and reliably to the touch, ditto the two touch bars beneath it.
The Redfly has an 8in screen with a resolution of 800 x 400 and while it won't win any awards for video playback, it is bright, clear and sharp and just the job for a hefty spot of word processing.
When it has snapped firmly shut the Redfly is a perfect oblong, the two halves of the unit being the same thickness. Round the back external connections are limited to two USB ports, the power jack and a VGA output. Beyond letting you connect a mouse or such the USB ports also allow you to add a USB memory stick to your phone's system as remote storage, which could come in handy.
Set up is extremely simple. Load the Redfly drivers onto your phone them simply switch the Redfly on and connect with a USB cable or via Bluetooth. We suspect most users will use the cable, one of the main points on the Redfly is surely that while you are using it your phone is being charged. Once hooked up the phone screen goes dark and Windows Mobile opens up on the Redfly's screen.
We have noticed a fair amount of loose talk about the Redfly working with pretty much any Windows smartphone. Well, not to put too fine a point on it, no it doesn't. Redfly's site contains a list of seven handsets currently supported and six under beta development, but things are a little more complex than just picking the correct version of Windows Mobile.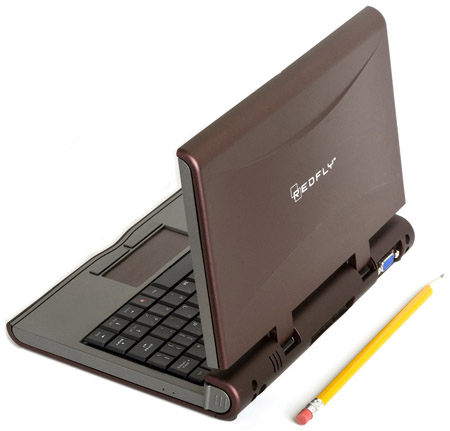 Contrary to popular belief, it doesn't work with every Windows smartphone
We got the drivers to work on a HTC Touch Dual (Windows Mobile 6 Pro) and an HTC TyTn I (Windows Mobile 5 Standard), but they flat refused to load onto an Asus M930 running Windows Mobile 6 Standard. As there only seemed to be two types on .CAB file available from Redfly we would take a wild stab in the dark and say the drivers work with 6 and, presumably, 6.1 Pro and 5 Standard.
Beyond that we wouldn't like to go so our suggestion would be to download the drivers and make sure they install on your phone before you fork out for a Redfly rather than after. We would also advise users to be wary of phones with third party GUI software. The Redfly just about tolerated the HTC Dual's bespoke home screen, managing to conjure up a slightly ham fisted, but still usable rendering of the screen layout though for some reason the Programmes and Settings tabs vanished from the bottom of the Start menu, which was something of a pain in the backside.
When we fired up the SPB Mobile Shell GUI on our Dual things fell apart more rapidly, the Redfly's screen going black and flashing up "New Screen. Out of memory". And we needed to re-boot the Dual to bring it back to life after we unplugged it. All in all a little less than impressive.
Bottom line, the more bog standard your Windows smartphone the better it will get along with the Redfly though to be picky even here there are some minor issues.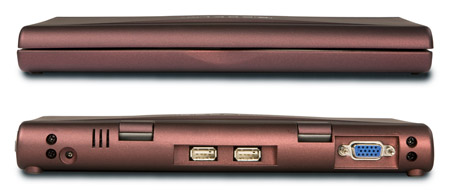 Connections are limited to 2 USB ports, power and a VGA output
The text in certain control panels renders in some odd sizes, for instance open the WLAN setting tab and the words Current Configuration and Signal Quality appear in an enormous font and are thus more than half obscured by the relevant status boxes.
Also the image we had set as the background for the today screen on our TyTn appeared as a small box slap bang in the middle of the Redfly today screen. These sorts of graphical hic-cups may not be deal breakers, but they make the system look and feel just a little clumsy and half-baked.
Your opinion of the Redfly's essential day-to-day usability is going to be entirely based on your opinion of Windows Mobile because at the end of the day all the Redfly does is replicate it on a larger screen. It adds not one jot to the functionality or interface.
Clearly the performance of the Redfly is not going to emulate a netbook or laptop. We tested ours with a TyTn I we had in the office, so in effect what we had may have looked a bit like a laptop but it was still being powered by a 400MHz chip with 64MB of RAM. So to start banging on about it being no match for an EeePC is pretty pointless.
Notwithstanding that, for handling basic Windows Mobile applications such as Word, Excel and the e-mail client there is no doubt the Redfly does make life easier. This review was written on the Redfly/TyTn I combo, not something we would have essayed on the TyTn alone no matter how much we like its slide out keypad.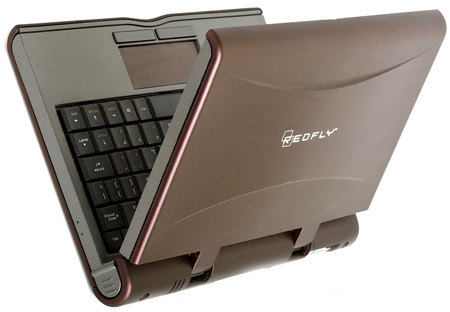 The performance is not going to emulate a netbook or laptop
Of course web browsing is a whole different bag of grapefruit. Opera Mobile 8 pages showed up a treat on the Redfly's screen, but scrolling up and down was an undertaking best measured in geological time - my God it was slow - the same proving true for Google Maps. The new Opera Mobile 9.5 beta, while working just fine on the TyTn itself, simply would not fire up on the Redfly screen so we couldn't tell if that would improve matters.
The rather more primitive Windows Mobile browser did a simpler and so more rapid job. Of course looking at web pages at 800 x 400 is a considerable improvement over looking at them on a 2in screen, not matter what the browser layout or the scrolling speed.
Media playback, or rather the lack thereof, is another clue to the Redfly's overtly business orientated intentions. To start with there are no speakers nor is there a headphones jack. Open up a video or music file and Windows Media Player Mobile fires up in a 2in square box at top left of the Redfly screen while the sound plays back via the your phone's speaker or headphones output.
Redfly reckon the 4500mAh battery lasts eight hours with typical usage. That is hardly surprising as all it really as do do in power the screen. What is surprising is that the eight hour figure is cobblers.
We managed a solid ten hours from a full charge and that included charging up a phone that was only half charged when we started using it, and we had the phone's Wi-Fi receiver on for much of the time.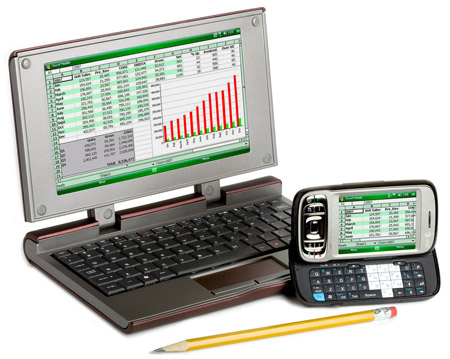 How much you want the Redfly will depend on who's paying for it
Of course how much you may want a Redfly will depend a lot on who is paying for thing. In the US it retails for $499, which we reckon is pretty steep for what it is. In the UK it will set you back a more eye-watering £320 and that's a very hard price to justify. Of course if some IT wallah from your company just drops one on your desk FOC, it's an altogether better deal.
So, is it any use? Well, some would say that anyone who wants laptop functionality should, well..carry a laptop, or a netbook, and they have a point. One the other hand, the Redfly is smaller and lighter than all but the smallest netbooks so for the business user who just wants to access his, or her, smartphone functionality but would rather the luxury of a real keyboard and a decent sized screen it just may make some kind of sense.
Verdict
Ah, America, home of so many things that just don't make sense on this side of the Pond – the Klan, baseball, George W Bush and arguably the Redfly. To be fair though unlike the first and third items in that list the Redfly is not a bad idea per se, rather it just fulfils a very specific need for very specific people. It's doubtless great for American executives, or indeed executives anywhere else in the world where corporate Windows smartphones roam in vast herds, but its not really intended for the rest of us who are much better off with our Eees and Aspire Ones.
Special thanks to Expansys for pulling the stops out to get us a review sample.