Original URL: https://www.theregister.co.uk/2008/08/12/review_gpu_bangs_for_buck/
16-card GPU bangs-per-buck mega shoot out
We name the best GPUs for performance and price
Posted in The Channel, 12th August 2008 12:09 GMT
We've looked at a host of graphics chips, and while each new GPU generation has its fans who'll dash out and buy it no matter what, plenty of punters prefer to wait and see whether they're worth the money.
In short, they ask, what level of bang will we get per buck? Or would be be better off spending a lot less on an older GPU that delivers nearly as much performance - particularly now that doubling up cards in CrossFire or SLI mode can deliver potentially better acceleration than a newer, single-GPU product can?
Well, we're an obliging lot at Register Hardware, so we've worked it all out for you. We've taken a stack of cards and put them through their paces on our Intel Skulltrail test platform.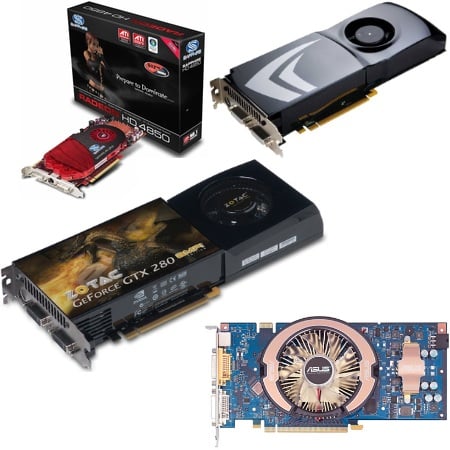 We're going to look at value for money based on each card's performance in 3DMark06. We choose that test for good reason. For one thing, you can run the same benchmark yourself and for another it's heavily dependent on the graphics card. Games such as Crysis or Elder Scrolls: Oblivion load the whole system quite heavily and make it tricky to judge the effect of the graphics card in isolation.
It would have been nice to use the more recent 3DMark Vantage test but it requires DirectX 10 support and that's not supported by some of the older graphics cards that we lined up as cannon fodder.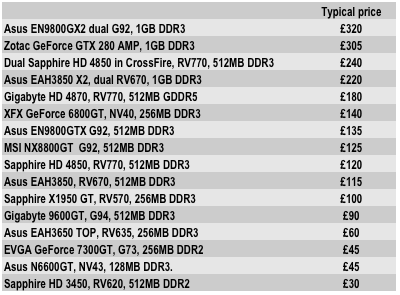 So here's what we have done. We've taken almost all of the graphics cards that we used in the Nvidia GeForce GTX 280 and AMD Radeon HD 4850/4870 reviews with the exception of cards like the PowerColor HD 2900 XT 1GB which we can't find it on sale today. Using price-comparison and retail sites lile PriceGrabber and Scan, we've found typical over-the-counter prices for the graphics cards. We're not too hung up on the exact make and model, instead looking for a price that's representative of the graphics chip, clock speed and type of memory.
The first chart (below) shows the graphics cards in order of performance with dual Radeon HD 4850 in CrossFire at the top closely followed by GeForce 9800GX2, HD 3850 X2, GeForce GTX 280 and Radeon HD 4870 a distance behind. If we'd used high quality image settings for 3DMark06 that used anti-aliasing, you can bet the order would have shuffled around but we are sure that the same cards would have been at the top of the pile.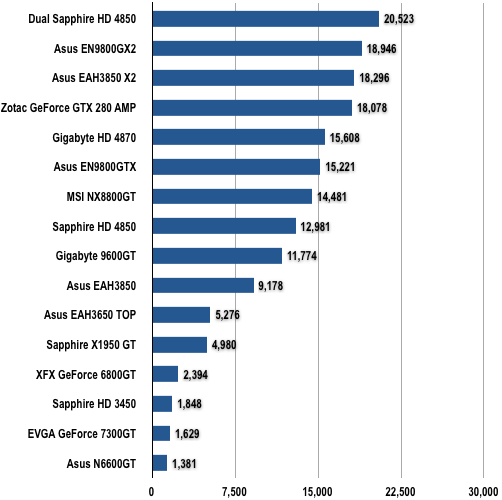 Longer bars are better
Next, we divided the 3DMark06 score by the price to give an official Bangs Per Buck rating: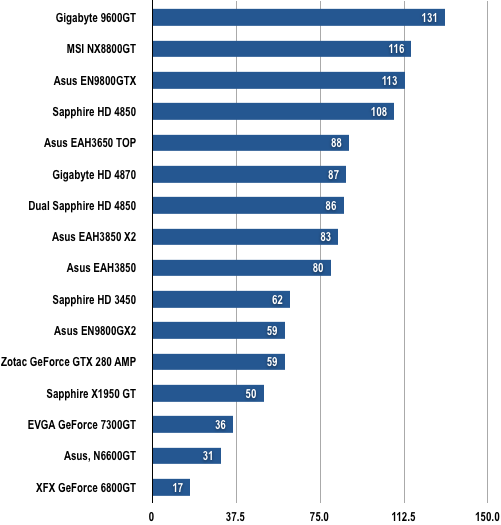 Longer bars are better
The result is that the mid-range cards such as GeForce 9600GT, 8800GT and 9800GTX come bounding up the list with the Radeon HD 4850 hard on their heels. They have decent performance and Nvidia has slashed their price to compete with Radeon HD 4850 which increases their value handsomely.
When we reviewed the GeForce 8800GT and GTS in November 2007 we were impressed even though the price was around the £180 mark.
Today you can get the same hardware for £125, which is superb news for gamers.
Of course, a low, low price with basic performance is going to push aside a pricier yet more powerful card. So here's how how they stand up against each other when you chart both performance and price: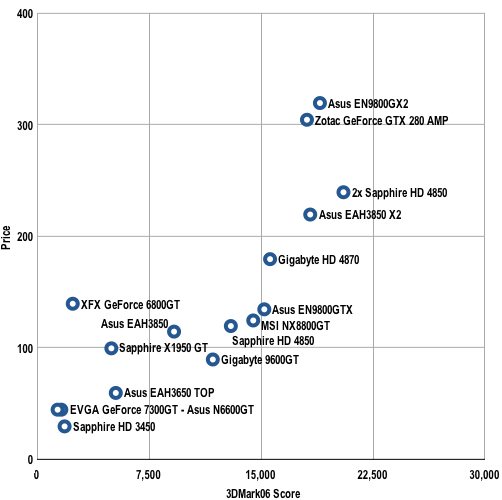 Prices in Sterling
So, the higher up the dot, the more expensive the card. The further to the right the dot, the better its score in 3DMark06.
You can immediately see that two Sapphire HD 4850s, which will each set you back £120, deliver higher performance than considerably more expensive cards from Asus and Zotac.
Likewise, the Asus EN9800GTX performs only slightly less well than the Gigabyte HD 4870, but is considerably cheaper.
Asus' EAH3850 X2 matches the performance of the Zotac GeForce GTX 280 AMP, yet it's almost £100 cheaper. It's not so very less powerful than its EN9800GX2 stablemate.
Since the 'ideal' ramp is a line at 45° to the horizontal, it's clear that pairings like the MSI NX8800GT and the Asus EN9800GTX, and the Zotac GeForce GTX 280 AMP and Asus EN9800GX2 are, respectively, good steps up from each other: the performance increase matches the increased cost almost perfectly.
Verdict
Which card would we recommend? On the basis of our testing, there's only one choice: a pair of Radeon HD 4850s, such as Sapphire's HD 4850. You'll get stunning, GTX 280-class performance for a lot less of your hard-earned.