Original URL: https://www.theregister.co.uk/2008/08/11/ten_bt_headsets/
Ten of the Best... Bluetooth Headsets
Our pick of the top handset accessories
Posted in Personal Tech, 11th August 2008 10:49 GMT
Round-up We used to laugh when Lt Uhura would sit at her station with a lump of metal in her lughole. Yet here we are, sticking our fingers in our ear so we can take calls on our teeny-tiny Bluetooth headsets.
Fortunately, the headsets on offer these days are a lot more elegant than Star Trek's clunky hardware. Obviously wary of the 'Uhura factor', manufacturers of Bluetooth headsets now go out of their way to produce inconspicuous little headsets that don't make us look too silly as we walk around talking into thin air.
That said, tiny headsets mean tiny speakers and microphones, so the smallest headset isn't always the best – especially if you're given to making calls outdoors, or in areas where there's a lot of background noise.
We also found that the simple task of stopping the headset from falling out of your ear every five minutes could prove to be a challenge. Fortunately, Bluetooth headsets are very affordable these days, so there's plenty to choose from – including some very good models for £50 or less.
Aliph Jawbone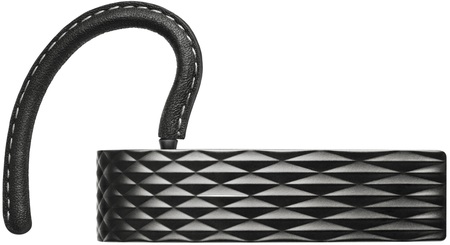 It's not the smallest headset we've ever seen, but Aliph's latest Jawbone combines an attractive design with very good audio quality. The earpiece has a neat minimalist look that sets the On/Off and volume buttons into the actual body of the unit, so you simply apply pressure to different areas of the earpiece to adjust the controls. A feature called NoiseAssassin uses two separate microphones to isolate the sound of your voice and separate it from background noise around you, providing good clear audio when you're making calls. It's a little pricey, but the Jawbone's combination of style and quality certainly make it stand out from the crowd.
Price £80
Available from Carphone Warehouse
Reg Rating 85%
Jabra JX 20 Pura Titanium Edition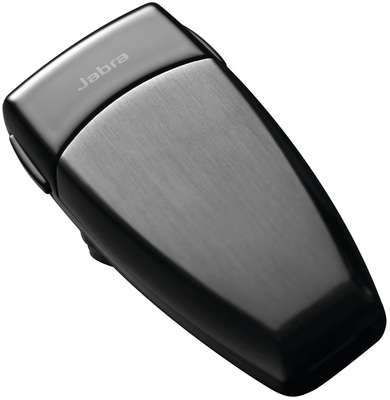 Jabra makes a wide range of Bluetooth headsets, but the JX 20 is very much at the luxury end of its range. Constructed out of lightweight titanium, the JX 20 is small and light enough to sit in your ear without using an earhook - which is just as well, as the bundled plastic hooks are a bit flimsy. There are hardly any buttons to mar the compact design – you turn it on and off simply by rotating the earpiece – and there's a handy desktop dock/charger unit supplied as well. Thankfully, though, the tiny earpiece produces enough volume to hear your calls clearly, even when there's a bit of background noise.
Price £100
Available from Carphone Warehouse
Reg Rating 80%
LG HBM-310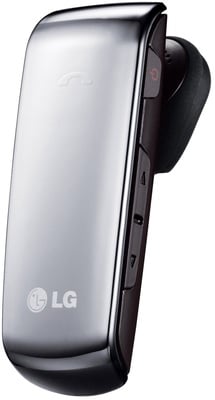 LG has had a lot of success with its mobile phones over the last couple of years, and – visually, at least – the shiny, sleek design of the HMB-310 headset makes it a good match for stylish handsets such as the LG Secret. The low price is attractive too, but the gadget does have a couple of rough edges. The sound quality is perfectly adequate, but we would have liked a little more volume from the headset – especially when taking calls outdoors. We also found the earhook a bit flimsy and, despite LG's claims, didn't feel that we could wear the headset properly without the hook.
Price £30
Available from The LG Webshop
Reg Rating 80%
Logitech Cordless Headset for PC and Mobile Phone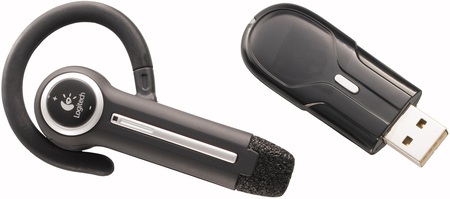 This isn't the most stylish headset we've ever seen, but it is extremely practical, right down to the chunky earhook that makes certain the headset is fixed in place good and tight. It also rotates quite neatly, so you can use it on either ear. The headset's big selling point is that it's actually a dual-purpose device: as well as working with a mobile phone it also comes with a little Bluetooth adaptor for your PC so that you can use it to make cheap internet calls using Skype.
Price £62
Available from Logitech's website
Reg Rating 80%
NextLink Invisio G5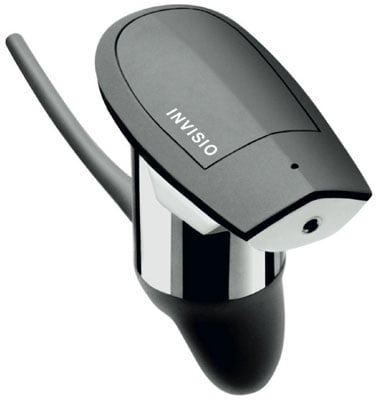 NextLink claims that the G5 is the smallest headset in the world. Measuring just 3.3cm long, it's little more than an On/Off button with a microphone on one end. The other unusual feature is the earhook, which actually folds into the curvy bit inside your ear, rather than hooking over the outside of the ear. The sound from the miniature speaker is a little tinny, but not annoyingly so, and the microphone works well. We also like carrying case, which – as with the Plantronics Discovery – includes a battery pack for recharging the headset when there's no mains power available.
Price £55
Available from MobileFun
Reg Rating 85%
Nokia Bluetooth Headset BH-902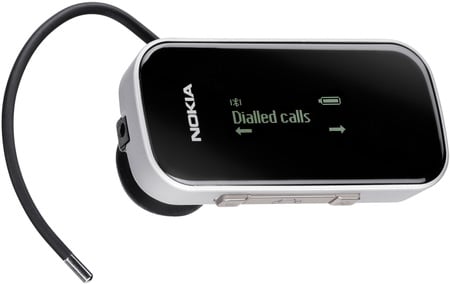 The stand-out feature of Nokia's BJ-902 headset is its little LCD display, which displays information such as the volume level and caller ID. Our initial thought was that this was a bit pointless, as you can't see the display while you're actually wearing the headset. However, the display provides other useful information as well, such as a list of calls that you may have missed recently – which could come in handy if you take the headset off while you're in a meeting at work. Our only complaint – as with so many of these headsets – is that the earhook is so flimsy.
Price £64
Available from Nokia
Reg Rating 80%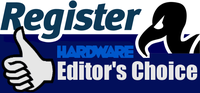 Plantronics Discovery 925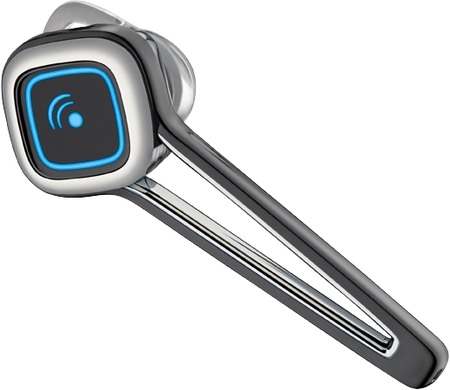 Now here's the headset that Lieutenant Uhura should have had in those old episodes of Star Trek. Plantronics' Discovery 925 is slim, light and stylish – and provides good audio quality on your calls too. The V-shaped frame pushes the microphone close to your mouth and picks up your voice quite clearly, and we even like the moulded rubber earpieces it comes with, which made this one of the few headsets to sit comfortably in the ear without using an earhook to hold it in place. Top marks, too, for the posh leather carrying case that doubles as a battery pack for recharging the headset on the move.
Price £50
Available from Amazon UK
Reg Rating 90%
Samsung WEP700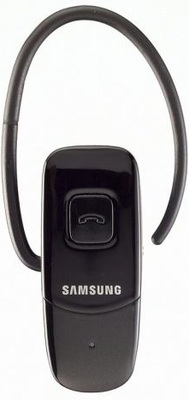 Headsets that use a pair of microphones to reduce background noise – such as those from Aliph and Sennheiser – tend to tend to be more expensive than their less sophisticated rivals. However, Samsung's WEP700 manages to provide this noise reduction feature for well under £50. The sound quality from the speaker in the earpiece could be a little cleaner, but it's adequate for taking phone calls, and the WEP700 provides a good basic Bluetooth headset for people that don't want to spend too much. It's a shame, though, that you can't charge it off the USB port on a computer.
Price £35
Available from Play.com
Reg Rating 80%
Sennheiser VMX 100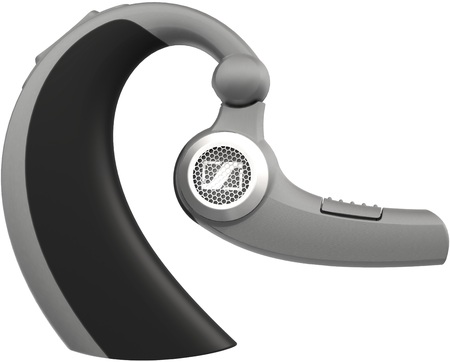 The large earhook may look a bit cumbersome - not to mention looking like a hearing aid - but we actually found Sennheiser's VMX 100 to be one of the more comfortable headsets in this group – and also the one least likely to fall off when you start to move around while wearing it. The audio quality is good too, with plenty of volume from the earpiece speaker, and twin microphones to filter out background noise when you're making calls. We also like the way that it turns itself on or off automatically when you fold it open or shut.
Price £80
Available from Sennheiser
Reg Rating 85%
Sony Ericsson HBH-IV840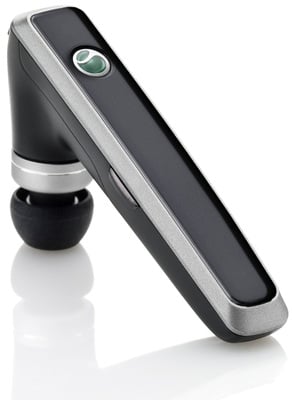 Sony Ericsson's IV840 is so slim it looks more like a tie-pin than a mobile phone headset. There's no earhook, so you probably won't want to wear it when you go jogging - though there's a neck strap included to stop it getting lost. It has just two buttons to handle all its features, yet it still manages to include some useful options, such as the ability to redial the last number you called simply by double-clicking one of the buttons. The audio quality is good, but the one drawback of the headset's minimalist design is that there's no volume control, so you have to control the call volume directly from your phone.
Price £50
Available from Sony Ericsson
Reg Rating 85%