Original URL: https://www.theregister.co.uk/2008/08/11/review_samsung_tocco_sgh_f480/
Samsung Tocco SGH-F480 touchscreen phone
Who calls a phone Tocco, I mean really
Posted in Personal Tech, 11th August 2008 11:33 GMT
Review Samsung has been keen to tap into the touchscreen trend, with recent models like the F700, F490 and its Armani phone collaboration all following the iPhone's lead into fingertip-tapping control.
The Tocco SGH-F480 is another compact touchscreen effort, smaller than its near-namesake, the F490, and consequently packs a 2.8in display rather then the F490's big, 3.2in screen. Its screen is a 240 x 320, 262,000-colour job.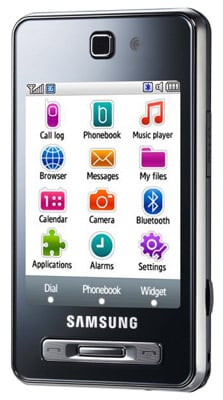 Samsung's Tocco: compact, stylish, daft name
The Tocco is smaller than the iPhone, measuring up at compact 98.4 x 55 x 11.6mm and weighing 106g. But this means you don't get as much screen real estate for viewing, nor indeed finger space for tapping.
That makes the Tocco more pocket-friendly, yet it also packs in a five-megapixel camera and HSDPA 3G connectivity, though it lacks Wi-Fi. So far, so like the F490. But the Tocco does introduce some new touches, including a revamped TouchWiz user interface, which also adds applets to the standby screen.
The Tocco works the minimalist touchscreen look pretty well. Under a Samsung logo at the bottom of the black faceplate there's a discreet rectangular manual control pad, featuring standard Call and End buttons, plus a central menu key. There's a touch of chrome around the sides of the phone, and a brushed metal back panel.
Samsung includes in the box a slide-on back plate with a rigid leather-look cover attached, offering some added screen protection.
The TouchWiz user interface doesn't match up to the slick iPhone experience, but it is an improvement on Samsung's previous efforts. The screen feels immediately more responsive as soon as you start playing with it. There's the usual touchscreen haptic feedback, which gives you just enough vibration (and sound) to let you know buttons have been properly pressed. A 'hold' button on top allows you to lock the display to prevent accidental pressings.
The default options, lined up in a bar across the bottom of the display, include Dial, Phonebook and Menu buttons. These change as you navigate through the menu systems and applications.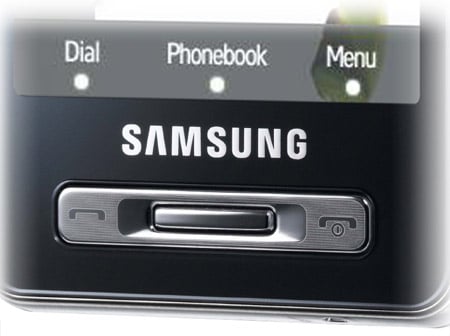 The on-screen options change as you navigate through the menu
In addition, a press of the physical button below the display pulls up five large on-screen buttons: for the music player, messages, internet, calls, and the main menu.
A toolbar can be brought up on the left of the display by tapping a small arrowed tab towards the bottom of the screen. The toolbar slips out to reveal a column of icons, representing features and applications, which you can drag and drop on to the standby screen using your fingertip. This works smoothly, with an intuitive feel to it.
However, the applications available as widgets are limited to a selection of stock features: calendar, photo viewer, music player, FM radio, profiles, games, birthday alerts, date and several clock options. You can drag into or out of the widgets toolbar any of these, plus rather neatly, remove your mobile operator logo if it's cluttering your screen. A simple tap of the arrowed tab closes the toolbar once you've finished your widget-fiddling, and your set-up is saved until you decide to change it again.
There's no facility to download or add more widget applications to the phone, which is a shame, and once you have a few widgets on the small screen it looks cluttered - but it's a neat user-friendly touch that's handy rather than essential. It will be interesting to see if Samsung develops this idea further.
Tap to get the main menu, and the phone screen changes with a rotating transition to show a typical grid of colourful icons. Most of these take you into sub-menu lists, which utilise fingertip-controlled touchscreen scrolling.
Scrolling is quicker if you drag your fingertip down the left-hand side of the screen rather than the right, though on either side you can flick through lists – albeit not with the effortless flicking motion of the iPhone. The action feels better than on previous Samsung touchscreens we've played with, and the smoother responsiveness and more refined interface means fewer frustrating accidental selections or menu mis-presses.
Option selection and making changes follow a quite straightforward, consistent pattern - though like most touch-operated phones, some familiarisation is required.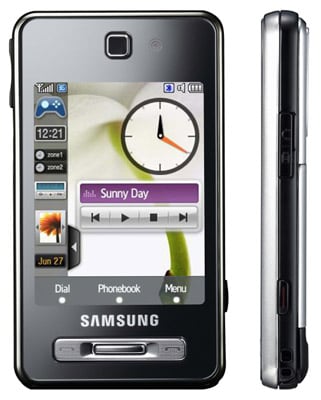 Samsung has again incorporated the touchscreen haptic feedback
When it comes to text input, the screen size limitations mean Samsung has ignored virtual Qwerty keyboard and handwriting options, sticking instead to a virtual phone-style alphanumeric numberpad. You can easily switch between predictive text and manual entry, and the buttons are spaced for accurate tapping.
After just a little practise we found letter selection fine, despite the limited screen space – although we couldn't type as quickly as we can with a regular keypad. Speed texters may not appreciate the keypad layout, either, particularly the space bar positioning, which place this key directly above the OK button - accidental pressing is a distinct possibility for straying thumbs.
The lack of a Qwerty input method may rile some users. It's not ideal, and could be tiresome using a phone pad if you're typing out regular long emails, entering email addresses, URLs and so on.
That in a way reflects some of the limitations of this compact touchscreen handset. Despite its touchscreen operation, it doesn't have smartphone functionality – it's essentially a decent mid-tier mobile with a touchscreen interface.
HSDPA at up to 7.2Mb/s on suitably equipped mobile networks provides the facility for fast 3G downloads and streaming, video calling - there's a front-facing low-res camera above the display - and browsing. But the on-board browser is nothing special. It's a fairly standard Access NetFront web browser. You can tap links directly, and use the volume key for zooming in and out, plus there are a selection of Smart-Fit small-screen rendering options and a page thumbnail overview. But the experience feels more conventional mid-tier mobile than iPhone Safari - you can't get an automatic widescreen or motion sensor change, let alone the smooth flow and precise zoom options of the Apple handset.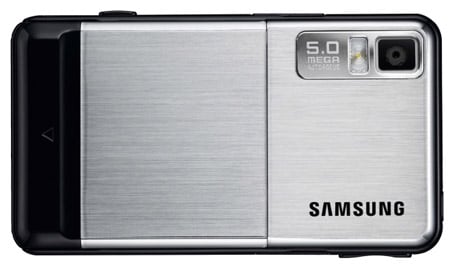 The five-megapixel camera is one of the top-of-the-bill features
The five-megapixel camera is one of the top-of-the-bill features of this handset. It's equipped with an autofocus system, and has a wide range of camera settings and functions to play around with, including not only face-detection technology but also a Smile Shot option – on this setting it won't take a picture until it spots a smile. The flash included on this model is a power LED photo light rather than a more sophisticated, camera-optimised xenon flash, so the shooter doesn't have the full low-light shooting brief we'd like from a high-end cameraphone.
Results with the camera can be impressive. View a full size image an image on a PC and you can see plenty of detail in mid-range or close up shots outdoors, plus good colour balance and exposure handling too. It's not quite up there with the best five-megapixel cameras we've seen, however. In poorer light, shots aren't quite as impressive. Indoors, on auto settings results can deteriorate, with more noise introduced into pictures. Low-light shots with the flash are illuminated within a metre or so, but aren't particularly refined or well-lit.
One issue we found in regular use was with the slow reaction of image capture from when the capture button was pressed. The two-step focus-then-shoot when using autofocus is understandable. But the camera processing has a definite lag from full button pressing to capturing the image that means you can miss the precise shot you want if a subject's not completely still. This can be frustrating, and can also lead to blurred shots if you move thinking the snap's been taken.
The camera touchscreen interface is rather good, though. A press of the side-mounted camera button activates the camera display in landscape mode, with a screen tap calling up the first set of options. The interface is intuitive and simple to control, with options and sub-menus clearly laid out. It's easy to tap and select to adjust the automatic settings, or add effects and so on. The face detection and Smile Shot features seem to work effectively, and there's an anti-shake option to counteract hand-wobble or shutter delay.
Samsung doesn't mention a macro mode, but the camera's autofocus system automatically handles close up shots with no fuss, and results from 10cm or so away are sharp and detailed. A 4x digital zoom is controlled by the volume rocker, which sits on the bottom of the phone in camera mode. Adjustments can be made for white balance, ISO, exposure metering and so on, plus the usual flash control, multi-shot options and shooting effects. You can also tap to view the image album, in landscape or portrait, which can be browsed by finger-swiping. Again, not nearly as smooth an experience as the iPhone, but OK.
You can edit images with the basic on-board photo editing software, or send them directly to blogs or accounts on image-sharing websites, using an embedded ShoZu application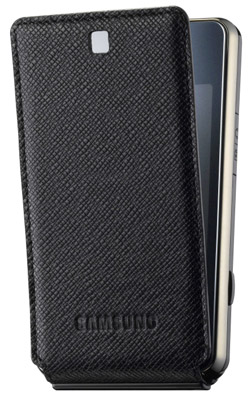 Samsung also includes a slide-on back plate with a rigid leather-look cover
Similarly, you can edit and upload video clips taken with the Tocco. Movie quality doesn't match the stills performance, the maximum 320 x 240 pixel setting - shooting at 15 frames per second - is average quality mobile video footage that won't impress when viewed off the phone. Downloaded or PC-sent video clips are smoother, however.
Samsung's music player interface has a regular kind of Samsung set-up, with low-key touch-scrollable lists of categories and tracks. Standard player buttons appear on screen, and you can move through tracks by dragging the timeline along. Categories are the regular fare – artists, albums, tracks, composers and podcast – and you can add equaliser-style effects.
Samsung again boasts the inclusion of Bang & Olufsen ICEpower audio technology inside, and thankfully this time supplies a better than average set of in-ear earphones in the box. These in-ear buds produce some bass depth and a decent top end, so you can get some fine listening as soon as you load tunes. You can also upgrade your ear-gear: the headset in a two-part affair that has a standard 3.5mm jack socket for plugging in your own high quality headphones.
It's a shame that Samsung has stuck the bit that connects to the phone – a standard proprietary headphone/charger/USB connector – on the side rather than on top or bottom, making it awkward and snag-prone when it's in your pocket.
Still, Samsung has included some 223MB of internal storage on this phone, plus Micro SD card expansion through an easy-access side-facing slot. Tracks can be synced with Windows Media Player on a PC using the supplied USB cable, or copied over using the in-box Samsung PC Studio software. Files can be dragged and dropped too with the phone in mass-storage mode, or sent over Bluetooth.
In addition to the music player, there's an FM radio with RDS, and Samsung has added a Music recognition application, similar to Sony Ericsson's TrackID, to help you identify songs you hear around you.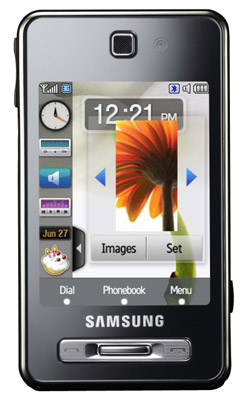 HSDPA, yes - but there's no Wi-Fi
Regulation mid-tier phone organiser tools are present and correct, including a calendar, memo and task functions, a calculator, unit convertor and voice recorder. Usefully, there's an RSS reader, so users can get regular updates from their favourite websites and blogs quickly and easily. One game is pre-loaded: a not-that-enthralling picture puzzle.
We found the voice call performance of the Samsung Tocco up to standard, clear and consistent. We didn't experience any problems with network drop-outs on our review sample, while signal strength held up acceptably. Real life power handling is going to depend on how you use the Tocco, whether you push the music player and other battery-sapping features, and how much that screen is active. Samsung reckons on getting up to three hours talktime or up to 250 hours of standby on 3G networks. We managed a steady two days-plus of average use without trouble.
Verdict
The Tocco improves on previous Samsung touchscreen mobiles, with a more responsive and improved user interface. The phone looks pretty fine too. One downside of such a compact, pocketable build, though, is the lack of screen space and consequently, finger room. The mid-tier feature line-up, headlined by the five-megapixel camera, is decent enough, and the widgets idea works neatly as a bonus feature, too. Although it has high-speed HSDPA mobile data connectivity, it's a shame a slicker web browser isn't included.
Within these limits, it does a reasonably good job, with just a few fiddly exceptions.