Original URL: http://www.theregister.co.uk/2008/08/07/review_olympus_sp_570_uz/
Olympus SP-570 UZ 'superzoom' camera
This puppy packs a protruding 20x zoom
Posted in Personal Tech, 7th August 2008 10:51 GMT
Review The problem with many in-between/crossbreed/hybrid products is that they can suffer a little from an identity crisis...and the Olympus SP-570 UZ is no exception.
At first glance, it looks like a compact version of a DSLR: it's got a large zoom lens at the front, an SLR-type grip and it's a mile away from the ultra-slim compacts that slip easily into your pocket. And yet, the SP-570 UZ is designed to be used by beginners as well as experienced users. So will this camera for all seasons end up satisfying everyone or no one?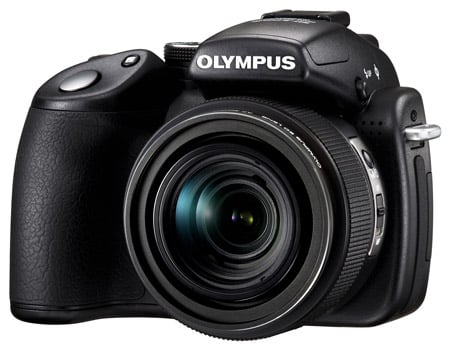 Olympus SP-570 UZ: this camera has a looooooong zoom lens
Let's get the most obvious feature out of the way: this camera has a looooooong zoom lens, and by long we don't mean a digital zoom that offers a pixelated mess at x500 magnification. No sir, we are talking about an optical zoom that is as long as your arm.
Okay, we exaggerate, but you have to admit that a 20x zoom offering is pretty impressive, even more so when you consider that the specification - 4.6-92.0mm F2.8-F4.5 - is equivalent to a 26-520mm lens on a 35mm camera. It's the sort of thing James Bond would find useful on a surveillance operation.
A quick run through reveals a large lens at the front, and at the top (from left to right), a pop-up flash button next to the...er, pop-up flash, hot shoe for an external flash, large mode dial (for auto, program AE, aperture priority, shutter priority, scene, manual, movie, my mode (which saves up to four shooting modes) and guide, which helps you select the right settings for particular scenes.
Underneath the dial is an on/off lever, and next door, is a large dial that can be used for selecting the aperture and shutter speeds under certain shooting modes, zoom into playback images, and select menu functions.
In the front are a tiny exposure compensation button and a shutter button. At the back is an electronic viewfinder and dioptre adjustment dial, 2.7in LCD screen with 230,000 pixels, display button (for selecting the EVF or LCD screen - you can't use both for viewing scenes at the same time – AE and AF lock button, large multi-function control dial for macro, flash, drive and custom settings, plus a central OK/function button.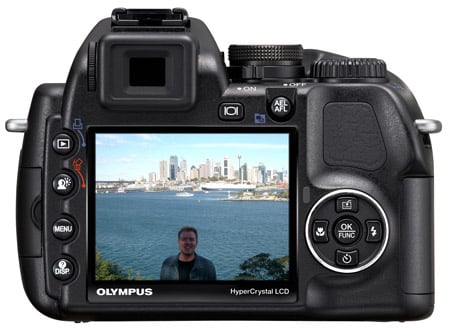 We found the menu system rather fiddly, with lots of scrolling involved
On the far left are four small buttons for playback, shadow adjustment technology (designed for shooting objects against a strong backlight) menu and display mode. Phew. At the bottom is a cover for the battery compartment. The SP-570 UZ only uses four AA-sized alkaline or NiMH rechargeable batteries, so forget about your high energy lithiums.
Olympus states that "battery life varies according to the product." Well, thanks a lot for that. It also uses xD cards and what's more, if you want to use the rather nice panoramic modes on this camera (this includes an automatic panoramic shooting function) you're going to have to invest in an Olympus-branded xD card. Talk about keeping it in the family.
The SP-570 UZ is packed with features and functions, and here are some of them: a 1/2.33in CCD with 10 million effective pixels, it can record JPEG or RAW (Olympus Raw Format) images with a top resolution of 3648 x 2736 pixels, record movies at VGA or QVGA resolution at 30 fs (AVI files with WAV audio), shutter speed range is 1/2-1/2000sec with long exposures up to eight minutes long possible in BULB mode, ISO rating from 64 to 6400, 23 scene modes ranging from old favourites like sport, landscape and portrait, to exotic ones like auction.
No surprises that you also get image compensation system (both mechanical and digital, using a sensor shift system and ISO boost), Face Detection, Red Eye Reduction and a host of in-camera editing features. There are a number of drive modes too including, two high speed sequential shooting modes at 7.2 f/s (5MB file size) and 13.2 f/s (3MB max file size). There's also a pre-capture mode available at the fastest speed, which stores the first 10 frames when the shutter is half-pressed.
In both cases, the buffer can store up to 30 frames. A nice touch is that RAW images can be edited in-camera, for example, converted to a high-res JPEG (useful if you're sending an image to a person doesn't have the appropriate RAW file reader on their PC), and you can also adjust parameters such as sharpness, contrast and saturation.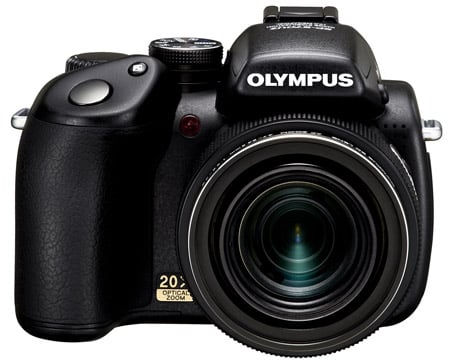 The SP-570 UZ is packed with features and functions
In terms of handling, the SP-570 UZ is a bit of a curate's egg. The right hand grip is comfortable and the index finger falls naturally on the shutter button while the thumb can be used to move the control dial: handy if you want to change say, the shutter speed in shutter priority mode.
However, the left hand grip is not so comfortable, especially if you have large hands. Providing the option of an EVF or LCD screen is to be commended, but the EVF's resolution is rather coarse (it's like looking through a chicken wire fence) and you get blurring whenever the camera is panned.
We found the menu system rather fiddly, with lots of scrolling involved. The function button was more useful for making quick adjustments to a range of functions such as, white balance, ISO, flash mode, image quality and contrast. Although the zoom ring is operated manually, it doesn't offer true manual control; servo motors move the lens. As a result, there is a short lag between making an adjustment and the camera being ready for action.
Switch-on wasn't bad – it took around two seconds – and shutter lag was minimal. However, in single shot mode, it took around 2-3 seconds to settle down between shots. The auto focus system was fast and responsive.
The long zoom was a joy to use and even when shooting at the extreme telephoto end, camera shake wasn't too bad thanks to the IS technology, although a tripod or some sort of support is highly recommended. We also liked the wide angle setting, and the super macro mode (that lets you shoot just 1cm away from an object), was superb – you can literally take good shots with the camera lens almost touching an object.
Sample shots
Click for full-size image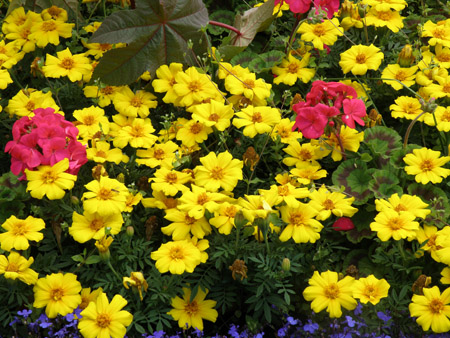 Colours were bright and vibrant with the SP-570 UZ

(left to right, ISO 64, 400, 640) noise starts creeping in at ISO 400

This shot gives you a good idea of the scope of the SP-570's 20x optical zoom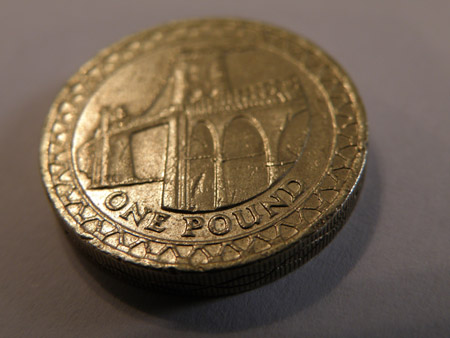 The super macro function lets you take shots when the camera is just 1cm away from an object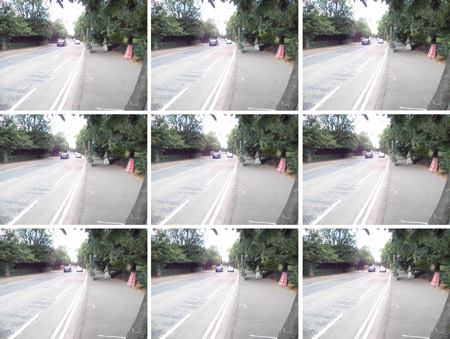 The camera tracks the fast moving car well, but the images suffer as the shutter speed is increased to 1/1000sec and the ISO boosted to 640
Colour, resolution and contrast were good and noise was minimal up to ISO 400 – few would be disappointed by the SP-570 UZ's picture performance. So, what do we make of this ultra zoom camera? If you're looking for a camera with an extra-long zoom and delivers very good picture quality, then look no further. But we're not sure how many people this camera will appeal to.
It's too big for the point-and-shoot photographer looking for a compact, idiot-proof camera, but at the same time, photo enthusiasts will want to plump for a full-blown DSLR, especially as entry-level prices are now much more affordable.
Verdict
A camera that plants a foot in both the DSLR and compact digital camp. Its 20x zoom and super macro mode are superb, but handling could be improved and we're not sure who this camera will ultimately appeal to.