Original URL: https://www.theregister.co.uk/2008/08/04/review_samsung_nv4_compact_camera/
Samsung NV4 multimedia camera
Nice looks, shame about the handling
Posted in Personal Tech, 4th August 2008 11:06 GMT
Review This is the age of convergence, when the lines between various digital devices are blurred. Many use their mobile phone to take snaps, so it's no surprise that camera manufacturers are fighting back.
Take the Samsung NV4 for example. Now you might think that this is just another compact digital camera, but you would be wrong, because Samsung is also marketing it as a portable multimedia player, with the ability to play MP3 files, read text files and record and playback video. Pity it can't make you a cup of coffee – at least not yet.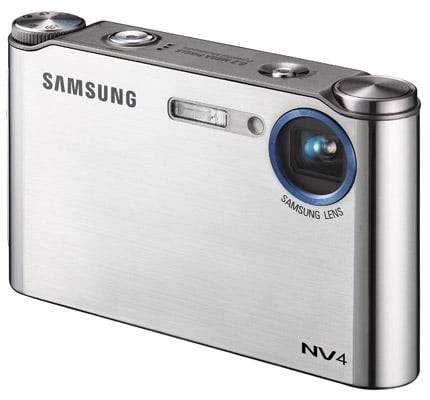 NV4: multimedia-playing-digital-camera..? Hmmm...
The NV4 comes in a compact stainless body that looks and feels very classy. It's available in four colours (silver, black, pink and titanium) and its slender lines are reinforced by its internal zoom lens, which means that nothing pops out of the front, even when you're at the telephoto end of the zoom.
At the front is the lens and flash, and on top is a mode dial (for selecting auto, program and movie modes etc), shutter button, microphone, power button and speaker. Around the back is a 2.5in, 230,000 pixel LCD screen, zoom rocker, camera status lamp, effect button (which lets you select...er, various colours effects, such as sepia), function button (which lets you select a host of functions including ISO, metering and white balance), multifunction dial (for flash, self-timer, macro and display mode), playback/print button, and another button which can be used to select the face detection system or multimedia mode.
Around the side is a small, plastic flap covering a mini USB/AV/DC port. We weren't convinced about the durability of the flap, which seemed rather on the flimsy side. At the bottom is a flap covering the SD/SDHC/MMC card slot and battery holder).
In addition to the multimedia capability, the NV4 offers up to 8.2 megapixel performance, 3x optical zoom 6.3-18.9mm (equivalent to 38-114mm on a 35mm camera), 1-1/2000sec shutter speed range, ISO range from 80-3200 (the latter only works if the file size is 3MB or smaller), multi, spot and centre-weighted metering, movie recording in SVGA (800 x 592), VGA (640 x 480) and QVGA (320 x 240) – all modes offer 20f/s, with VGA and QVGA modes also offering 30 and 15f/s shooting).
The NV4 uses a modified Xvid MPEG-4 file format and comes with converter software for converting other video file formats. You also get digital image stabilisation (a poor person's version of an optical system), face detection technology and red eye fixing.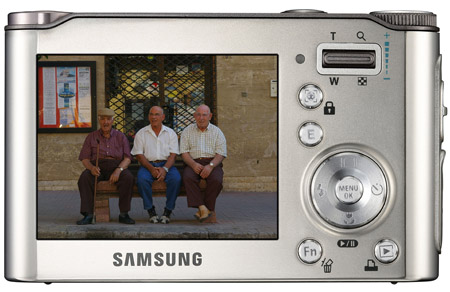 Around the back is a 2.5in, 230,000 pixel LCD screen
As usual, there are bunch of shooting modes (13, including nightscan, children, fireworks, food and cafe), various image editing modes (for saturation, contrast, sharpness, resizing and various colour effects). Other shooting modes include single shot, continuous, auto exposure bracketing and motion capture (fast time lapse).
When it comes to operating the NV4, we're afraid to report that it's a case of nice looks, shame about the handling. This is certainly a pocketable camera, measuring just 94.5 x 57 x 17.5mm and weighing 139 grams minus battery and card, but from then on, it's almost all downhill.
Let's start with the tiny power button. Yes, a power button should be designed so that it's not easy to accidentally switch on the camera when it's in your bag or pocket, but the NV4's button is so deeply recessed, that you need the muscles of Desperate Dan to press it on.
Then there's the shutter button. In most cameras, it's a nice large button placed at the far right of the camera body. But Samsung's designers decided in their infinite wisdom to put a small shutter button close to the middle and the mode dial on the right, with the result that if you're not careful, you'll end up pressing the mode dial and not the shutter button when taking a shot.
The zoom rocker is tiny and not very responsive; the battery compartment flap is fiddly to open and close, and the lens placed so high up on the camera body that it's very easy to inadvertently put their finger in the way. Oh, and the function buttons on the back of the camera are small and it's not easy to read the text on the mode dial button. On the plus side however, the LCD display does tell you what shooting mode you've selected and there's a handy in-camera user guide.
Sample shots
Click for full-size image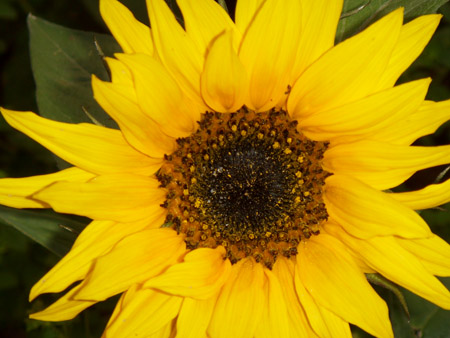 You can take reasonably good close-up shots with the NV4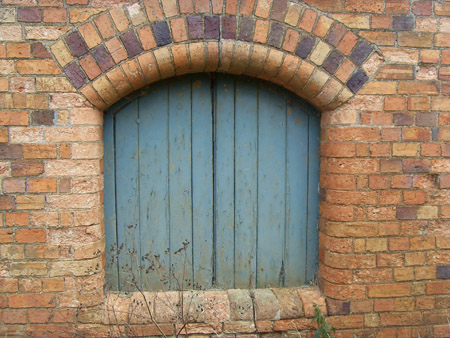 Picture quality is impressive; it's just a shame that it's not matched by the camera's handling

The NV4 offers a 6.3mm-18.9mm zoom, equivalent to 38-114mm on a 35mm camera, but wide angle shooting is not so good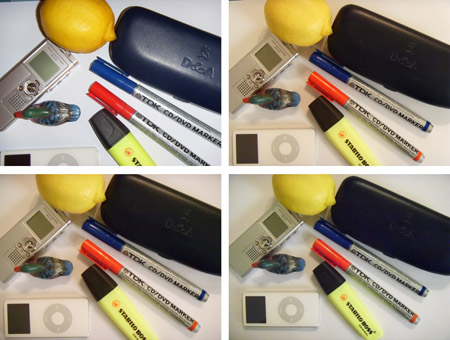 Noise levels are low up until ISO 400 - the higher the ISO, the more noise will show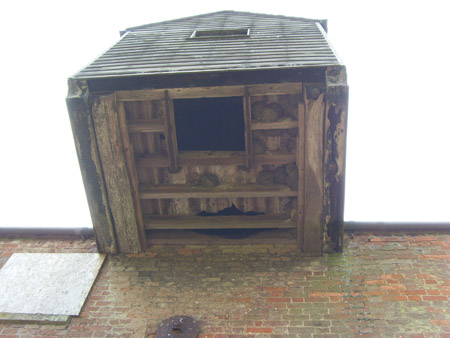 The NV4 managed to avoid under-exposing the building against the sky light
In terms of performance, the NV4 was also disappointing. Switch on was slow and the auto focus sluggish. Shutter lag wasn't bad but we have see better in similarly-priced cameras. The continuous shooting mode worked pretty well, but when operating in this mode, the LCD screen goes blank and the only way you know that the NV4 is busily taking shots is by a flashing green light on the back – there's not even a frame countdown on display.
We were keen to test the NV4 as a multimedia player and so transferred MP3 and text files to an SD card and tried playing them. The result – the NV4 couldn't find the files. If we wanted to play them, we'd have to use the supplied converter software, which is not what we'd call very convenient. It's a shame, because the MP3 performance isn't bad, although the sound is a tad bright (it offers up to 320kb/s performance). Oh, and if you want to use headphones, you have to plug their jack into a USB adaptor.
Verdict
Picture-wise, the NV4 delivered a pretty good performance but it was nothing to get to excited about. We think Samsung has taken its eye off the ball with the NV4. Instead of trying to make it the Swiss Army Knife of digital cameras, Samsung should have focused on basics, such as good handling. Besides, we're also not convinced that many people will want to use their digital camera as a multimedia player – Apple's Steve Jobs can certainly sleep well at night if this is the best camera manufacturers can offer. Style is great but there also needs to be some substance behind a product, and here, the NV4 sadly fails to deliver the goods.