Original URL: http://www.theregister.co.uk/2008/07/30/review_nokia_e66/
Nokia E66 smartphone
Better connected than a Kolkata call centre
Posted in Personal Tech, 30th July 2008 12:07 GMT
Review The next-gen version of the E65 slider is longer, but slimmer, and packs in a 3.2 megapixel camera, push email, HSDPA, AGPS, more memory and better battery life – all in a good-looking package.
It's slimmer by a couple of millimetres, though it's also longer by the same amount and slightly heavier. But it's that slimness that you notice as it glides effortlessly into your pocket.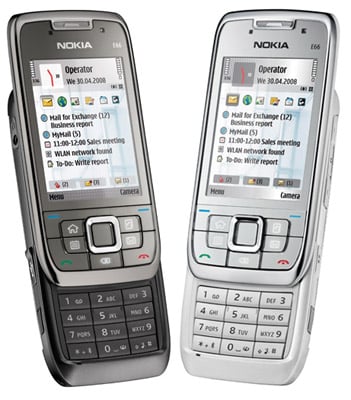 E66: glides effortlessly into your pocket
It's really a very well constructed piece of kit and feels solid and sturdy without being brick-like – sort of like a heavyweight boxer in a well tailored suit, the muscles are hidden, but you know they're there.
The top of the slide is mirrored chrome-effect metal while much of the rest of it is a textured plastic and it has a gently ribbed metal back that feels very classy. In fact, everything about the casing screams quality.
The large-ish 2.4in QVGA screen (larger than the E65's) boasts 16 million colours and whether or not it's possible to actually see all of them, it's a beautifully sharp and crisp display that can be seen even in bright sunlight. Usefully, there's a light sensor present which will adjust the screen's brightness depending on how much you need, so saving your battery life.
The home screen displays half a dozen icons leading to your most popular applications – messages, web, music player, gallery, clock/alarm and a mode switch that allows you to toggle between a serious business theme and a more laid-back display for weekends. It also displays your push email inbox and email set-up so you can quickly take advantage of any Wi-Fi hotspots you happen to find yourself in.
Beneath the screen are two soft keys, call start and stop, a back space key and a square D-pad surrounded by four shortcut keys – home, calendar, contacts and messages. The D-pad doubles as a message alert, flashing when you have mail waiting.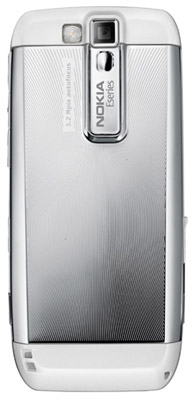 The 3.2 megapixel camera has a dedicated shutter button
Slide the upper part of the phone (it would be wrong to call it the upper half, since it's only about a third of the depth of the lower slide) open and the numeric keypad clearly favours practicality over invention. It's got standard looking angled oblong keys which are well spaced and made of a tactile plastic – the bottom line is it's very easy to use.
Connectivity-wise it's got everything you need, including Wi-Fi, stereo Bluetooth (with fast data transfer), USB and even infrared (all too rare even on business phones nowadays). It's also quad-band and there's a fast 3.6Mb/s HSDPA 3G connection that will keep you going when you can't get proper broadband.
The Symbian S60 web browser may lack some of the cool stuff on the better touch screen phones, but it's a good, robust browser that allows you to zoom in and out, display a full page overview and search for key words on pages. There's also a full screen mode for viewing pictures or streaming video and the phone's built-in accelerometer allows you to flip between portrait and landscape modes without any fuss or delay.
The 3.2 megapixel camera is a definite step up from the 2 megapixel, flashless offering on the E65 and unlike Nokia's other new business phone, the E71, it has a dedicated shutter button on the side. It will support resolution up to 2048 x 1536 and includes an enhanced zoom that will keep going up to 4x even at maximum resolution.
There's no N-series-style Carl Zeiss lens, but it has autofocus and red eye reduction, though the LED photo light isn't as good as a proper flash, and you'll need to get pretty close to your subject to make it worth your while. In good light, pics were no better or worse than you'd expect, though the colour balance isn't great and noise creeps in very quickly if the light is less than perfect.

The built-in AGPS works well and comes with European maps
Video doesn't even reach that standard, offering 320 x 240 (VGA) resolution at 15 frames a second but in good light, if movement isn't too fast, it's passable. There's also a VGA camera on the front for video calling.
The Symbian music player is competent if not particularly spectacular. It will play MP3, AAC and AMR formats and there's also a RealPlayer on board for music and video. There's an FM radio too with 50 presets, which should be more than enough. You'll need the supplied headphones to act as an aerial but you can also set it to loudspeaker mode when they're plugged in.
The speaker is quite good – tinny, obviously, but very clear with speech and clearer than most with music. The 2.5mm jack is a disappointment though, since you won't be able to upgrade your headphones without an adaptor (not supplied).
The built-in AGPS system works very well and comes with European Nokia maps on the supplied 2GB microSD card. It found a signal easily enough and plotted routes exactly as you'd expect, so we had no complaints there. You can save map pages as screen shots and view them in 3D. While the screen may be a bit on the teensy side for use as a sat-nav while driving, voice guidance is available for £7 a month and as a walk-around guide, it was pretty much excellent.
The E66 more than doubles the E65's onboard memory to 110MB and you can add up to 8GB with a hot-swappable microSD card - you had to remove the battery on the E65. QuickOffice4 allows you to read and create Word, Excel and PowerPoint docs, plus Adobe Reader lets you view PDFs.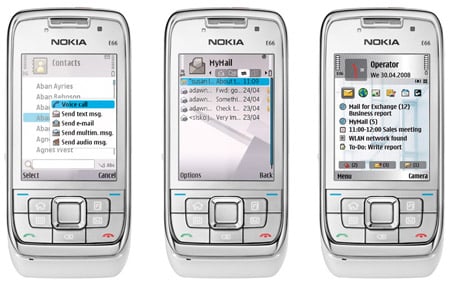 Connectivity-wise it's got everything you need
There's also a fairly efficient (in small doses) text scanner, a barcode reader, a wireless keyboard connector and a voice recorder with its own dedicated button on the side. And as a Symbian phone of course there are plenty of options for downloading additional applications. Battery life has almost doubled on the E65, promising up to seven hours talktime and 14 days standby. Certainly, we found it held up well with a good three days of moderate use before we had to plug it in.
Verdict
The Nokia E66 is as fine an example of a business phone as you'll come across. It offers a full range of connection options, plus push email and fast web browsing in an extremely stylish package that also throws in a 16million colour screen, 3.2 megapixel camera and AGPS. The only thing it's missing is the QWERTY keyboard offered by its E71 cousin.