Original URL: https://www.theregister.co.uk/2008/07/30/pny_geforce_9500_gt/
PNY unveils GeForce 9500 GT
Offload tasks from the CPU for smoother video
Posted in Personal Tech, 30th July 2008 11:53 GMT
PNY has unveiled its latest graphics card, which is designed to offload tasks from the CPU to provide more realistic gaming and smoother video replay.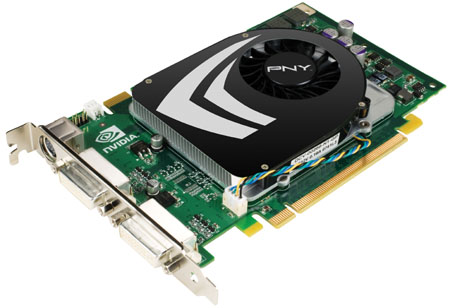 PNY's GeForce 9500 GT
The GeForce 9500 GT is marketed as the "perfect graphics card for multimedia and gaming users," with Blu-ray central to PNY's message. The firm claims that whilst watching a Blu-ray title on your machine, the card helps to reduce CPU utilisation and lower overall power consumption.
Toshiba makes a similar claim of its Cell-based SpursEngine graphics chip, which features in the manufacturer's Qosmio laptops. Just don't ask Toshiba how the chip affects battery life.
The GeForce 9500 GT packs on 512MB of DDR 3 memory, in addition to an HDTV output. It also ships with a copy of videogame Company of Heroes: Opposing Fronts.
PNY's 9500 GT is available now, but an offical price hasn't been confirmed.