Original URL: https://www.theregister.co.uk/2008/07/29/review_lg_kc550/
LG KC550 5-megapixel cameraphone
Looks like a fish, moves like a fish...steers like a cow
Posted in Personal Tech, 29th July 2008 11:02 GMT
Review And at first glance, the KC550 looks like a chip off the old Chocolate block, but with proper buttons rather than the touch-sensitive surfaces of LG's confectionery-monikered hero line.
There's a large 2.4in screen surrounded by shiny black plastic and a chrome rim. On the back the 5-megapixel camera lens is hidden behind an extended cover which stretches for almost three quarters of the length of the handset – which has the dual effect of marking out the camera for attention and also makes it easy to find when you're fiddling to get a quick snap.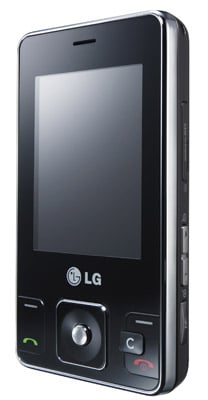 The screen is bright enough to be seen in sunlight
But pick it up and the effect is spoiled somewhat by the cheap-feeling plastic. The slide feels rattly and not terribly secure, as well as being rather prone to slipping open in the pocket. The two-tone (colour, not sound) keypad too feels spongy and unresponsive, with keys blending together a little too well for easy definition when you're searching with your thumb.
The screen itself however is much classier, with 262,000 colours, sharp definition and bright enough to be seen in sunlight. The square D-pad below it is a return to that cheap feeling, but the onscreen menus are a delight – good-looking icons but with a numeric equivalent for each choice – much quicker than scrolling through lists.
The 5-megapixel camera is pretty much the Acme of cameraphone at the moment. Some are better than others of course, but they tend to be reserved for high-end handsets. LG says this is the cheapest handset to pack a 5-megapixel camera, and sure enough, its pay-as-you-go price seems to be set at around £180.
This gives the impression that it might have shoehorned a camera that has just about made it over the spec bar into a lower midrange phone. But it's actually a very decent little snapper that is more than capable of holding its own against some of its pricier 5-megapixel brethren.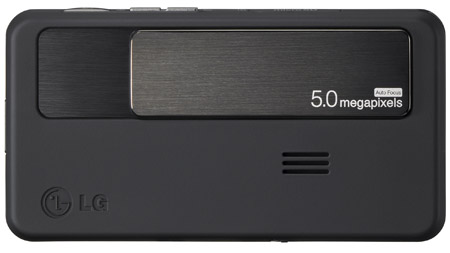 You're ready to shoot in less than three seconds
For a start, it's quick to get into – a practical asset that is often overlooked. Flick back the lens cover or press the shutter button on the side and you're ready to shoot in less than three seconds. So it's great for quick snaps, which, let's face it, is what cameraphones are all about.
That shutter hides a Schneider-Kreuznach 'certified' lens. We're not sure exactly what that means, but having the celebrated lens manufacturer's name attached certainly puts it a head above a generically sourced one. There's an LED photolight too, rather than a proper xenon flash, which suffers from the usual drawbacks (you'll need to get very close for it to be any use).
But whatever the significance of the name of the lens, picture quality is impressive, producing clear, sharp snaps in good light, with realistic colour balance.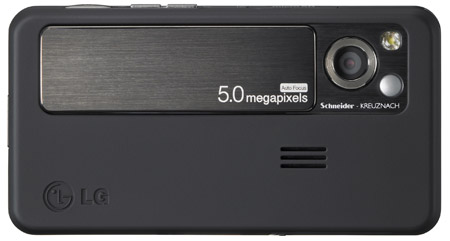 That shutter hides a Schneider-Kreuznach 'certified' lens
When the camera is on the D-pad lights up with a set of four shortcuts – macro, anti-shake and flash, plus the photo album. It's nice to have these essential elements to hand rather than having to flick through menus to get to them. The digital zoom is handled by the volume buttons which are on top when you hold the handset in landscape mode.
Delving into the options menu there's also a self-timer (three, five or ten seconds) and burst mode (three, six or nine pics), plus five resolution options, from MMS-friendly 640 x 480 pixels all the way up to full 2560 x 1920. You can also set the ISO (light sensitivity) between 800 for low light situations to 80 for good light, or on the auto setting.
There's a decent though not spectacular set of editing options once you've taken your pics, including resize, rotate and crop, plus the ability to add effects, frames and text. There's also the Muvee application that runs your pics together in a funky slideshow.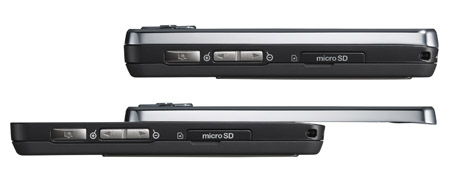 At 110g and 96.9 x 51.4 x 14.9mm, it doesn't take up too much room
Unusually for a cameraphone, video isn't just an afterthought and it will record 30 frames per second at 720 x 480 pixels. The resolution was impressive in comparison with many cameraphone, though we still found it could be a bit jerky even though there's apparently an image stabiliser on board.
There's an accelerometer which, though it didn't seem to come into play when viewing menus or test pages, does appear to work when viewing the photo album. Unfortunately it seemed to have a life of its own with our test sample, and would insist on displaying portrait shots in full-screen landscape mode and vice versa. Confused? We certainly were.
The web browser doesn't rise much above the functional level, and since there's no 3G connection or Wi-Fi you certainly won't be doing any fast browsing or downloading. The accelerometer doesn't seem to work on web pages either so you're stuck in portrait mode with no zooming ability or page resizing options.
The music player is decent enough if again unexceptional. You can copy tunes by dragging and dropping from your PC or send them via Bluetooth, file them in the usual way and set up playlists. There's also a shuffle option and a graphic equaliser with 10 presets, none of which seem to have much effect, and an FM radio.
The sound through the supplied headphones is a little better than we'd expected, especially since the headphones feel even cheaper than the casing. There's a decent level of bass though the high end and midrange feel a bit constrained – good for rocking out or getting your groove on in other words, but less well suited to jazz, folk or country tuneage. Unfortunately the headphones plug into LG's power slot rather than a 3.5mm jack plug, so you won't be able to swap the them for your favourite in-ear brain melters.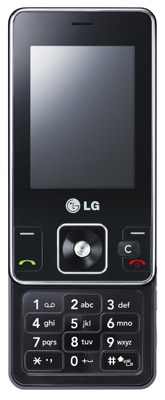 The main use for the accelerometer is in motion-sensitive games
The main use for the accelerometer seems to be in a series of motion-sensitive games called M-Toy. Take your pick from darts, fishing, baseball (no cricket?), hammer throw or maze. It's not particularly sensitive and seems to be based more on luck than skill but there's a good five minutes' of fun to be had before you give up and go back to your Wii.
The upside of this being a moderately specced phone is that the battery held up well over three days, with very limited use of the web browser (we couldn't bear it) but quite extended use of the camera. The paltry 25MB of onboard memory won't take you very far, though you can add up to 4MB with a microSD card (not supplied).
Verdict
LG says the KC550 is its cheapest 5-megapixel cameraphone and even if it doesn't quite look it, it certainly feels it. But with corners cut on the build quality and functionality, with no 3G or Wi-Fi, no decent web browser and underpowered memory, it still covers most of the basics and also has a pretty good camera at a decent price.