Original URL: https://www.theregister.co.uk/2008/07/29/nintendo_r4_lawsuit/
Nintendo rallies troops in R4 fight
Mario joins 54 firms in filing lawsuit against R4 importers
Posted in Personal Tech, 29th July 2008 13:30 GMT
Nintendo is currently embroiled in a fierce legal spat over its Wii Classic Controller, but the videogames giant still has enough spare time to lead the fight against software piracy.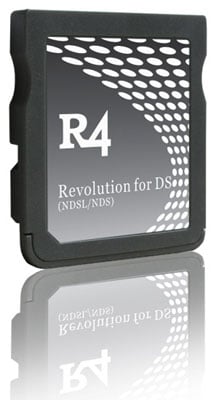 Nintendo claims R4 cartridges are damaging videogame sales
The firm, alongside 54 other Japanese software businesses, including Capcom, has filed a lawsuit at the Tokyo District Court against five companies that Nintendo claims import and sell equipment enabling illegal games to be played on the DS portable console.
The lawsuit focuses on R4 cartridges, which allow gamers to store data onto memory cards that in turn slot into the cartridge. The cartridge then slots into the DS, allowing gamers to access the card's contents directly through the console.
According to a Kotaku report, Nintendo said in a statement that R4 devices "allow illegal uploading from the internet". This, it claims, "is causing severe damage to our company and software makers, and this is something that we cannot possibly overlook".
R4 cartridges are easily available online, but Nintendo hasn't announced any plans to file similar lawsuits outside of Japan.