Original URL: https://www.theregister.co.uk/2008/07/29/60gb_xbox_picture/
60GB Xbox 360 spied in store
Gamer snaps picture of machine ahead of launch
Posted in Personal Tech, 29th July 2008 10:32 GMT
Microsoft confirmed its creation of a 60GB Xbox 360 earlier this month. And although the first such consoles aren't expected to ship until next month, the machine's already been seen in the wild. Sort of…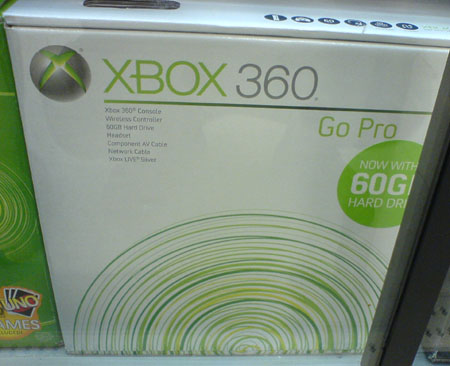 Microsoft's 60GB Xbox 360
A picture has emerged on website Penny College of an Xbox 360 box, which is branded as "Go Pro" and labelled as a 60GB machine. The box states that the machine comes with: one wireless controller, a headset, one component AV cable, a network cable and Xbox Live Silver-level membership.
According to the website's report, the picture was snapped in a New York City branch of US retail chain Target. However, the machine isn't scheduled to be released in the US until 4 August.
Any UK reader now drooling at the sight of a 60GB machine has some disappointment in store, because Microsoft hasn't confirmed if the new capacity machine will arrive in the UK yet.