Original URL: http://www.theregister.co.uk/2008/07/24/review_sony_ericsson_c702/
Sony Ericsson C702 rugged handset
More Ross Kemp than Andy McNab
Posted in Personal Tech, 24th July 2008 10:10 GMT
Review The C702's moniker might give the impression that it's a stripped-down version of the 5mp camera-toting C902. But while it shares some features, the C702 is very much its own model.
For a start, it's pitched as a rugged, outdoorsy sort of handset, with protection against dust and moisture. While we wouldn't recommend dunking it in a highland tarn - we resisted the temptation to try it ourselves; Sony Ericsson knows where we live - there are a few elements that mark it out as tougher than most.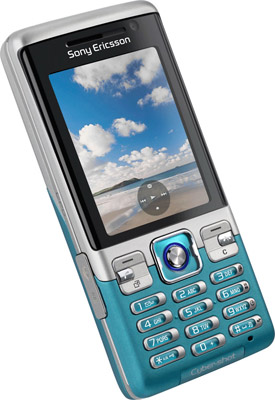 Sony Ericsson's C702: rugged but requires dainty digits to use
There's the metal and rubber, non-slip plastic casing for one thing, and the chunky metallic lens cover on the back for another. There's a sealed cover for the memory card too and the back's held on with a screw that you'll have to undo with a Swiss Army knife or something similar as it's too small for a coin.
In fact, you'll need to do a bit more than that. We tried two different models and on both occasions we had a high old time trying to prize the back off, eventually inserting a kitchen knife and, amid cries of "Heave!", wrenching it free. There was no damage to the cover on either occasion, but it's still a bit of a palaver to go through should you need to change your SIM.
Not to mention the risk of unintended pinky severance...
But despite all this liquid security there's no cover for the mains/headphones plug, which kind of defeats the purpose of all the effort that seems to have gone into the rest of it. Though there is a ruffty-tuffty looking lanyard attached to a faux mountaineering carabiner.
The C702's got a large-ish 240 x 320-pixel screen capable of displaying 262,000 colours. Below that sits a compact keypad. When we say compact, the keys are, in fact, tiny. Our man-thumbs struggled at first, but with a little perseverance, we realised that it's actually well designed, with nicely raised and separated keys that are surprisingly easy to press, though we did find that we needed to use our thumbnails a lot.
Assisted GPS is fast becoming standard on Sony Ericsson's mid-range and up phones, and it's an impressively easy-to-use system. As with the C902, we had no trouble getting a signal in North London and it pinpointed our position using Google Maps, which also lets you see aerial pictures of where you are and where you're going. This isn't particularly useful when you're looking for somewhere, unless you happen to be in a helicopter, but like Google Earth, it's addictive fun.

The non-slip plastic casing is reinforced with metal and rubber
There's a location-based sports application called Tracker that measures the distance you've jogged or strolled, depending on how energetic you're feeling. It seemed to be reasonably accurate, consistently cajoling us to go faster when our pace slipped below the level we'd optimistically set ourselves.
The C702 isn't ideal for motoring unless you've got particularly good eyesight, but there is the option of voice-assisted directions with Wayfinder Navigator - it comes with a 30-day free trial, but after that you'll have to shell out.
There's traffic info too, though this didn't seem to be particularly comprehensive because there's none available in our part of the world, apparently. The AGPS is also used to geo-tag your pics – handy for sharing info when you upload shots to your blog - taking advantage of Sony Ericsson's deal with Blogger - or a pic-sharing site like Flickr.
And speaking of photos, there's a 3.2 megapixel camera on the back of the C702 which, while not exceptional, is certainly more than the journeyman effort found on many phones in this price range. The fancier elements of the Cyber-shot range are missing, such as the very wonderful BestPic - though there is a burst option - and the Xenon flash, which has mysteriously disappeared from the C902 too.
But there is face detection, which identifies the main fissog within the frame and ensures it gets the best exposure. There's also autofocus, a 2x digital zoom and an LED flash light. Once you've taken your pic you can use the Photo Fix option, which attempts to automatically balance out any lighting discrepancies.

There's a sealed cover for the memory card too
It's hardly a professional tool, but it made a few of our more hastily snapped efforts look a bit more presentable. There's also PhotoDJ that offers more editing control over your pics, allowing you to adjust light and colour, as well as add effects, frames, clipart and text.
Like a few other Cyber-shots, when you hold the phone on its side in camera mode the top row of buttons on the keypad (3,6,9 and #) light up with additional icons and act as shortcuts for the shoot mode, scene settings, self-timer and flash light. Video resolution, as usual, is less than the still pics but it's not bad so long as movement isn't too quick.
Web browsing on the C702 is fast enough, thanks to the 3.6Mb/s HSDPA connection but then it has to be, since there's no Wi-Fi. The browser is competent rather than exceptional but, again, a cut above many in this price range.
There's also the option to zoom in or out of pages and to display text only so you cut down on your data bills, as well as receiving RSS feeds. But there's no accelerometer on board to automatically flip the screen resolution between portrait and landscape, though there is the option to do this manually. It's a clunky system compared to fast-lane flash Harrys like the iPhone 3G or HTC's Touch Diamond, but it's not bad for a mid-range phone.
The music player isn't quite up there with Sony Ericsson's Walkman series, of course, but it's perfectly decent, including playlists and podcasts, plus Sony Ericsson's addictive TrackID service that allows you to identify tracks played on the built-in FM radio – or any other radio come to that.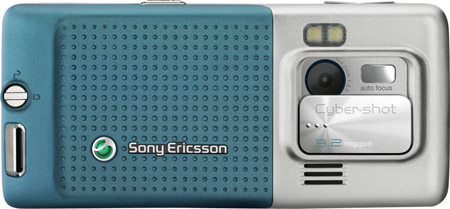 And there's a chunky metallic lens cover on the back
It's only a pity that there's no 3.5mm socket to upgrade the basic earphones that come with the handset, though if you really wanted to, you could use the headphones from a Walkman phone, which include an adaptor.
The C702 has 150MB of memory on board, which isn't bad, and you can also beef this up to 4GB with a MemoryStick Micro card. Battery life seemed pretty decent too – we managed a good three days of moderate use before we had to recharge.
Verdict
It's rugged credentials may be a bit suspect - it's more Ross Kemp than Andy McNab - but this is still a great little mid-range phone. The 3.2-megapixel camera is more than competent and packed with features, the music player does a better than average job and we found the AGPS system a breeze to use.