Original URL: https://www.theregister.co.uk/2008/07/23/review_amd_4850_4870/
AMD Radeon HD 4850 and 4870
Snatching the price:performance crown from Nvidia?
Posted in The Channel, 23rd July 2008 11:02 GMT
Review The new AMD 'RV770' graphics chip that lies at the heart of Radeon HD 4850 and 4870 owes a great deal to the 'RV670' that we saw in HD 3850 and 3870. It uses the same 55nm fabrication process and continues to support DirectX 10.1, but the transistor count has risen from 666m to 956m.
That's a 44 per cent increase in the number of transistors so it's impressive that the die area has only increased by 37 per cent from 190 to 260 square millimetres.
By the sound of it, AMD has taken baby steps with its new chip but one part of the specification leaps off the page: the number of Stream Processors - aka unified shaders - has jumped from 320 to 800.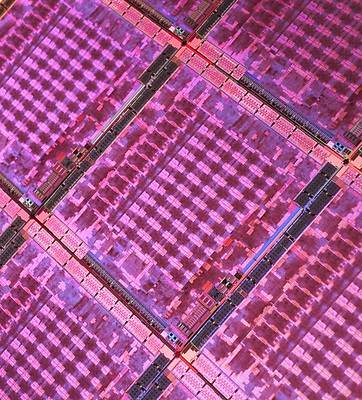 AMD's RV770: die hard
These numbers puzzled is so we fired off an e-mail to AMD thus:
"How the heck has the shader count climbed from 320 in RV670 to 800 in RV770 on the same 55nm process? Do the old and the new shaders use the same number of transistors?"
We got this response from Richard Huddy, AMD's head of developer relations for graphics chips: "Yes, the RV770 is only about 40 per cent larger than RV670, but the transistors are used on average about 50 per cent more efficiently too – and when you combine both of those factors together you get a much more impressive design.
"Traditionally we've focused only on saving Silicon area by moving to smaller processes, this time we made a very deliberate decision to get our performance per dollar much higher.'
It sounds like AMD has adopted the Intel Tick-Tock approach. RV670 - Tick - was a major step forward from the 80nm Radeon HD 2900, and RV770 - Tock - has refined the design to deliver higher performance and better value.
Compare that to the battleship engineering that Nvidia employed in its 'GT200' chip, which is used in GeForce GTX 260 and 280. This is a monster of a chip that has 1.4bn transistors on a core that has an area of 576 square millimetres - more than twice the size of RV770. It runs at colossal clock speeds with a core speed around the 600MHz mark, unified shaders at 1300MHz and GDDR 3 memory with an effective speed that's faster than 2.2GHz.
The result is huge performance and a huge power requirement as the GTX 260 draws 182W while the GTX 280 tips the scale at 236W. You'll need two six-pin PCI Express (PCIe) power connectors for the GTX 260 and one six-pin and one eight-pin for the GTX 280.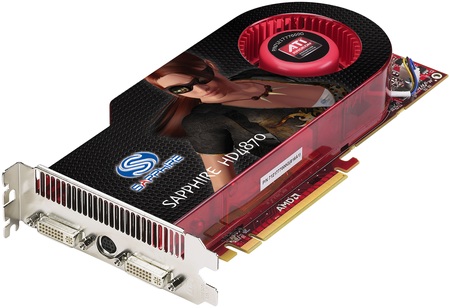 Radeon HD 4870: more modest power requirements than its rivals
By contrast, the new AMD chips are far more modest. The HD 4870 gets by on a mere 160W and the HD 4850 only needs 110W, so you need a single six-pin connector for HD 4850 and two of them for HD 4870. That puts far less strain on your power supply and the cooling inside the case of your PC.
The core clock speeds used by AMD are even more extreme than those used by Nvidia so the core of HD 4850 hums along at 625MHz while the HD 4870 buzzes away at 750MHz. The reason for the large differential is that the HD 4850 and HD 4870 cores are identical in all respects other than their speed while Nvidia starts with an über chip such as the GTX 280 and then disables sections to create lesser chips such as GTX 260.
The other difference between HD 4850 and 4870 is the speed of the memory. HD 4850 supports up to 512MB of GDDR 3 that operates through a 256-bit controller at a true speed of 1000MHz to give an effective speed of 2000MHz and a memory bandwidth of 64GB/s. Its big brother supports 512MB of spangly new GDDR 5 which runs at a true speed of 900MHz. However, GDDR 5 has twice the bandwidth of GDDR 3 so the figure is 115.2GB/s and not 57.6GB/s as you might expect from the clock speed.
The result of these architectural choices is that HD 4870 board measures 242mm in length and uses a hefty double-slot cooler that punts the weight to 1.25kg, while the HD 4850 is the same length but uses a single-slot cooler that brings the weight down to 420g. For comparison, both the GTX 260 and GTX 280 weigh 915g and measure 267mm in length.
During our testing, both of the AMD cards were commendably quiet, but the copper heatsink on the HD 4850 got very hot to the touch. The Catalyst drivers report a temperature of 80° Celsius. This won't be a problem once the graphics card is sealed inside your PC but one edge of the heatsink runs along the top of the card in the perfect position to catch the impatient reviewer by surprise as he swaps graphics cards between tests.
It's a bit like having a plate of really hot sausages fresh out of the oven. Common sense says you should give them a few minutes to cool but greed wins the day, and we now have the burns to prove the matter.
Moral: if you're working with an HD 4850, give it enough time to cool down properly.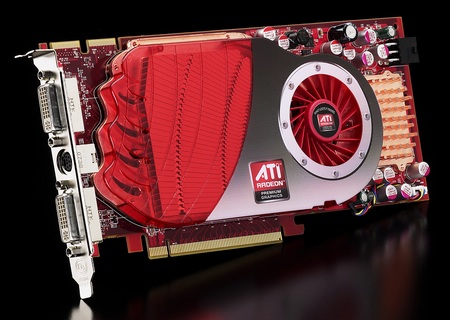 Radeon HD 4850: mind your fingers
The other major difference between the AMD and Nvidia cards is price. The GeForce GTX 280 is on its own somewhere in the stratosphere at £350, and GeForce GTX 260 is a good bit cheaper at £215-250. Compared to them, the new AMD cards are an absolute snip. The Radeon HD 4850 costs about £140 - which makes it comparable with GeForce 8800 GT and GTS - and the HD 4870 is, at £175, only slightly more expensive, which makes it comparable with 9800 GTX.
We tested a Gigabyte HD 4870 and a Sapphire HD 4850 on the same Intel Skulltrail system that we used for our Zotac GTX 280 review and also added an Asus HD 3850 X2, Asus HD 3850, Asus HD 3650, Sapphire HD 3450 PowerColor HD 2900 and Sapphire X1950 GT into the mix, just for fun.
In fact, we had two HD 4850s, one from Sapphire and one pre-production from AMD so we naturally ran them in CrossFire, but as you'll see from our figures there was something a bit strange about the pre-production card. Performance was very good, but the power consumption was 50W higher than the retail Sapphire. You can take the Sapphire figures as gospel but the CrossFire figures are raw and need some adjustment. We estimate that two HD 4850s in CrossFire draw a similar amount of power as a single HD 4870 when the system is under load.
The main result that stands out from the figures is that HD 4850 has approximately double the performance of HD 3850 and it has more than enough oomph to play Crysis. HD 4870 offers 25 per cent more of the same and is superb for gaming.
Crysis Results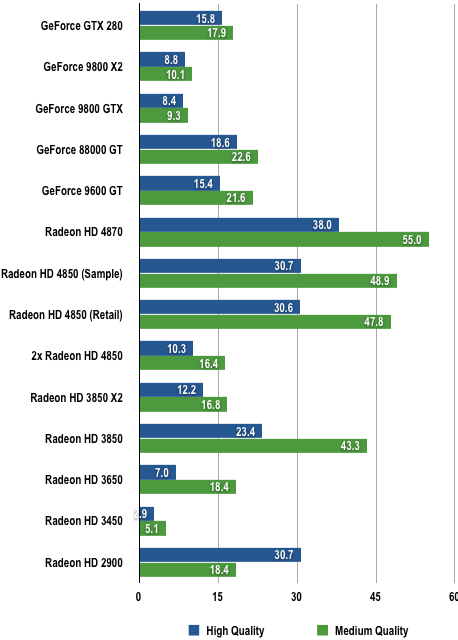 Average frame rates
Longer bars are better
3DMark06 Results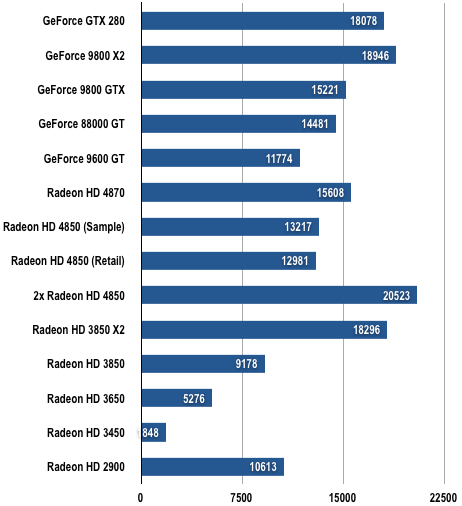 Longer bars are better
Put two HD 4850s together in CrossFire and you might expect great things but the results are even more miserable than they are with the Asus HD 3850 X2, which is two 3850s hardwired together in CrossFire. It's a strange sight to behold but on our test system SLI and CrossFire graphics limp along and yield none of the benefits that we see in synthetic benchmarks such as 3DMark Vantage and PC Mark Vantage.
3DMark Vantage Results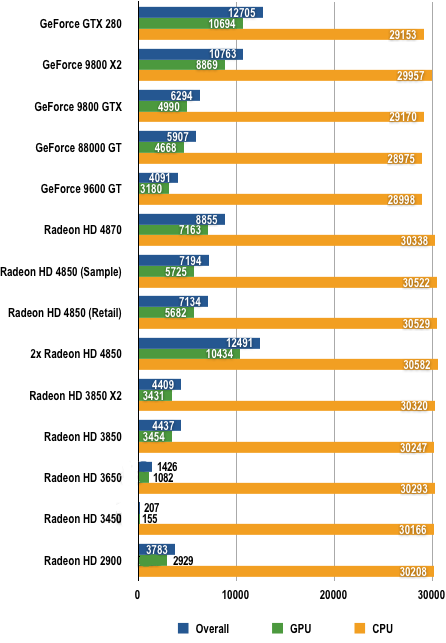 Performance Mode
Longer bars are better
PCMark Vantage Results

Longer bars are better
The Radeon HD 4850 and 4870 have clearly got Nvidia rattled and the result is that GeForce 8800 and 9800 have been discounted to the same levels as the new cards. Should you buy a GeForce 9800 GTX or an HD 4870 then? That would be the AMD option, thanks. It's got stonking performance and has the added bonus of DirectX 10.1 support. But if you do choose the Nvidia product, you might at least offer a few words of thanks to AMD for making your graphics fix cheaper.
Power Draw Results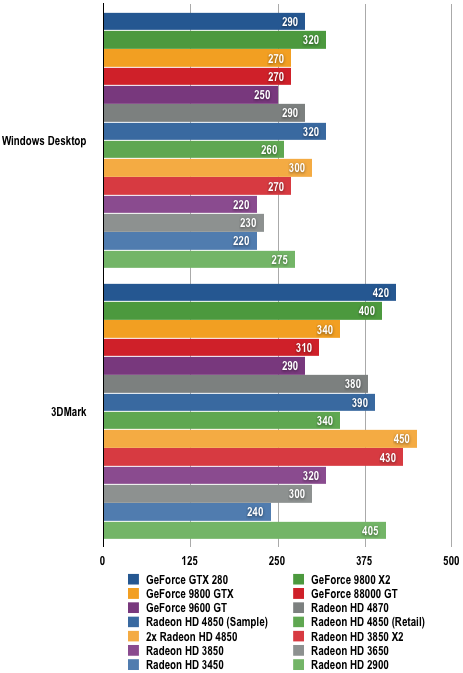 Power in Watts (W)
How about a GeForce 8800 GT or GTX in a straight fight with HD 4850? Glad you asked. We'd give the HD 4850 the nod on this one too - despite its toasty hotness. It has to be said, though, that there's not a great deal to choose in either case. Once again, that's because Nvidia has slashed the price of its 'G92' products by a painful amount. In our opinion, the price needs to come down even further, to £99, to make GeForce 8800 GT attractive. That doesn't seem very likely.
Verdict
AMD's Radeon HD 4850 and 4870 are stunningly successful. Nvidia owns the highest of the high ground with GeForce GTX 280 but down on Planet Earth where people spend real money on real graphics cards it's AMD all the way.