Original URL: http://www.theregister.co.uk/2008/07/22/review_asus_p750_windows_smartphone/
Asus P750 Windows Mobile smartphone
If a workhorse wore a suit, it would look like this
Posted in Personal Tech, 22nd July 2008 12:09 GMT
Review Function over form is the name of the game with Asus' P750. No clever styling, no flash graphic user interface, just robust design, a reasonable specification and decent value for money.
The P750 is a bit of a chunky monkey. It weighs 130g and measures 113 x 58 x 17.4mm, but it feels very robust and solid, and we reckon it could take quite a kicking before anything fell off or apart.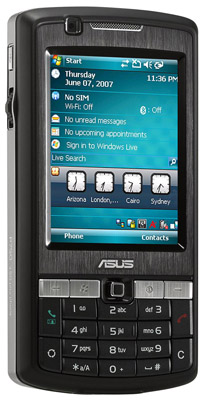 Asus' P750: clear screen, even in bright sunlight
The specification is solid enough too: a three-megapixel camera, GPS, Wi-Fi, A2DP Bluetooth, 3.6Mb/s HSDPA 3G, tri-band GSM/GPRS/Edge, a front-facing VGA camera for video calls and a Micro SD card slot. On-board storage is a somewhat stingy 65MB.
Though Asus' spec sheet lists the P750's Micro SD slot as being SDHC compatible ours flat refused to read data off two 4GB cards. A 512MB card we tried worked just fine, though. As both 4GB cards worked in other Micro SDHC-capable devices, it must be an issue with the handset.
The P750's 2.6in, 240 x 320, 65,000-colour touchscreen is nothing out of the ordinary, but it is bright and clear enough to prove usable in even direct sunlight - helpful if you're going to use it as a satnav rig with the generously supplied in-car charger and screen mount.
When it comes to navigating around the P750, you can zip about the menus using either the jog dial on the left side of the handset – great if you hold the phone in your left hand, useless if you hold it in your right – with the navigation joystick on the keypad or with the touchscreen. The joystick is a rather fine bit of design, nicely weighted and fluid so navigation and selection seldom tripping over each other.
Thankfully an on/off/lock slider on the right-hand side prevents all these control options going berserk while the phone is in your pocket.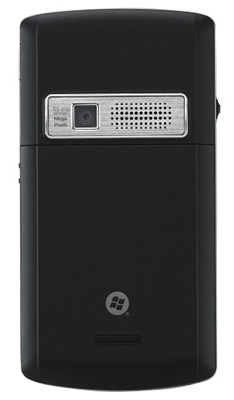 The 3.15-megapixel camera on the back is pretty ordinary
The keypad deserves a mention in dispatches. Nicely sized and with a firm action, everything falls to hand nicely. Like so much else on the P750, it just works.
The P750 hit the streets ahead of Asus' own Windows touchscreen façade, called Asus Glide, so the only divergence from the Windows Mobile 6 Professional norm is the Asus Launcher, which allows direct access to a 4 x 3 array of Sony Ericsson-style icons and a dinky little status bar that lets you see the screen brightness, battery life, memory and storage status, and the CPU and USB settings.
As with all Windows Mobile touchscreen devices, the installation of Spb's Mobile Shell results in a massive improvement both in how the handset looks and works. When running the Spb software the right and left soft-menu keys took on the function of flipping from one screen to the next. Which was nice.
The P750's list of pre-loaded applications include Location Courier and Travelogue, both of which make use of the built-in GPS. The former is a programme that sends your position as latitude and longitude to up to five people as an SMS message either once or repeatedly at a set interval.
The receiver can just click the link and your location shows up on Google Maps. Presumably this is a handy application to have if you ever get kidnapped and bundled into the boot of a black Mercedes by goons who are daft enough to leave you with your mobile. Travelogue, on the other hand, lets you record your meanderings as a .KMZ file, which is the Google Maps era's answer to boring the hell out of your friends with you holiday snaps.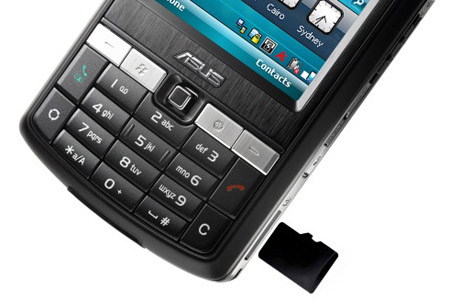 The MicroSD slot is supposed to be HC compatible
The four-timezone Ur Time application is useful - it's just a shame it dumps itself on the main Home screen with a nasty band of colour behind it. The WorldCard Mobile business card capture application is the best of its type we have come across. The MySecret password vault isn't without value either.
The Asus Call Filter also looked a handy bit of software, at least it did in the handbook, our handset didn't actually have it fitted. Media playback is never going to be the forte of a device like this, but at least being WM you can install CorePlayer.
As you might expect the camera is nothing to shout too loudly about, but nevertheless takes a decent enough snap in good light. Video capture though is pretty abysmal at 15f/s, 176 x 144.
The Asus' chunky 1300mAh battery gives the P750 a reasonable run between charges. We only found ourselves reaching for the charger every other day even with fairly regular use of the Wi-Fi and – very efficient - GPS receivers. Certainly it was significantly better than the HTC Diamond, a handset that had battery inadequacies which in retrospect we perhaps dismissed a little too lightly.
Asus claims five hours of talk time and 240 of standby in a 3G signal area, which didn't prove to be too wide of the mark, the call timer recording four hours 38 minutes of usage before the battery curled its toes up. A full charge also managed to support for the GPS receiver for the best part of six hours, which impressed us.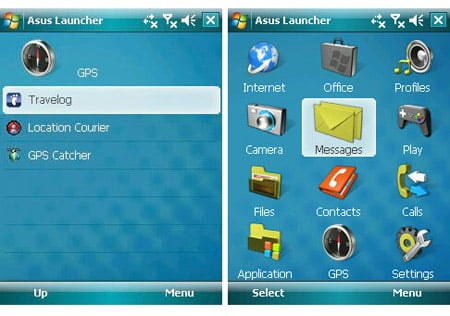 The Asus Launcher: Sony Ericsson-style icon navigation
Power and wired connectivity come courtesy of a mini-USB port and while Asus get a pat on the back for including a separate headphones jack it also gets a kick in the dangleberries for making it 2.5mm rather than 3.5mm.
Call quality was more than acceptable, as was signal reception, though since the screen lacks an "H" icon you are never sure if you getting HSDPA or just Plane Jane 3G.
Verdict
Competent is the world that springs to mind when looking at the P750. It doesn't really advance the science of smartphones but it's a robust and usable example of the breed and can be picked up for between £300 and £350. Assuming the one you buy actually works with a Micro SDHC card and assuming you're happy to cough up a few quid for CorePlayer, Mobile Shell and the like, you will end up with a not half bad handset that should last the course.