Original URL: https://www.theregister.co.uk/2008/07/18/review_apple_3g_iphone/
Apple iPhone 3G
Love it or loathe it, it's here
Posted in Personal Tech, 18th July 2008 11:51 GMT
Review So the much-hyped iPhone 3G is finally here, flaunting its new HSDPA connection and AGPS. But all is not rosy in the Apple's garden of touchy-feely delights, since many of the old version's problems still remain.
At first glance the new model looks just like the old one. From the front, there's no obvious difference between this model and the last. Turn it around, however, and it's got a plastic, slightly convex back, replacing the flat metal of the launch model. Not so classy maybe, but it doesn't feel cheap and it does seem lighter - it's 2g less than its predecessor.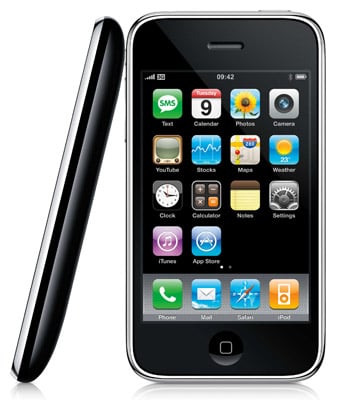 Apple's iPhone 3G: from the front there's no obvious difference between this model and the last
The new iPhone is available in a choice of classic iPod black and white - Nano-style rainbow colours haven't been announced yet, but you know they're coming - and in the same 8GB and 16GB flavours as the previous model. All the iPod music player gubbins and Wi-Fi is much the same, but the much-criticised recessed 3.5mm headphone socket has been replaced with one that sits right on top of the phone and is flush with the case. About time too, we say, especially since you still can't use stereo Bluetooth headphones with the iPhone. At least you can now use your own corded earphones.
That gorgeous screen has remained the same - well, if it ain't broke... - and viewing video, browsing the web and even just hopping around the menus is as much a joy as it was with the original. 3G is of course the big difference, offering faster downloads and page rendering with 3.6Mb/s HSDPA swiftness. Safari remains the best mobile browser bar none.
Even so, you'll still need a Wi-Fi connection to access the iTunes Music Store - presumably so O2 and the other official won't get narked with Apple because of humungous downloading on unlimited data plans.
The other big idea is Assisted GPS, backed by the rather wonderful Google Maps. We had no trouble getting a fix on our corner of north London and had fun plotting routes to all sorts of places we needed to visit, this time with rather more accuracy than the old version's Wi-Fi hotspot-based triangulation could manage alone.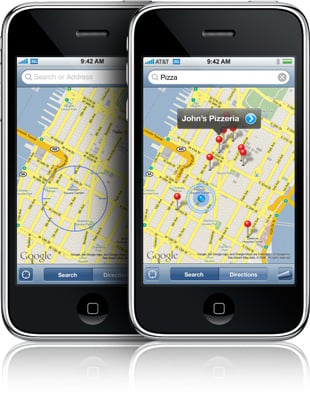 Now with GPS - and much more accurate Google Mapping
The iPhone screen lends itself well to map applications, and, like us, you'll soon find yourself pinching and zooming for all you're worth. You could use it in the car in place of a dedicated satnav, since the screen is big enough, but with no voice direction we wouldn't recommend it. No, you'd better keep your eyes on the road, and rely on the iPhone to help you find your way around when you're in pedestrian mode.
Apple claims the reception problems that some early iPhone adventurers reported have been sorted out. We tried it in various parts of the capital and didn't come across any problems. Battery life seems to be much the same as the old 2G iPhone, even when running 3G and GPS.
There's also a few new features going on under the bonnet. Apple's new iPhone OS 2.0, for one thing, which is also available as a downloadable upgrade for the original iPhone. Tweaks include a search facility for contacts, which are now officially accessible through a menu icon of their own.
The iPhone Application Store is a new section in iTunes, and it's got a decent selection of official third-party commercial and freeware apps available to download.
There are games like Super Monkey Ball, which invites you to give the iPhone's accelerator a workout while you manoeuvre a monkey, in a ball, around the screen. Not exactly genre-defying, but it's fun. There's also Twitterific, which will let you join the Twitterverse of happy texters, although the iPhone's keyboard may wipe the smile off your face because it hasn't changed and is still awkward to use.
There's also PayPal Finance, Facebook, Shazam (which lets you identify songs without phoning), eBay, but perhaps most usefully, Apple's MobileMe application, which syncs your email, contacts, calendar and photos over the air and pushes them to you when you need them. Nice, but it's £59/$99 a year after a two-month free trial period, and it's easy enough to set your iPhone to check for new messages every five minutes.
That said, MobileMe does provide a way to keep a number of PCs, Macs and iPhones in sync, and we've used it to keep key info on two Macs and an Eee PC running Windows XP all up to date.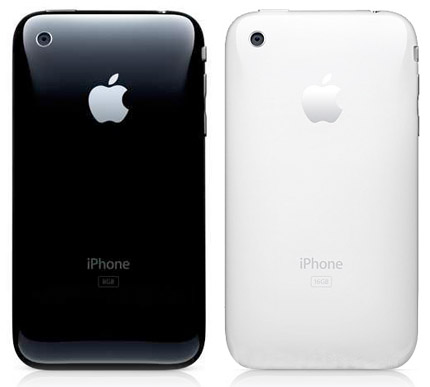 Currently available in black and white
Despite the 3G upgrade, there's no extra camera for video conferencing
The App Store's selection of software is nowhere near as diverse as the range you get with a Windows Mobile device or a Palm OS handset, but it's very early days for the platform and it's bound to grow - probably very quickly. And with Apple's supposedly rigid compliance policies, we'd expect everything to work as it should when you download. Ours did, but other users have reported otherwise. Expect an OS update soon, ahem...
In addition to MobileMe, iPhone users can also get push email pushed over from Microsoft Exchange ActiveSync, and the on-board Mail app now has the ability to view - but not edit, alas - Microsoft Office documents as well as the PDFs if could handle before. So it can join the increasing queue of Blackberry botherers - if corporate IT types will permit its use. Mac buffs can send each other iWork docs too.
So, what about the bad stuff? Well, it's got the same so-so two-megapixel camera with no flash and no video recording, which seems positively toy town in comparison with any other mid-range handsets today. There's still no memory card slot, no cut and paste functionality, and no MMS. All this sounds more like a no-name handset bought from street vendor down Whitechapel way rather than a cutting-edge communication device.
And despite the 3G upgrade, there's no front-facing camera for video conferencing.
But, gripes aside, the new iPhone has one more very attractive trick up its sleeve: price. True, you'll need to sign yourself up for £75 a month to get a 16GB model for free, but the most you'll pay for one with O2 is £159. That's at £35 a month, and if you're happy with the 8GB model, you'll only pay £99.
Not a bad offering really, though it would be nice to have the option of getting one with other carriers. There is of course the argument that Apple should have released a 3G iPhone in the first place. It was obvious to everyone and their dog in Europe that 3G was an essential for an all-singing, all-browsing, all-downloading device like the iPhone, but the boys and girls in Cupertino chose not to.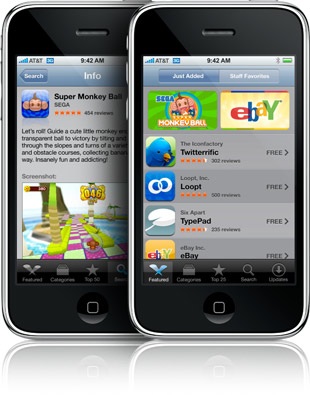 You need a Wi-Fi connection to access the iTunes App Store
Was it so they could be assured of a clutch of early sales from the damp-crotched fans who'd get a phone from Apple even if it ran on clockwork, and then fork out again once it was brought up to a worthwhile spec? Quite possibly, but if you do already own an iPhone the new one isn't a compelling ugrade unless you're a frequent GPS user or you often find yourself surfing the net away from Wi-Fi hotspots.
Like a number 15 bus, there'll be another iPhone along soon, much the same as this one but addressing a few new issues and maybe, just maybe, it will show us a brave new advance like the original iPhone's awesome screen. Until then, though, Apple is really just catching up with its competitors.
Verdict
The iPhone is still a lovely object, and the latest incarnation with 3G, AGPS and push email at least brings the spec up to offer a decent comparison with the best Windows Mobile and Symbian smartphones. But failure to keep up with some of the basics - MMS, video capture, Bluetooth stereo - means the shine is beginning to wear off the iPhone's fancy display. Apple will need to get its screen-pokin' finger out to keep up with the competition.