Original URL: https://www.theregister.co.uk/2008/07/17/france_payg_iphone_3g/
French get pre-pay iPhone 3G
Buy now sans contract - and unlocked
Posted in Personal Tech, 17th July 2008 11:33 GMT
Updated Apple's 3G iPhone has gone on sale in France - without the need to take out an airtime contract.
The untethered handset doesn't come cheap. The 8GB version will set you back €509 ($808/£404) while the 16GB model costs €609 ($966/£483).
That's through local supplier Darty, which specialises in selling handsets that are not subsidised through a contract.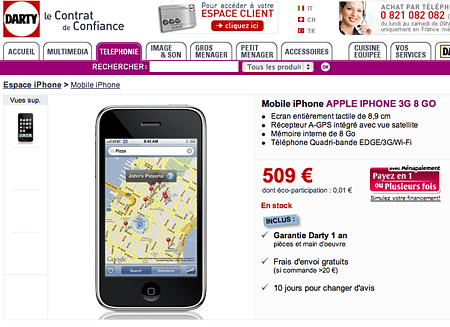 Darty's iPhone page: pre-pay preferred
However, the handset is not unlocked. A line in the suppliers small print states: "Requires the use of a SIM card from Orange France."
But it'll prove a boon to would-be iPhone owners looking to pick up a device without being tied to a contract before they've even left the shop, or want to be able to use the handset on the network of their choice rather than the one(s) Apple thinks you should use.
France's official iPhone carrier, Orange, is legally obliged to unlock the handset, according to French law. So far, however, it has not said how owners can get this done. It too is selling the iPhone with a PAYG SIM "sans engagement" (without contract) for €609, but a line on its website suggests you can buy the phone "alone" for €709 - that's presumably the unlock price.
Video Review
Apple iPhone 3G