Original URL: http://www.theregister.co.uk/2008/07/16/review_sierra_compass_885/
Sierra Wireless Compass 885 HSUPA 3G modem
aka the O2 Business Modem
Posted in Networks, 16th July 2008 11:02 GMT
First Review Britain's mobile phone networks haven't been slow to punt mobile broadband to their customers, but the arrival of simple plug-and-play USB modems has made their task easier.
The latest to arrive is Sierra Wireless' Compass 885, first offered by O2 as the Business USB Modem and now also available untied to a network. Like rivals such as Novatel Wireless' Ovation MC950D and Vodafone's Huawei-made USB Modem 7.2, the 885 looks like a large USB Flash drive.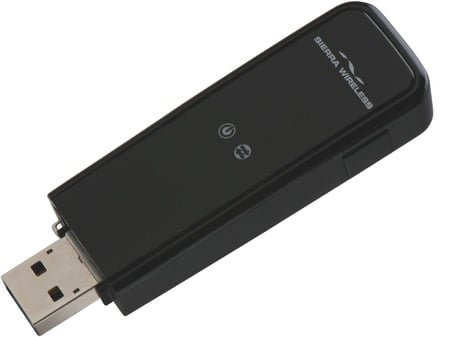 Sierra Wireless' Compass 885: well connected
Pulling the cap off the end not only reveals the USB connector but also the SIM bay and - a novel feature, this - a Micro SD card slot. On one side is a tricky-to-remove flap that hides an antenna port should you need an better pick-up. Alternatively, you can position the 885 upright in the bundled laptop-screen clip.
The top of the modem is adorned with two LEDs: one that indicates it's powered up and the other to flash in time with passing data packets. Unlike, the Ovation MC950D mentioned above, there's no indication here what kind of network you're going to be connecting to - the Novatel Wireless has a light that changes colour whether you're on a GSM, Edge, 3G, HSDPA connection or whatever.
Not that the 885 is limited in any way. It has full quad-bad GSM/GPRS/Edge support, along with tri-band UMTS/WCDMA 3G, 7.2Mb/s HSDPA for high-speed downloads and 2Mb/s HSUPA to accelerate uploads. It's firmware upgradeable to 5Mb/s HSUPA, Sierra says. All network and coverage permitting, of course.
Slot the 885 into a spare USB port, and it'll give you the opportunity to install the software you need to use it. All the code's stored on the device itself, and Sierra includes versions for Windows XP and Vista, and for Mac OS X.
Well, it's supposed to. We tried the 885 first on a Mac, and sure enough the on-board disk mounted on the machine's desktop. But it contained no installer. Note to MacBook Air owners: you'll need the bundled USB extension cable, but then you'd probably guessed that anyway...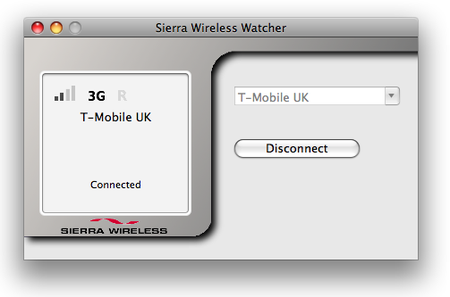 Sierra Wireless Watch on the Mac...
We had the same experience with a regular MacBook, so that's clearly something Sierra Wireless needs to look into. We checked with the company, and it assured us that shipping units do have the Mac software on board.
Mac users will still play second fiddle to Windows folk, however. Sierra Wireless Watch is the Mac version of the 3G Watcher utility provided for Windows machines. It does the basics: calls up the correct connection data for your network, allows you to connect to it and manage access profiles if you use different SIMs, but it provides far less detailed information about the connection and the SIM you're using than the Windows version does. It lacks the latter's SMS functionality too.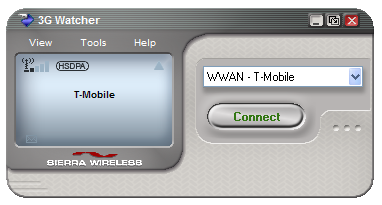 ...and 3G Watcher on Windows XP
How many 3G modem users require SMS? Most, we imagine head straight for their instant messaging client instead, but it would be nice to know the facility's there if you need it.
The 885's SIM slot sits above the USB connector and the Micro SD bay. Sierra has adopted a spring-loaded mechanism for the SIM, which is, we think, a step back from the simple slide-it-in-and-out slots other USB modems provide. Put it this way, we found it easy to push the SIM into the 885 but hard to get the catch to lock it into place. Too often we managed to eject the Micro SD card while we were about it - and vice versa.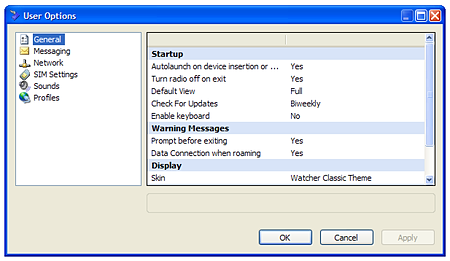 Drill down into the numerous set-up options
As such, the 885's not so friendly to folk who like to flip SIMs in and out, perhaps if they use different networks in different countries. As long as you don't mind leaving the SIM in place - or you have long, well-manicured fingernails - you'll be fine.
The Micro SD support is a gimmick, it has to be said. It's not needed to operate the modem, and while you might want to double-up the 885 as a USB Flash drive - handy, we suppose, for Eee PC users - is anyone really going to use this and not their computer's memory card reader. It's not as if the 885 works as a handy card adaptor, since you have to disconnect the device to expose the memory for removal.
We tried the 885 out with a SanDisk 8GB Micro SDHC card and it worked exactly as you'd expect - no better, no worse.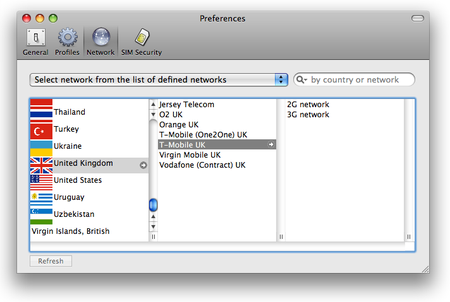 Plenty of carriers' login details are pre-loaded
An enterprising user might keep a card in place that contains browser, address book data and so on for use on any machine he or she is handed, but we suspect this is a feature of the 885 that will generally be ignored.
As a USB modem, the 885 worked impeccably. We tried it out on both T-Mobile's network and on Vodafone's, in central London and elsewhere in the capital where we were able to tap into the network's HSDPA link - rated at 7.2Mb/s, according to Windows, though rather less than that in real-world testing. From slotting in the modem to being presented with a usable connection took a fraction over 37s - slightly slower than the 33s it took to perform the same task, on the same network and in the same location with the Ovation MC950D.
The T-Mobile connection wasn't particularly rapid - the Vodafone was better - but we got almost identical throughput readings with the MC950D, so this was clearly a network factor rather than the hardware. Indeed, the 885 performed much like the Novatel product. Both are based on Qualcomm chip technology, which may explain why.
One thing we did notice with the 885: it doesn't get as hot as the Novatel Wireless product. Both were evenly matched on the signal strength they registered, and while we'd have liked to see more than 2-3 signal bars lit, we had not trouble with either modems' performance.

O2's offering the 885 as the Business Modem
O2 is offering the 885 for free on monthly tariffs ranging from £53 to £143 including VAT, provided you sign up for 18 months. Or you can have it on a one-month contract ranging from £41-143 if you're willing to pay £98 for the modem. If you choose any of these, beware: the O2-sold modem is locked to the network.
If you want the freedom to move from network to network, the unlocked 885 is priced at around £150. That's £10 less than the MC950D is currently going for. The MC950D is a good modem, but the 885 is no worse and a tenner cheaper.
That said, if you're going to be switching SIMs frequently, it's much easier to do so with the Novatel Wireless product than the Sierra one, and we'd personally pay the £10 for the convenience. The MC950D is also compatible with Linux, while the 885 is not, and that may affect your decision which to buy, too.
Verdict
The merits of an on-board Micro SD slot are entirely subjective, but everyone can agree that a good USB 3G modem needs a decent array of connectivity options and a solid signal-sniffing ability. Sierra Wireless' Compass 885 has both, and it's let down only by an unnecessarily fiddly SIM slot.