Original URL: https://www.theregister.co.uk/2008/07/16/bae_mantis_generation_skip/
BAE 'skips a generation' in killer robot tech
The one where it was cheap, to be exact
Posted in Science, 16th July 2008 12:01 GMT
Farnborough UK-headquartered arms globocorp BAE Systems plc has shown off a raft of new robotic concepts this week at the Farnborough Air Show. But the newest and biggest kid on the BAE droidplane block is the Mantis, a large and powerful twin-engined technology demonstrator project whose wraps came off on Monday for the ceremonial inking of an MoD contract.
The Reg got a chance this morning to walk around the Mantis concept model here at Farnborough, and Steve Wright of BAE's Autonomous Systems & Future Capability arm talked us through it.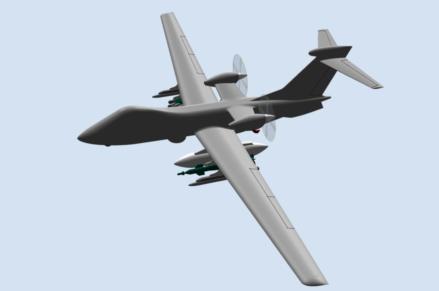 UAVs - now with unnecessary delays and duplicate costs.
In essence, it's a fairly normal unmanned aerial vehicle of the same general type as the well-known American Predator and Predator-B/Reaper. The exact capabilities and subsystems are being decided, but Mantis will have visible and infrared imaging, a ground-scanning radar, and in all probability a laser-dot pointer for precision guided munitions. The model here at Farnborough was shown with mockup smartbombs and "Brimstone" missiles attached, too (Brimstone is the Europeanised version of the successful Hellfire tankbuster, already employed on attack helicopters and Predators).
The Mantis has some special sauce not usually seen on current Predators and such - it will use onboard processing, allowing much less bandwidth to be used in downloading radar data. This potentially spares the British forces' pay-as-you-go PFI satcomms budget, and could be a popular feature. Likewise, the Mantis is intended to fly autonomously as much as possible, avoiding the severe pilot-manpower burdens associated with most of the present-day Predator fleet.
"As a company, we have not got drawn into the 'me too' group of unmanned air vehicles," said BAE robocraft chief Mark Kane in a statement earlier this week.
"We have skipped a generation and whereas most current UAVs are remotely piloted or have some automatic functions, ours are fully autonomous."
Even so, there's nothing really new here. Onboard processing has already been demonstrated on much smaller and cheaper platforms, ones already flying. And the US Army's new Predator variant, the Sky Warrior, is intended to land, take off and fly itself under the direction of a single, relatively cheap operator rather than needing two-man crews headed up by an expensive pilot round the clock. The Sky Warrior is already operational above Afghanistan.
This would seem about all the autonomy you actually want in current wars like Afghanistan or Iraq. Super-UAVs which can fly an entire mission without any communications back to a ground station might have some advantages in big wars against sophisticated enemies, but wouldn't need - and wouldn't be allowed to use - full autonomy above today's battlefields. In any case, by Wright's description, the Mantis in particular - unlike BAE's other MoD demonstrator, Taranis - isn't intended to be independent. Primarily a surveillance and recce platform, Mantis would lose most of its point if it never told anybody what it could see.
Asked what Mantis would bring to the party that wouldn't be available from other companies sooner and almost certainly cheaper, Wright said that a big advantage for Mantis would be "sovereignty", in that the machine's support and parts base would be British rather than under foreign control. But he was reluctant to say hand on heart that Mantis wouldn't incorporate any overseas kit or need any overseas backup, and understandably so - that would make it a very exceptional aircraft indeed. Just one of the candidate subsystems (the Selex Galileo PicoSAR radar being considered for Mantis) is at least partly Italian.
All in all, the Mantis does indeed look a bit like a "me too" system. BAE have seen the explosion in UAV use - especially by the military, but more and more in the civil sector - and they are determined to catch up with the leaders, ideally at the taxpayers' expense. Mantis has actually been under development for some time, and it seems plain that BAE would need to do it whether or not they had any seed money from the UK MoD. Even if that weren't the case, it's hard to see why the MoD would care - it is already flying Reapers, and would buy more right now if it had the money.
Actually it turns out that the MoD does have some money, as evidenced by Monday's contract. We naturally asked how much government cash had been awarded, but BAE's Wright said that the amount isn't being disclosed "because the MoD have asked that this not be released".
Following enquiry, an MoD spokesman said that wasn't the case - the amount of the Mantis development award wasn't being released because it was "commercially sensitive". That is, BAE wanted it kept secret as the information might give its market rivals an unfair advantage. When it was pointed out that BAE said this was not the case, the MoD reps promised to get back to us. As of publication, we haven't yet heard.
The MoD having recently stated that it can buy brand new Reapers for £10m a pop, it seems reasonable to suppose that actually the Mantis pricetag is being withheld so that people won't ask why we don't just buy X number of Reapers or Sky Warriors instead - or even, perhaps, Y number of desperately-necessary Chinook transport choppers, armoured vehicles or whatever. After all, there's a whole other government department in charge of business subsidies. ®