Original URL: http://www.theregister.co.uk/2008/07/15/review_motorola_motorokr_e8/
Motorola ROKR E8 music phone
Can it revive the fortunes of the ROKR family
Posted in Personal Tech, 15th July 2008 11:10 GMT
Review Motorola's ROKR music mobiles hasn't exactly set the world on fire, the let-down of its E1 setting the par for the rest. With the E8 however, Motorola has approached the music mobile arena afresh.
This model introduces some new design thinking to the range, not least Motorola's own take on the current vogue for context-changing controls and an iPod-like navigation dial.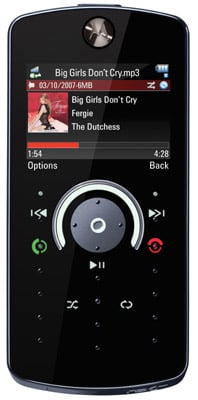 Motorola's ROKR E8: introducing the ModeShift
Music is the headline act for the E8. Its music credentials include a multi-format music player with 2GB of internal storage and a slot for MicroSD cards of up to 4GB capacity. A standard 3.5mm headphone socket is included too.
There's no 3G capability in this handset, however, so over-the-air tune downloads rely on slower speed Edge and GPRS connectivity. Wi-Fi is a no-show too.
The E8's function-swapping ModeShift controls are likely to be a major eye-catcher. Unlike some recent phones that utilise context-sensitive touchpads, such as the Samsung Soul and LG KF600, the E8's whole front panel changes look and function as you switch between phone, camera and music player.
Sleeping in standby, the face of the phone is a slab of flat black plastic, with just the chrome "FastScroll" dial around the navigation pad, and a pattern of raised pimples breaking the surface to indicate key positions. Tap a key, and a regular set of numberpad buttons are illuminated through the surface and the screen comes to life. So far, so normal.
Tap the music note icon, though, and the phone's numberpad transforms into a music player control panel, with the keypad's alphanumerics being replaced by play/pause, forward and back buttons, plus shuffle and repeat. With that smooth FastScroll wheel for zipping through track listings, the phone's control array effectively becomes that of a pure-play digital music player.

It's slim, but unusually large for a candybar design
Similarly, a quick press of the side-mounted camera button fires up the phone's (rather basic) two-megapixel camera and switches the numberpad into camera control mode. The functional advantages here are less obvious. Although the number keys disappear, the camera controls are very limited - zoom in and out, media gallery and video camera selection – and you still need to play the Options soft-menu to apply settings. The virtual controls don't make it any better to use than most regular cameraphone.
The camera provides only limited settings and a very ordinary imaging performance. There's no autofocus system or flash illumination, and even in good lighting conditions images lack fine detail and photo reproduction is unimpressive. There are few real adjustments you can make to improve matters, and in lower light situations, the auto system copes poorly and lacks definition. The camera can shoot video, too, capturing images at low quality 144 x 176 top resolution. Predictably, results are poor.
The E8 is Motorola's first effort at using haptic feedback, providing slight vibrations - and an odd squidgy noise - to confirm buttons have been pressed. The number buttons need to be pressed firmly but lightly to operate, which cuts down on potential mis-pressings.
A sliding key-lock on the side of the phone also takes care of accidental in-pocket button presses.
All this is fashionably attractive. Less so is the footprint this phone makes. Despite its slim profile – a mere 10.6mm thick - and reasonable 107g weight, the E8 is no waif-like handset. It has quite a big spread for a regular candybar phone, measuring 115 x 53mm – almost the size of an iPhone - so you can really feel it in your pocket.
This real estate allows its keypad controls to be well spread out and make room for that nice FastScroll wheel, but strangely Motorola has equipped this large faceplate with just a 2in display. This 320 x 240, 262,000-colour screen sits in landscape format, making it look even more under-sized.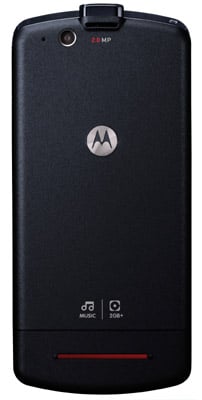 The back of the handset features the rather basic 2Mp camera
This screen configuration does limit the menu layout, although it doesn't hamper the usability of the controls, which are very user friendly and easy to get to grips with. Out of the box, the main menu screen is a carousel-style spinner, with one large icon showing at a time, though it can be switched to a two-row grid of icons, or a list. Sub-menus pop up as lists, which can be swiftly scrolled through using the wheel or the navpad. Consequently, the limited vertical screen space isn't generally such an issue.
In familiar mobile style, too, the navpad inside the FastScroll wheel is set up for various function shortcuts, which are user changeable. One of these is for fast access to Google search. There are also shortcuts for pulling up alert style, Bluetooth searching, alarm and so on.
Motorola's menu operation is mostly conventional stuff, easy to operate and intuitive. For most sub-menu options, quick scrolling is supplemented by numbered options for making selections using the numberpad. Texting is nicely implemented, with an effective dynamically learning predictive text system, and the keypad layout is fine for fast message tapping for SMS or email.
Pressing the music mode button on the keypad, you're taken in to a straightforward list-based music player as the control keys switch roles. As you'd expect from a music-centric mobile, the usual sort of categories are lined up - playlists, albums, artists, genres and composers. Five lines are viewable on screen at once, though the three-quarter circle FastScroll wheel is a smooth, hassle free way to scroll down lists quickly and easily.
The user interface is familiar stuff too. Track details, any associated cover artwork and a timeline are presented on the display as you play tunes, and you can browse around and click through your song collection using the virtual controls easily enough.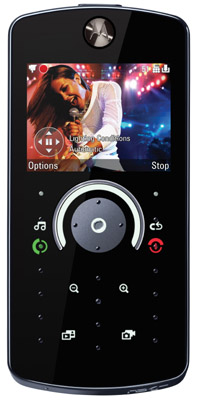 The E8 is Motorola's first effort at using haptic feedback
You can load up to 2GB worth of songs to the phone's internal storage, and additional MicroSD card storage can bump this up by up to 4GB per card. The card slot is behind the rear panel, and the battery needs to be removed to swap cards, which is fiddly. As you swap cards, the music library updates your track lists simply, with all music files listed together.
The E8 can be synced with Windows Media Player 11 on a PC using the supplied USB cable, or files can be drag-and-dropped into the phone or card memory – the only USB option if you're a Mac user. Supported file formats include, MP3, AAC, AAC+, eAAC+, WMA and WAV.
Bluetooth transfer is possible too, and tracks can be downloaded over the air, albeit chugging along at GPRS or Edeg data rates rather than at faster 3G speeds.
Naturally, Motorola kits out the E8 with a stereo headset. While this is the average entry-level sort of quality you get with a mobile phone, Motorola does provide the ROKR with a standard 3.5mm headphone socket so you can easily replace them with your own better quality ear-gear.
If you're keen to use the ROKR for regular music playing, this is recommended, as a decent pair of headphones will reveal a much more impressive audio performance than the in-box set. Sound quality from the player is very good, although we'd have preferred a bit more sonic headroom on the volume – it sounded a bit too low at maximum for our liking.

Music storage equates to 2GB on the phone's memory and 4GB on MicroSD card
The loudspeaker, while capable of loudish playback, is no great shakes – it's typically bass-light and tinny at higher volumes.
An FM radio is included as part of the audio spec too, and Motorola has loaded up the phone with SongID track identification software powered by Shazam's tune identification service – similar in function to the TrackID app bundled on Sony Ericsson phones.
Taking into account the lack of 3G, the browser does a reasonable, if slow, job at negotiating full web pages. The Google link on the standby screen will no doubt encourage users to try the mobile internet (and it's a welcome addition), but if it's a fine browsing experience you're after you should really consider a faster, more web-capable handset.
The E8 also includes a selection of office tools - calendar, tasks, notes, calculator, clock functions and so on - a couple of Java games, plus remote back up/sync options and PC syncing. Voice control, 'talking phone' (reading out phone info and messages), and voice recorder options are included too.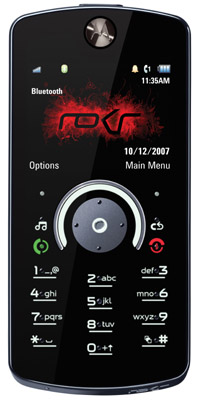 Sadly, no 3G though
Call quality from the E8 was pleasing, with a consistently clear, natural sound from the earpiece, decent volume levels and a strong network performance. Battery life was reasonable; Motorola quotes a standby time up to 300 hours or up to 360 minutes' talktime, which isn't exceptional for a non-3G quad-band GSM phone. With our average levels of usage with some music listening, we managed around three days between charges.
Verdict
The main selling points of the E8 are its novel context-swapping ModeShift controls and its solid, quality music player capabilities. But while function-changing touchpad controls are new for Motorola, this sort of thing has appeared in various forms recently on other, more capable handsets. As such, this technology isn't enough of a deal maker to sell this phone on its own. What's more, the phone's large footprint and small display offset some of the attractive styling plus points. Its lack of 3G and Wi-Fi limit it too.