Original URL: https://www.theregister.co.uk/2008/07/15/bt_updates_home_hub/
BT updates Home Hub Wi-Fi box with 802.11n
Better security too?
Posted in Networks, 15th July 2008 08:29 GMT
BT has updated its hacker-vulnerable Home Hub wireless box, introducing support for 802.11n Wi-Fi and - perhaps more importantly - the WPA security technology enabled out of the box.
Designed to link in to BT's Total Broadband service, the new Home Hub doubles up as wireless router and DECT phone cradle.
Nothing out of the ordinary there, you might think, but the previous incarnation of the box was found in September 2007 not to be quite as secure as it might be. Since then three more major holes have been found in the unit, most recently weak security pre-sets and a willingness to hand over its serial number, then used as the default admin password.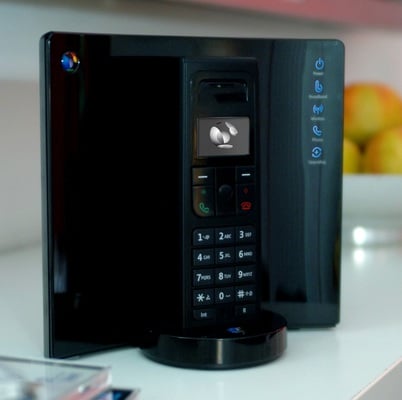 BT's updated Home Hub: now with 802.11n
BT said: "The new Hub also comes with improved security with the latest WPA (Wi-Fi Protected Access) technology enabled out-of-the-box to ensure the best possible defence against potential wireless hackers and snoopers."
We shall see.
The Hub's wireless capability now yields up to twice the range of the previous model, the telco claimed, and reaching into areas previously hidden to Home Hub-emitted signals.
The unit can also be set to power-down the Wi-Fi sub-system to conserve power when it's not needed. Punters who choose to do so will reduce the box's energy consumption by "around 20 per cent", BT claimed.
New Total Broadband customers who choose its £25-a-month "unlimited downloads" package - aka Option 3 - will get the updated Home Hub as standard. Chose the Option 2, £21 a month offering online and you'll get it free too. Customers selecting the £16-a-month Option 1 will have to stump up £90 for the box. Existing customers can upgrade for £45.