Original URL: https://www.theregister.co.uk/2008/07/14/samsung_i8510/
Samsung to join 8Mp cameraphone crowd?
Leaked pics reveal Samsung super-snapper
Posted in Personal Tech, 14th July 2008 12:56 GMT
Sony Ericsson's already launched one, the C905. Both Motorola and LG are thought to be prepping their own versions, and now Samsung's been added to the list. What are we talking about? Eight-megapixel cameraphones, of course.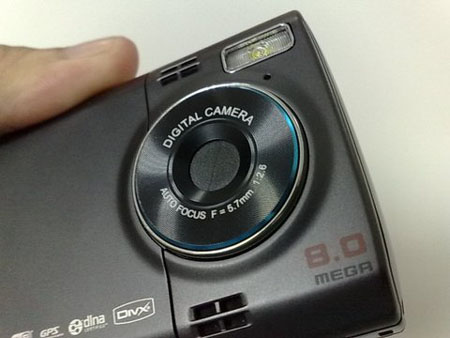 Could this be Samsung's first 8Mp camera-phone?
Image courtesy GSM Help Desk
Pictures have surfaced online of a handset that's thought to be called the Samsung i8510. Aside from snapping at up to eight megapixels, the leaked pictures reveal an autofocus lens and, quite possibly, the presence of a Xenon flash. A snapping rate of up to 120f/s has also been rumoured.
According to logos on the phone's underside, the talker also features certification from the Digital Living Network Alliance (DLNA) - an industry organisation that aims to provide an open platform through which wired and wireless consumer gadgets can all interact with one another and share content. The DivX logo's also present.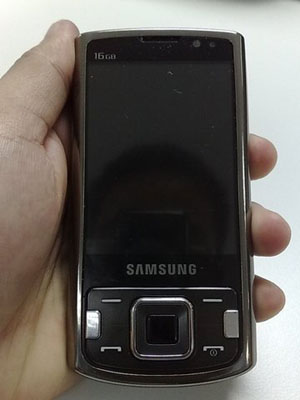 The i8510 could have 16GB of on-board storage
All the phone's juicy specs can't be revealed through images alone though. So a report by Dutch-language site GSM Help Desk has it that the talker has a 2.8in display with a 240 x 320 pixel resolution. It's not yet known if the screen will be touch-sensitive.
It's also claimed the phone will support HSDPA 3G connections and Wi-Fi, whilst offering users the option of either 8GB or 16GB of internal storage. The report also claims the phone has an integrated 3D chip to ensure smooth support for 3D games.
Samsung's i8510 is thought to measure roughly 106 x 53 x 16mm and come in a metal casing. Because the phone hasn't been officially announced yet, a UK release date or price is still unknown.