Original URL: https://www.theregister.co.uk/2008/07/14/belkin_usb_n_router/
Belkin preps DIY NAS wireless router
N+ unit has USB
Posted in Personal Tech, 14th July 2008 14:17 GMT
Belkin has upgraded its top-of-the-line 802.11n Wi-Fi router with a USB port and the ability to hang a hard drive off the WLAN.
The N+ Wireless Router provides all the customary router features for sharing a broadband link between wire-connected and wireless computers and other gadgets. Its Ethernet ports now operate at Gigabit speed.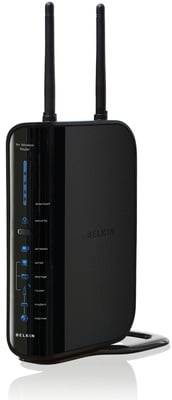 Belkin's N+ Wireless Router: USB and Gigabit Ethernet on board
But it's the USB port that really sets it apart from Belkin's N Wireless Router, which it has just restyled to match the upright look of the N+ model.
The USB port is specifically for storage, allowing you to hook up a hard drive and use it for back-up and file-sharing between machines on your network.
The N+ is compatible with Draft 2.0 of the 802.11n specification. It's undoubtedly compatible with the 802.11b and 802.11g standards as well, but Belkin didn't say if the unit can operate in the 5GHz band for 802.11a compatibility.
The new N and the N+ are due to go on sale over here later this year following their October US debut. There's no word yet on European pricing, but the N+ will retail for $120 (£61/€76) in the States. the N will be priced at $80 (£40/€50).