Original URL: https://www.theregister.co.uk/2008/07/11/soyuz_bolt/
ISS cosmonauts extract Soyuz explosive bolt
Pyro fitting suspected over ballistic re-entries
Posted in Science, 11th July 2008 10:31 GMT
Cosmonauts Oleg Kononenko and Sergei Volkov yesterday ventured outside the International Space Station to remove an explosive bolt from the Soyuz TMA-12 spacecraft amid suspicions that faulty pyro fittings may have been responsible for two ballistic re-entries into Earth's atmosphere.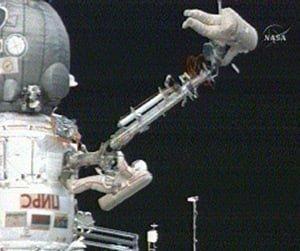 Russian scientists reckon that dodgy bolts previously delayed separation of the Soyuz crew module from an equipment compartment prior to re-entry, something which in October 2007 and April this year treated passengers to high-speed returns to Earth some way from the intended landing sites.
While considered perfectly safe, a ballistic re-entry is a white-knuckle ride for astronauts, as Korean Yi So-Yeon can attest.
Volkov and Kononenko (see pic) needed six hours and 18 minutes to tackle the suspect bolt - one of ten joining the compartments. Volkov had the unenviable task of unscrewing the fitting, which was then stowed in a "blast-proof cylindrical case" for return to Earth and examination. One of the pair concluded: "It is in. Thank God."
The third ISS crew member, Greg Chamitoff, spent the whole operation in the Soyuz, just in case the airlock which joins the spacecraft to Russia's Pirs module could not be repressurised. If that had happened he'd have been stranded on the station with no access to the Soyuz "lifeboat". ®