Original URL: http://www.theregister.co.uk/2008/07/11/review_pioneer_kuro_pdp_lx5090/
Pioneer Kuro PDP-LX5090 plasma HD TV
Premium price equals premium quality
Posted in Personal Tech, 11th July 2008 11:26 GMT
Review How serious are you about your telly? If you find yourself in cocktail-party conversations saying, 'Oh, I don't really watch TV...' then either you're in denial, or you haven't seen the latest Pioneer Kuro.
You see, it's a 1080p "full HD" 50-incher, and there's no way someone can come into your living room and not remark on it. Of course, if you freely admit you're a home cinema nut, you could plump for the 60in model.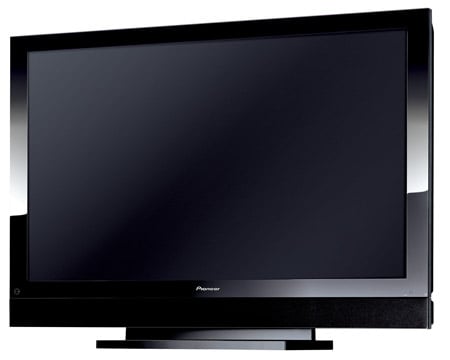 Pioneer's Kuro PDP-LX5090: ninth generation
Let's not go wild, though, and stick with the PDP-LX5090. If you know anything about Pioneer, you'll know that it's a brand that has a great reputation for making plasma TVs, squeezing every drop of contrast and image quality out of the format that many TV makers avoid.
Plasma, unlike LCD, is capable of high contrast and, specifically, really black blacks on screen because it's not dogged by the backlight needed to see images on LCD. In dark rooms, it offers bigger, brighter and sharper pictures than anything.
You may have heard about the demo the company did behind closed doors at the Consumer Electronics Show, back in January. In the dark, it showed three TVs in a row and proved that even plasma TVs spill some visible light when they're switched on. And then it became apparent that there were not three, but four switched-on TVs in the demo.
The fourth had a prototype screen so dark that you couldn't see anything until an image of a spinning gold ring appeared at the centre of the screen. The rest of the screen was pure pitch black. It was deeply impressive.
The LX5090 may not be as advanced as that, but it still shows substantial improvement over last year's already strikingly good model. Pioneer knows its stuff – this is the ninth generation of plasma from the company - the native resolution's a full 1920 x 1080 - and a leap forward in picture quality.
But let's reality-check here – the Kuro prototype looks stunning in the pitch dark, but how many rooms really are that dark, unless they have usherettes at the door? Plasma is great in low-light conditions, but less exciting in bright situations. Is the Kuro worth its asking price for the average household viewing conditions?

93mm front to back
Let's start with it switched off. The gloss-black frame is pretty simple, unadorned by the colours and curvy shapes of some rivals. The bezel isn't as slim as, say, Toshiba's Picture Frame models, but no more intrusive. The optional screen-width speaker bar sits underneath, and the plinth is a gloss rectangle. The brand name is picked out in clear but not overpowering white lettering.
Unlike some Kuro models, the PDP-S63 speaker bar is the only add-on that's compulsory. Screens without integrated tuners are also available, and they are less deep from front to back, but this integrated analogue and Freeview model is less faff.
The remote control is cool. It's aluminium-fronted instead of plastic so it has a decent weight to it and is painted black to give it discreet good looks.
Connections are good, but unexceptional, with three HDMI connectors, all on the back, aongside three Scart sockets, VGA "PC input", a Common Interface Slot for smartcards, component-video, digital audio out and speaker connectors. A separate panel on the side sports USB, 3.5mm 'phones, s-video and composite-video connections.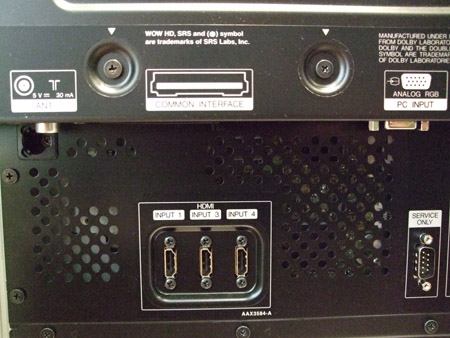 Three HDMI ports, but all on the back
Switch the TV on for the first time and channel tuning is quickly and efficiently achieved. The menus are simply laid out, with grey banners and yellow highlights to guide you. The LX5090 is straightforward to set up, then, and it's easy to use. Flipping between channels and inputs is simple. A dedicated electronic programme guide (EPG) button takes you to a surprisingly unattractive grid of channel details.
There are plenty of features on offer here, including those to make you look like a geek - like naming analogue TV channels - oh, so 3 is really ITV 1, is it?. Or the cool but only occasionally useful ones, like splitscreen. Here, you can have two equally sized images side by side or picture-in-picture.
This was helpful during Wimbledon, for instance, where you could watch two games at once by picking BBC HD - assuming you've a Freesat or Sky HD box - and BBC 1, but this feature may be under-used for the rest of the year. Besides, can you really concentrate on two things at the same time? The manual also warns that extended use of this feature can cause the screen-burn image retention that you never want to see on a plasma.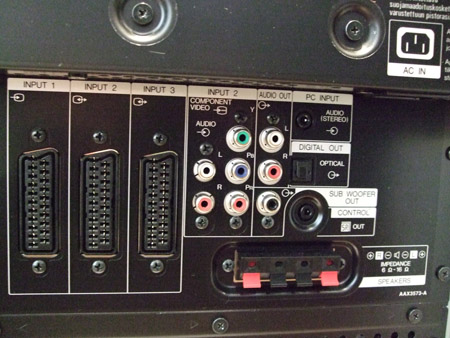 Plus three SCART connections, PC input, component and speaker ports
Still, there's an Orbiter function available during regular viewing that slowly shifts the image to reduce the possibility of burning and a video pattern screen-saver to try and eliminate after-image.
There are more settings available, such as gamma, noise reduction, colour management and colour temperature, but these are really the preserve of calibration freaks. Still, a handy feature is that once you've changed a setting, a quick press of the remote's blue button lets you compare before and after so you can decide which set of settings you prefer.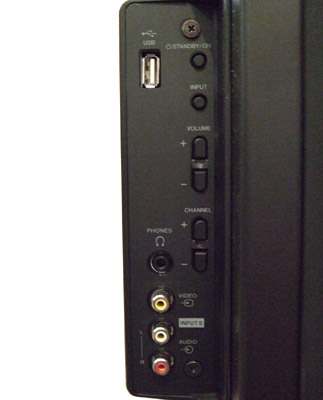 There's also USB, S-Video and Composite connections on the side
There are also picture settings for when you're playing games, and of course the facility to change screen sizes and formats to accommodate, say, subtitles. Pure Cinema is a setting to make the most of cinema-speed 24f/s content - aka '24p' - on Blu-ray Disc movies.
Which brings us to picture quality. At this size, flatscreens can reveal every flaw, especially in standard-definition broadcast signals. However, Freeview looked strong, with little fringing or artefacts noticeable in the tennis broadcasts we watched during testing because all the lines and text can prove challenging for upscaling circuitry.
Four buttons laid out along the top of the remote take you to four external inputs – a better approach than toggling through the AV inputs with one button, as many remotes require you to do. Big Brother varied according to the scenes on display – an overhead of the bedroom was indistinct and slightly washed out, close-up shots in the garden were sharp and full of colour.
Next, we turned to HD broadcasts, and the image is spectacular. Even during the day, in a well-lit room, where plasmas are often less persuasive, the contrast was outstanding and noticeable. In The Wicker Man - the Nicolas Cage version - skin tones were strikingly real with detailed complexions and bright eyes. Shadows were consistently full of detail.
This was Sky broadcasting at 1080i - not the highest resolution possible for viewing on this screen, but the picture was smooth and artefact-free, even in the fastest scenes like the truck-crash that launches the plot. Outdoor scenes had depth of field, with vibrantly coloured flowers in sharp relief.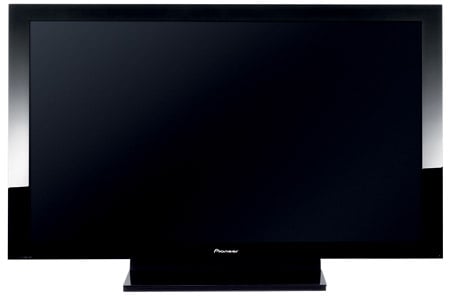 The gloss-black frame is simple, unadorned by colours and curvy shapes
Blu-ray looked better still. Sweeney Todd worked perfectly on this screen, its dark and grimy London scenes making the most of the blacks and contrast available, with the plentiful, deliberately over-bright blood shining out vividly in the gloom. This TV is particularly good at brilliant, sharp colours, avoiding the blandness that can dog LCD screens.
Sound is often disappointing on flatscreen TVs, but the soundbar here is effective. Of course it doesn't have the multiple speakers of more lavish separate solutions, but it's a step up from the usual built-in sets.
Verdict
This is an expensive TV that's double the price of what's on offer from some manufacturers, but is it worth it? Its plain styling is neat enough and unlikely to offend when the screen is switched off, but its stunning image quality is what justifies the price tag. The strong contrast and bright colours are strikingly good, making even the most ordinary content look great.
Even without extensive calibration, the screen delivers outstanding images and clarity, and is ideal for sport and fast-moving action films. Standard definition is great, but HD customers will be delighted by how good this looks. Worth it? Every penny.