Original URL: https://www.theregister.co.uk/2008/07/10/review_nikon_d40_dlsr/
Nikon D40 entry-level digital SLR
Passed your compact proficiency test? Time to take on the DSLR
Posted in Personal Tech, 10th July 2008 12:45 GMT
Review The D40 is still part of Nikon's current range. To begin with it was a sub-£500 camera; today it's a sub-£300 model and in our book that makes it worth serious consideration by the DSLR beginner.
It's true that to a large extent, you get what you pay for, and in launching a low-cost DSLR, Nikon has had to make some compromises. First, the D40 has a plastic body and comes with a plastic lens. That said, it's solidly built and doesn't feel like it'll fall apart in your hands after a few outings.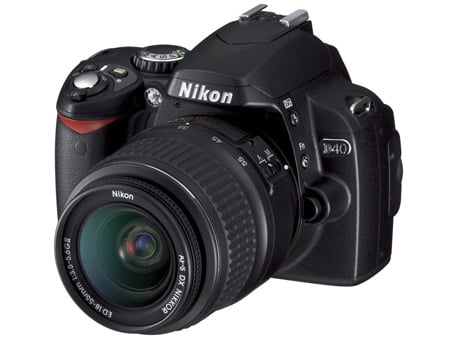 Nikon's D40: corners cut to keep cost down
The camera body has no internal autofocus drive motor, so if you want to use the AF facility, you're going to have to use Nikon AF-S and AF-I lenses, both of which have their own motor. There's nothing to stop you using other Nikon lenses with the D40, but you'll be restricted to manual focus mode - and even then, not all Nikon lenses are compatible with the camera. Our sample came with an 18-55mm, f3.5-5.6, GII ED AF-S DX Zoom-Nikkor lens.
Other compromises include a lack of certain higher-end features, such as bracketing and an image-sensor cleaning system. And the D40 uses a three-point AF system rather than the 11-point one found on, say, the D80.
The CCD itself 'only' has 6.1 megapixels (effective), half the number found on some compact cameras. But there's more to image quality than the number of pixels and that includes the size of the pixels, the size of the sensor chip, the quality of the camera optics and the image processing technology that underpins it all. The D40 uses a 15.6 x 23.7mm CCD.
A quick tour around the camera reveals - on top - a pop-up flash, a large mode dial, an info button, an exposure compensation button, the shutter button and the on/off switch. On the right is a flap for an SD/SDHC card, a function button which can be used for setting the self-timer mode and other operations, such as shooting mode and ISO sensitivity, and a flash mode button.
On the left side is a flap covering mini USB and AV sockets. Around the back is a viewfinder, a 2.5in LCD screen composed of 230,000 pixels, a playback button, a Menu button, playback zoom button, the help button, a multi-selector rocker control, an AF/AE lock button and the delete button. At the bottom is a flap covering the battery compartment.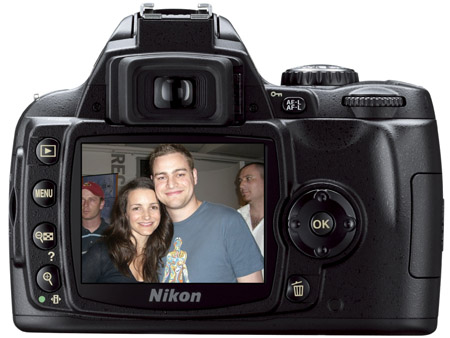 The LCD can be set to three display formats: classic, graphic and wallpaper
The D40 can shoot both JPEG and RAW (NEF) images, either separately or simultaneously. The highest image resolution for JPEG and RAW images is 3008 x 2000 pixels, with a JPEG file size around 2-3MB in this mode, and a RAW file around 5MB. The smallest JPEG resolution, with a compression ratio of 1:16, is 1504 x 1000 pixels.
In terms of features, the D40 offers an ISO range of 200-1600 with an additional Hi function that is roughly equivalent to ISO 3200. Shutter speed ranges from 30-1/4000s, plus a Bulb mode for keeping the shutter open for as long as required in manual mode. Continuous shooting mode lets you fire off 2.5 shots a second, with the memory buffer holding up to 100 JPEG images at the highest resolution.
The shooting modes on offer include auto, programmed auto, shutter priority, aperture priority, manual, plus eight pre-set programs that include macro, child, portrait and landscape. There are nine white balance settings and exposure compensation enables you to adjust the exposure by up to + 5EV in 1/3EV increments. Three types of metering are on offer: matrix, centre-weighted and spot.
When it comes to handling, the D40 is good, although it does have one or two operating quirks. The LCD can be set to three display formats: Classic, Graphic and Wallpaper. The default setting is Graphic, which looks hideous and includes a tacky animated aperture. We quickly switched to Classic. Wallpaper lets you use your own image as a background.
The second quirk is the default setting is for a short LCD display time - eight seconds - which can be disconcerting until you find the procedure for extending this buried in the instruction book. Even then, if you alter a camera mode setting - say, from auto to manual - the LCD screen goes blank.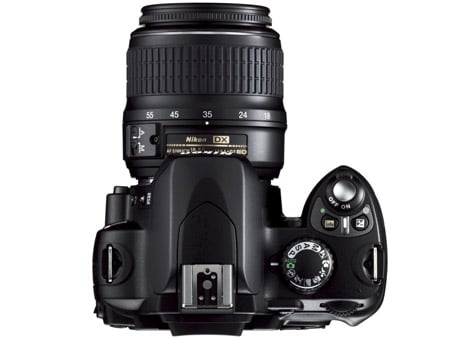 On top you'll find a pop-up flash, large mode dial, shutter button and all the usual controls
Every now and again, a question mark icon flashes on the LCD screen, which can be disconcerting. But if you press the Help button, all is revealed: the D40 is warning you that the camera settings are not optimised for the shot.
You can quickly restore the display by pressing the Info or Help buttons - we preferred using the latter because it's also very useful for quickly altering a number of parameters, including image quality, white balance, ISO, shooting mode, focus mode, metering and exposure compensation.
The D40 offers no fewer than five menus for playback, shooting, customisation, camera settings and retouching images - such as cropping and red-eye reduction. Some menus, most notably Custom Setting, require a fair bit of scrolling around. The viewfinder display is excellent, capable of showing 16 items of shooting information, such as shutter speed and ISO rating.
The D40 weighs 470g without battery and memory card, and even when fully loaded, it's compact and comfortable to carry around – we spent an afternoon walking around in the countryside carrying the camera in one hand. We felt no discomfort whatsoever. It might seem an odd complaint to make, but if you have rather large hands, you might even find the D40 just a tad too compact when gripping it.
The D40's performance more than belied its rather humble price point. Firstly, switch-on time is lightning fast – Nikon quotes a 0.18s start-up time, and the D40 is certainly ready to go in an instant. Image quality was excellent too, with contrast, colour and resolution far exceeding the performance you might expect from a six-megapixel camera. We also liked the focusing system, which was fast, accurate and reliable.
Sample shots
Click for larger images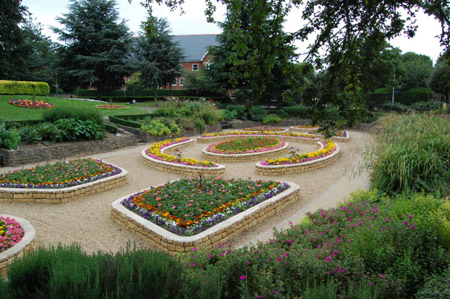 We were impressed with the low noise levels. This shot, taken on a dull day was set at ISO 1600

Even though it's only a 3x lens, it gets you much closer to the action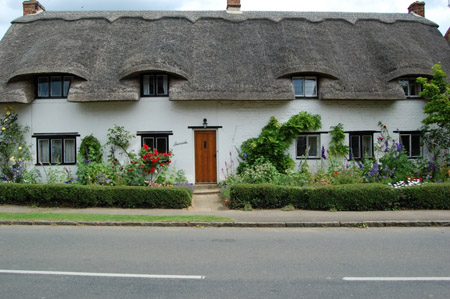 The D40 kit comes with an 18-55mm zoom, and the wide angle setting lets you squeeze in plenty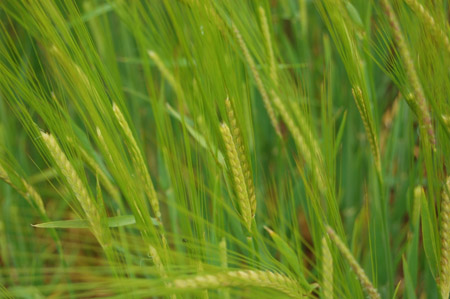 Forget the humble specifications – seeing is believing and this camera gives impressive picture quality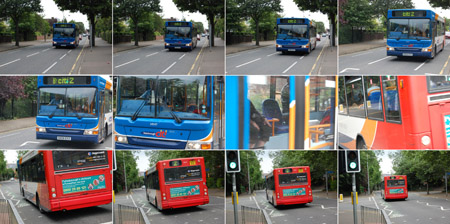 The time difference between the first and last frame is 17 seconds
The D40 also writes data to the memory card very quickly - we shot a fast moving bus in single-shot mode with no problems. Close-up shots were superb and even the 3x zoom seemed to exceed its humble specification. Low-light shooting was good too and the noise level even at ISO 1600 is minimal.
The Hi (ISO 3200) mode setting produced rather harsh results and images shot in this mode looked somewhat noisy. Battery life is quoted at 470 shots in single-shot mode and after firing off several hundred frames, there was still plenty of juice in the tank.
Verdict
The D40 may have been around for a while now, but if you're new to digital SLR photography or are simply counting the pennies, then this camera needs a very close look. Its performance far exceeds it seemingly low specification and it handles well.