Original URL: https://www.theregister.co.uk/2008/07/10/ps3_handgun_controller/
Shoot to win - with the PS3 handgun
Wii Remote rip-off
Posted in Personal Tech, 10th July 2008 15:26 GMT
Is this latest PlayStation 3 controller real - or is it a hoax? We don't know, but one thing's for sure: it's a stick-up.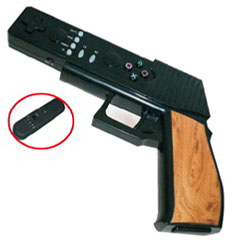 The PS3 handgun controller, with USB receiver (circled)
Essentially, the system comprises a Wii Remote-like controller - albeit with PS3-style buttons - that slots into a handgun holder and acts like the gun's barrel. The shape, according to the Hong Kong-based online retailer, allows you to go into "all PS3 gun fighting games" with both guns blazing - virtually, of course.
Although the PS3 unit has more buttons than Nintendo's Remote, the multi-directional keypad from the Wii Remote is in roughly the same place on this PS3 gun.
The controller apparently runs on two AAA batteries and operates at up to 10m from the receiver, which we assume plugs into one of the PS3's USB port. The controller works on the 2.4GHz frequency.
Register Hardware is a little dubious about the controller, given that no pricing or availability information is given. Nonetheless, the controller's apparently available online here.