Original URL: https://www.theregister.co.uk/2008/07/08/sony_8gb_m2/
Sony offers double-capacity M2 card
Posted in Personal Tech, 8th July 2008 10:57 GMT
Sony Ericsson phone owners rejoice! Sony has announced an 8GB Memory Stick Micro card - twice the data-storage space of the most capacious M2 card currently available.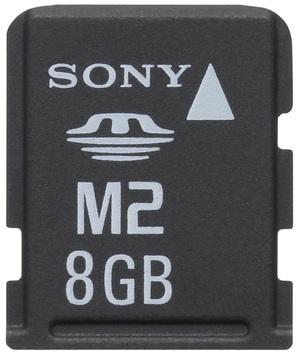 Sony's 8GB Memory Stick Micro: phone extension
Buy one over the summer - or a 2GB or 4GB card - and you'll get to download a complete copy of top-selling phone game Brain Challenge 2. Yowza.

Bundled adaptor
The new M2 comes bundled with a compact adaptor for computer connection, complete with slide-out-of-sight USB connector.
Sony didn't say how much the 8GB M2 card will cost, but you can already buy a SanDisk version for around 30 quid - £35 with a USB adaptor.