Original URL: https://www.theregister.co.uk/2008/07/07/review_samsung_sp_a400b_projector/
Samsung SP-A400B movie and business projector
The Wash & Go of the projector market
Posted in Personal Tech, 7th July 2008 12:15 GMT
Review Forget TVs - to get a truly huge picture, a projector is the only way to go, and if you want to take full advantage of HD media, there's no better way to show it off. It needn't cost you a huge amount either.
Just £1000, in fact, if you opt for Samsung's SP-A400B. It's capable of displaying 720p HD content at screen sizes of up to 250in (6.25m) in the diagonal from a conveniently-placed coffee table. Shaped rather like Giger's Alien sporting a Davy lamp, its piano-black exterior is shiny, sleek and sensually curvaceous. Definitely designed to be seen, it looks expensive and intriguing. It's the perfect answer to the question, 'where's your telly?'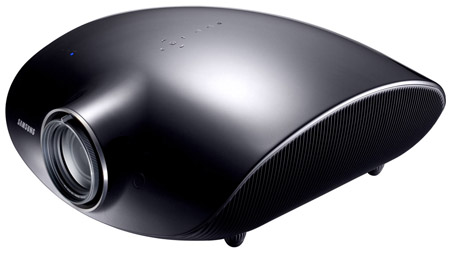 Samsung's SP-A400B: looks expensive
Now, work and play don't often mix – or so it's said. However, if there's one area where this adage holds true more often than not, it's in the world of projectors.
If you have a projector at work, it's probably one of those functional, business-like and basically boring lumps that ruin your Friday afternoons with endless PowerPoint tedium. Of course, you could get your own back by making off with it for the weekend for some big-screen gaming, but there are some important and usually mutually exclusive differences between projectors designed for the office and those made for home use.
We were therefore surprised to note that Samsung is promoting the SP-A400B as "optimised for both home theatre and business use". Those aren't easy qualities to combine, like being good at both dress-making and the didgeridoo. Think of sculpting a body perfect both for Sumo and for romping home a winner at the Grand National. What's good for one is usually a bit of a handicap for the other.
So despite its delicious good-looks, this projector seemed to us set to rely upon plenty of compromises. Two spring to mind immediately: business projectors are all about brightness and getting your point across. You want bold, bright graphics and clear text that's readable from the back of the room with all the lights on. That means lots of lumens, of which the SP-A400B has an entirely competent 2000.
Home cinema projectors don't need this much brightness. In fact, some would say too many lumens could be a disadvantage. With very high-brightness lamps, the supposedly black parts of the image tend to get brighter too - and in a darkened room you really don't need that much oomph to be able to see the picture clearly. This is why home cinema projectors of this size typically offer brightness closer to 1000 lumens than 2000.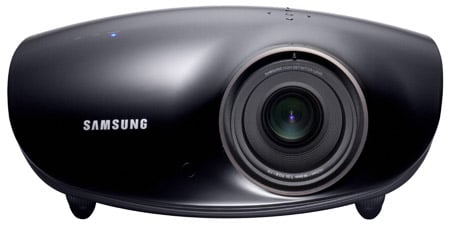 Compromised?
What you need for home cinema is a high contrast ratio. It's the difference between light and dark which gives the image its clarity and its depth. You want to be able to see every nuance of shadow detail, not a grey mess. The SP-A400B's contrast ratio of 2500:1 is really very good for a business projector, but pretty poor for home cinema where contrast ratios of 4000:1 up to 10,000:1 are commonplace. HD-ready projectors, like TVs, usually come in 1080p or 720p formats which have a 16:9 widescreen aspect ratio, but the SP-A400B uses a 1280 x 768 format, an aspect ratio of 15:9.
You may think that a screen shaped like this wouldn't 'fit' anything useful. If you're watching standard 16:9 format TV you'll be 'wasting' 24 pixels top and bottom. However, this resolution is crucial to the projector's hybrid credentials as it allows a standard 1024 x 768 PC screen to be displayed without having to squash it into a display 720 pixels high, which would seriously impair image quality.
Most decent home cinema projectors are physically pretty big. That's not just to help you boast, it's to help keep them quiet: loud, whirring fans are distracting and can ruin the intimacy of a delicate bedroom moment, be it on-screen or otherwise. A bigger case lets you force larger volumes of cooling air to pass through the projector without making a lot of noise.
The SP-A400B, as you might expect, falls somewhere between the portable proportions of a business projector and the larger stay-at-home variety. Thankfully, it does manage to remain reasonably quiet, with a rated audible noise figure of 32dB in bright mode and 28dB in the dimmer theatre mode.
A comprehensive selection of connections ensures that you'll be able to hook up all manner of equipment: HDMI, VGA, composite- and component-video inputs are all provided, along with a monitor pass-through VGA connector.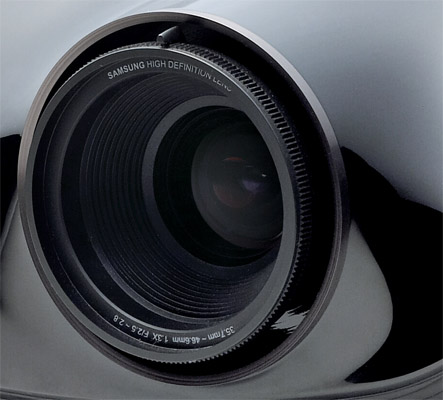 Not as bright as other projectors with lower lumen ratings
To measure the performance of the projector, we used Datacolor's Spyder 2PRO calibrator, which is able to measure brightness and colour performance. While it doesn't produce ANSI-standard results, it does allow us to compare projectors against each other quite accurately.
First of all, we flipped the projector into Standard Mode and took a look at the brightness output. While its performance is reasonable, it turned out to be a fair bit dimmer than some projectors with lower lumen ratings, such as the business-oriented BenQ MP721C or the HD65 home-cinema projector from Optoma, rated at 2200 and 1600 lumens, respectively.
Switching to movie mode caused the image to become around half as bright, while subtle colour details such as skin-tones were seen to improve. This gives you a great-looking picture in a darkened room, but it's not ideal if you want to watch movies during the day and you don't have some pretty heavy curtains.
As far as colour response goes, the SP-A400B does indeed perform a lot better than a business-oriented projector. Not only is it able to display a wide range of vivid colours, but it's also capable of keeping those colours accurate, natural-looking and film-like. This is helped, in part by the use of HP's BrilliantColor technology, which enables a standard three-colour light-filter wheel to produce six distinct colour channels.
By making use of the brief period of time when the wheel is shifting from one colour to the next, the projector is able to effectively mix those colours. The shift from red to green, for example, would produce yellow light. Processing six colours instead of three, allows you to produce much smoother and more realistic hues.
A comprehensive selection of connections
However, while the Samsung is certainly better for movies than a straightforward business-oriented model would be, there are many dedicated home cinema projectors that are able to deliver more. Again, Optoma's tiny HD65 is capable of displaying a more contrasty image with punchier colours. It may not look as sexy as the Samsung, but it's much cheaper.
Verdict
Samsung has designed a single projector and is trying to promote it to two different types of customer: business users and consumers. It's found a good balance between the two usage modes, but unless you plan to use the same projector in the office and at home.
It would seem to make more sense to buy one that's tuned to the environment it'll be used in.