Original URL: http://www.theregister.co.uk/2008/07/04/review_tvonics_mfr_300/
TVonics MFR-300 micro digital TV set-top box
Bringing digital to Scart-free tellies
Posted in Personal Tech, 4th July 2008 12:13 GMT
Review Thousands of Brits are going to find their analogue TVs incapable of picking up a signal come 2012. Clearly, that doesn't concern too many of us, since we're still buying plenty of analogue tellies.
This situation may have got Parliament in a panic but plenty of punters know all they need to go digital is to pick up a set-top box. Or how about a 'set-back' box - a compact unit that does the same job but is intended to fit onto the back of your set?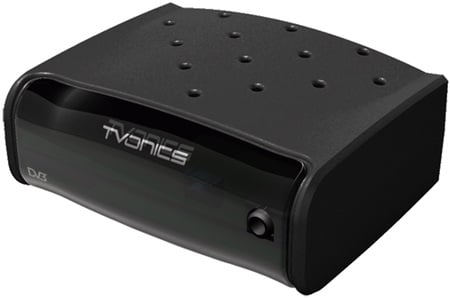 Tvonics' MFR-300: not so much set-top and set-back
Enter TVonics with its MFR-300, a shiny black gadget that's about the size of a pack of cigarettes and intended to bring digital TV to all those small, Scart-free tellies out there.
It also has a neat, niche feature: Audio Description - broadcast speech that provides folk who can't see so well with a guide to the on-screen action.
The MFR-300 comes with its own remote control, an external infrared pick-up and the inevitable AC adaptor - in this case, it's discreet, barely bigger than a standard three-pin plug.
Power and the signal from the IR receiver are fed into connectors on the back the MFR-300. So too is the aerial feed. There's an output port next to it, allowing the TVonics device to sit between antenna and telly. There's no Scart connector, but that's the whole point of this box: to bring digital TV to sets that were never intended to be connected to other devices except through the aerial socket.
Installation, then, is just about connecting the MFR-300 up, and sticking the IR receiver to the top or side of your telly. There's a double-sided sticky pad in the box for just this purpose, and two complementary strips of velcro for fixing the MFR-300 itself to the back of your TV.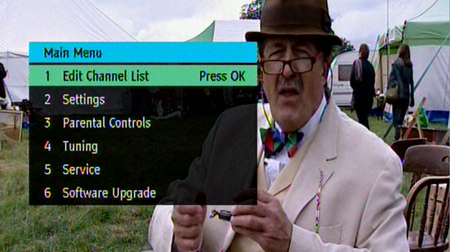 All the features you'd expect from a set-top box
Doing so exposes TVonics' only design flaw: the biggest faces of the MFR-300 are curved, so you can ever get an entirely flush fit against the TV. But at least the use of velcro means you only need a small area of contact to keep the device in place.
The MFR-300 sends out its picture on analogue channel 38 - though you can change this in the device's settings - so all you have to do is tune your TV accordingly and keep it there. You can toss the TV's remote, if it has one, and rely exclusively on the MFR-300's own controller. It's a shame the MFR-300's remote can't be programmed to turn your TV off too.
You may not even need the IR pick-up. It's included in case you want to stuff the MFR-300 right behind your telly, but since the Freeview box has a built-in IR receiver too, you can fix it to the side or top of your TV and point the remote in its direction.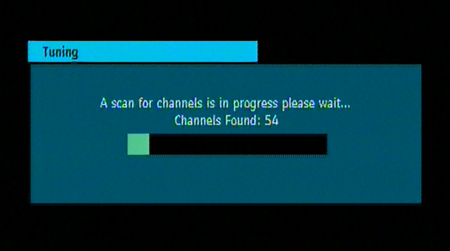 Auto-tunes on start-up
The first time it's powered up, the MFR-300 sits and waits for you to OK a channel search. It runs through the range quickly and efficiently, and you're ready to start watching in almost no time at all. The remote is good, and provides access to the full array of Freeview features.
There's the customary eight-day Electronic Programme Guide, which is clearly presented, though it's not immediately clear how you move ahead a day: click the blue button, signposted on the screen by a thin blue line and '+24'. Why not a big blue button-like graphic with 'Next Day' written in it, folks?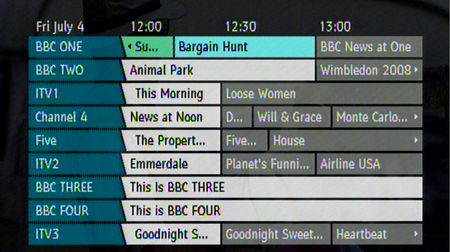 Full eight-day programme guide
The MFR-300 separates out TV and radio channels, maintaining them in two separate lists you can flip between using a button on the remote. The gadget doesn't let you create a list of favourite channels, but you can "hide" channels you don't want, which amounts to the same thing. Hidden channels don't appear when you cycle through the channels and they don't show up in the EPG.
Any or all of the channels can be PIN-locked to prevent junior getting an eyeful of Television X, if he's allowed to stay up that late.
Freeview's interactive content works well, but as there seems to be with so many digital TV boxes, there are quirks. Go to the BBC's News Multiscreen page, for instance, and change the volume - the picture vanishes for a moment.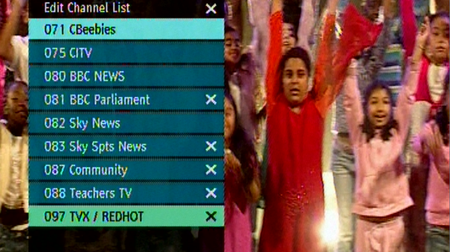 'Hide' the channels you don't want to appear
So, no complaints about the box's functionality. The picture it puts out is another matter. Now of course running the signal through the aerial socket's not going to give as good a picture as running it through the Scart will, but even so we expected a better picture than we actually got. We saw a slight fuzziness to the picture, particularly on on-screen text.
The picture wasn't a patch on the one coming out of our Scart-connected DVR, and we even found it slightly inferior to a good analogue broadcast. Comparing BBC One in analogue and on digital through the MFR-300, the colours were better in the former, the digibox delivering a slightly paler picture. All three were fed from the same, signal-boosted loft-installed aerial.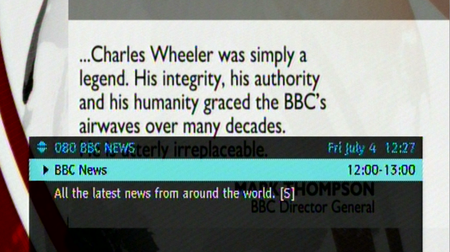 UI text comes up a little fuzzy
The MFR-300's output is by no means unwatchable, and on a TV smaller than our 28in CRT you'd probably not notice the slight fuzziness.
Audio Description works well, though there's really too few programmes being broadcast that offer the service.
Incidentally, we should mention that TVonics also offers the MFR-200, which is £20 cheaper and lacks the bundled IR extender and the AD support. It also comes with a slimline remote. Neither version ships with an AV cable, but they both have a socket on the front to connect one. Alas, it's a 2.5mm socket rather than the standard 3.5mm.

Analogue (left) vs MFR-300: paler colours on the Tvonics
Even in its cheaper form, the TVonics box costs £40, which is a lot for a set-top box these days. And until the last analogue station is turned off, you may still need to soup-up your aerial with a signal booster or antenna upgrade to get a decent Freeview signal. Depending on where you live, your old set-top aerial may not cut it.
Verdict
The MFR-300 offers all you could want from a Freeview set-top box but in a very compact unit that's ready to work with any analogue telly that lacks a Scart socket. It's ease of use, range of features and space-saving qualities are tip-top - only the picture quality lets it down. But if you're looking for a good way to bring digital to an old TV, it's hard to beat.