Original URL: https://www.theregister.co.uk/2008/07/04/david_davis_interview/
David Davis tells El Reg that Labour is 'mesmerised' by tech
Liberties sacrificed for 'an illusion'
Posted in Policy, 4th July 2008 11:43 GMT
Interview As polling day approaches for the Howden and Haltemprice by-election, voters and observers are left with an eerie sense of déjà vu as Labour once again refuses to debate its civil liberties record with David Davis.
Just over four years ago, a keynote conference, "Mistaken Identity", was organised by Privacy International. While the focus was on government plans to introduce identity cards, speakers ranged far and wide across the civil liberties implications of the scheme.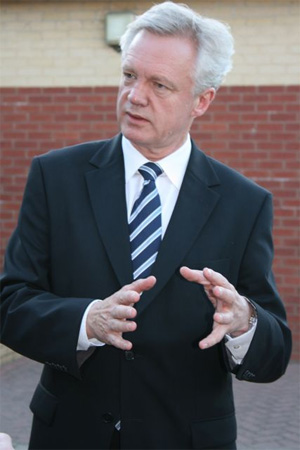 Davis: hopes to kick 42 days into touch
It was Conservative Shadow Home Affairs spokesperson Davis who provided an impressive roundup of the issues. He accused the government of having a poor track record in protecting of confidential information, with the increasing exchange of data between departments authorised by ministerial fiat rather than legislation.
As for ID cards, sophistication was no deterrent to terrorists: since 1986, twenty of the twenty five countries who experienced terrorist outrages have a national identity card scheme and five of these use biometrics.
You want liberties? We'll take liberties
One might expect, at the very least, a junior Minister to have turned up to rebut this assault on a central plank of government policy. But no. Not a squeak.
Roll forward four years.
On the tenth aniversary of New Labour's historic victory, Liberty issued a damning catalogue (pdf) of civil liberties failings that had taken place under this government. Writing in The Guardian, Liberty Director Shami Chakrabarti accuses the government of losing moral authority.
And at the end of 2007, Privacy International's latest assessment of surveillance worldwide places the UK firmly at the bottom of the class. 43 out of 47 countries worldwide: on a par with Singapore – and a whisker ahead of Russia, China and Malaysia. We are classed as an "endemic surveillance society".
Still, the wider debate failed to materialize.
So, perhaps it should not have been a surprise that Davis, exasperated by the government's stance on a number of key civil liberties, resigned his seat and set off a by-election. He wants a debate on the state of liberty in the UK today. The media are happy to give it to him. Leading commentators engage with him.
Yet again, the silence from New Labour is deafening. Or rather, New Labour has responded the only way it appears to know how: by personal attack and innuendo, while refusing to debate its achievements on civil liberties in any forum it cannot control completely.
Speaking to The Register recently David Davis was keen to put is actions into perspective.
"It wasn't just the '42 days'," he says. "That was just the final straw."
He explains: "The last few years have seen a continuing erosion of civil liberties in Britain. Values and freedoms that we once took for granted are being taken away on an almost daily basis.
"The vote on the Terror Bill – and the 42 day limit - was a line in the sand. Many of us felt that if we defeated the government on that, it would put the brakes on. But we didn't."
For someone written off by opponents as an eccentric, who jumped in a moment of madness, David Davis shows signs of having thought about these issues for a long time.
The one thing he is not is some wild-eyed "man of principle". Certainly there is principle there: he clearly dislikes the gradual stripping away of habeas corpus. As he says in his blog: "We should only be keeping someone in jail without telling them what they are charged with for as short a period as is necessary."
But that must be balanced against the need to protect the public. So he goes back to the evidence: and on the evidence he has seen so far, the absolute limit for such detention is somewhere between 21 and 28 days. The government, with its talk of 42 days, is doing nothing more than playing a numbers game: "talking tough on terror – and salami-slicing our freedoms away".
So he has principles. But also, as befits someone with a degree in computer science, pragmatism and practicality. His chief charge against the government is one of naivety.
Intrusive, ineffective and expensive
"They are mesmerised by new technology. So they go for headlines that make it look as though they are doing something. But in the end, they don't deliver."
Unfortunately, the headlines are popular. "The public are seduced by New Labour hype – and only realise too late that what was promised was an illusion. Meanwhile, another traditional liberty has been reduced or abolished."
On CCTV: "The current approach is the worst of all worlds – intrusive, ineffective and expensive. This government spent half a billion pounds on CCTV – one camera for every fourteen citizens. Yet police say 80 per cent of CCTV footage is unusable in court."
On the DNA database: "We are filling it up with children and individuals who have committed no crime at all. Yet very large numbers of people who have committed crimes are not on it."
What about security? This he sees as one of New Labour's greatest confidence tricks, pretending that there is some sort of dichotomy between freedom and liberty. "In practice," he argues, "the two go hand in hand. If you erode traditional freedoms and alienate immigrant communities, you reduce the flow of intelligence until, in the end, we are all less secure. Government should never forget that one of the most basic aims of any revolutionary is to force the state to act repressively. In this, Labour appears to be playing straight into the hands of terrorists."
One gets the feeling that his is the sort of voice one would like to hear more of when it comes to debating new technology. He is no Luddite. He understands that change must come, and with it a re-evaluation of traditional values. But he also understands the consequences of being too gung-ho about technology.
On his future, David Davis is upbeat. He appears to have few regrets about scuppering a career at the heart of the next Conservative Government. "There is a great deal that a back bencher can achieve: there is a wide range of issues, from erosion of freedom through to social mobility that I would very much enjoy championing."
Recent reports suggest that David Cameron may ask a re-elected David Davis to head up a commission on civil liberties. If he wishes to take it on, it feels like a role that may suit him very well indeed.
For further information on David Davis Campaign, go here.®