Original URL: http://www.theregister.co.uk/2008/07/02/review_chillblast_fusion_juggernaut/
Chillblast Fusion Juggernaut gaming PC
A wolf in sheep's clothing
Posted in Personal Tech, 2nd July 2008 12:29 GMT
Review UK-based gaming PC specialist Chillblast is a master in the art of overclocking, producing systems that perform blisteringly fast - yet entirely stable: its latest desktop creation is the Fusion Juggernaut.
The plain case gives nothing away about what's been built inside it, namely an overclocked quad-core processor, 4GB of overclocked DDR 2 memory and a fast high-end graphics card.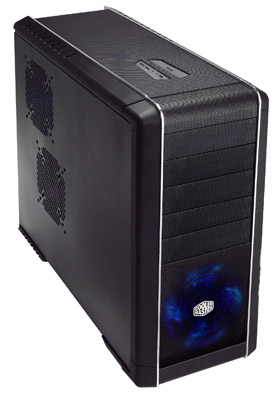 Chillblast's Fusion Juggernaut: plain styling hides exciting internals
At the heart of the Fusion Juggernaut sits one of Intel's latest 45nm CPUs, the Core 2 Quad Q9450 with a 1333MHz frontside bus (FSB) speed, a standard clock speed of 2.66GHz and 12MB of L2 cache. So even out of the box it doesn't hang about. But Chillblast isn't in the 'out of the box' game, so it's tweaked the 9450 so the processor runs stably at an impressive 3.4GHz.
Keeping things cool is the name of the game when it comes to over-the-top overclocking, and Chillblast has ditched the standard Intel fan for a more efficient Artic Cooling Freezer 7 Pro cooler.
The CPU sits in one of the best overclocking motherboards around right now: Asus' Rampage Formula, which is based on Intel's latest high-end chipset, the X48. Not only is this board well featured, the Bios offers more overclocking options than you can shake a stick at. You can adjust the FSB from 200MHz all the way up to 800MHz, and the PCI Express bus from 100MHz to 180MHz. You can make adjustments to the CPU, northbridge, southbridge and memory voltages, and a whole lot more. Talking of memory, there are 20 - yes, 20 - adjustments for the primary memory timings alone.
Two of the Fusion Juggernaut's four memory slots are filled with 4GB of Corsair XMS PC2-6400 (800MHz) DDR2 memory in the form of two modules. These too have been overclocked, so they run at 850MHz but you could squeeze a little more out of them if you wanted to. If you fancy adding more memory, the board supports a maximum of 8GB - just make sure you're running a operating system that can make use of it all. The Juggernaut comes with Windows Vista Home Premium SP1.
As you can imagine all this little lot packs quite some punch, something borne out by its PCMark05 score of 11,000 – the fastest we have seen.
PCMark05 Results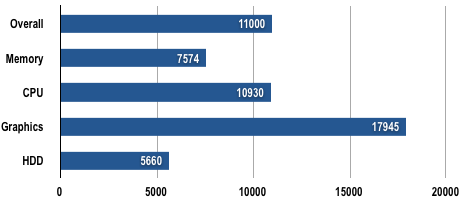 Longer bars are better
The motherboard is built into a CoolerMaster CM690 case, which may not win anything in the looks department, but does have plenty of space inside to work around and plenty of drive bays for hard disk and optical units. Although there's a lot going on inside, Chillblast has made sure that all the cabling is arranged as tidily as possible, which as well as looking nice, more importantly helps the air flow around the components, reducing the number of damaging thermal hotspots.
PCMark Vantage Results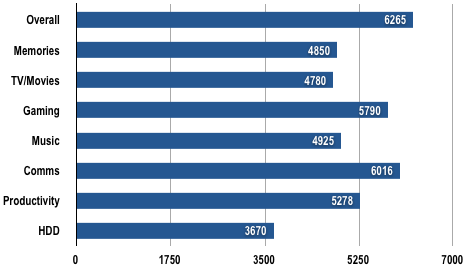 Longer bars are better
Sitting in the base of the case is a Thermaltake 750W modular power supply. Modular power supplies also help in keeping the internals tidy as you only plug in the cables you need. A 120mm case fan sitting high up in the rear panel ducts the hot air generated by the PSU and components out of rear of the machine.
The one thing you notice about the Juggernaut is how quiet it is. It's not silent by any means, but considering the hardware and the number of fans inside it, its low noise level is still very impressive.
So far so good, but what about the graphics performance? In keeping with the rest of the internals, the graphics performance is top notch. In fact, the graphics card is the first thing that catches you eye when you open the case's side panel - it's massive.
Sitting in the primary x16 PCIe slot is an Nvidia GeForce 9800 GX2 dual-chip graphics card with each of the cores clocked at 600MHz. Th 1GB of GDDR 3 memory runs at 1GHz - effictively 2GHz since it's double-data rate memory. Futuremark's demanding 3DMark06 benchmark yields a score of 18,825.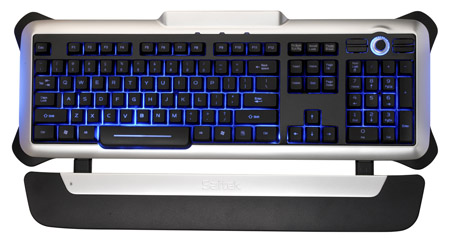 Helping the gaming experience is an Eclipse 2 gaming keyboard
Tested with a real life game, in this case World in Conflict's built in benchmark, the Fusion Juggernaut produced an average frame rate score of 65f/s when tested at a 1280 x 1024 resolution with all in-game details set to high.
Now, this is all well and good. But if you ever want to upgrade the graphics, you face a bit of a dilemma. While the Juggarnaut comes with a single Nvidia card, if you wanted to go down the multi-card route you'll have to ditch the Nvidia board as the motherboard only supports AMD's CrossFire technology, not Nvidia's equivalent, SLI. You're also limited to just two AMD graphics cards, not three or four.
With all this gaming performance you'll need a decent screen to play them on, and Chillblast has duly obliged by bundling its desktop with a decent 24in flat panel, a Samsung SM-245B, which has a native resolution of 1920 by 1200 and a response time of 5ms.
Helping the gaming experience is an Eclipse 2 gaming keyboard and mouse, and for an even better gaming experience there's a Razor Diamondback 3G mouse bundled too.
The audio experience isn't bad, either. As the motherboard doesn't have integrated audio, it comes equipped with a SupremeFX II sound card which provides eight-channel output, nicely matched by the Creative's T7900 7.1 speaker system Chillblast bundles with the Juggernaut.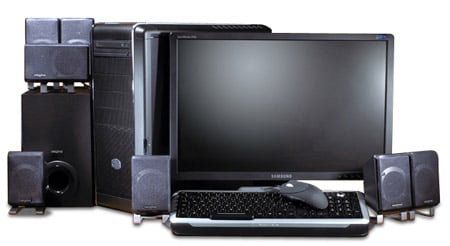 The whole set-up is pretty comprehensive
For storage, the Juggernaut comes with a 750GB Samsung drive which, with a 7200rpm spin speed and a 32MB cache makes transferring large files nice and fast - just the job for transferring those large game maps. To help back up your data, there's a Samsung 20x dual-layer DVD burner on board too.
Should you want more storage space then the case comes with four more 3.5in drive bays and four 5.25in bays for you to fill up. As the motherboard supports RAID arrays, you have the choice to combine hard drives either to increase capacity and performance, or to get better data protection.
Verdict
As with most Chillblast systems, the Fusion Juggernaut is low on gimmicks and high on performance. It's a real wolf in sheep's clothing, as you might not give it a second look, thanks to the understated case and relatively quiet operation. It may seem a little expensive but it can hold its own against systems costing nearly three times as much.