Original URL: https://www.theregister.co.uk/2008/07/01/nintendo_game_cartridge_holders/
Videogame cartridge business card holders
Show off your gaming geek chic
Posted in Personal Tech, 1st July 2008 14:31 GMT
The UK's videogames industry may be in turmoil because of a lack of properly qualified geeks, but if you're lucky enough to be an employed videogame designer then why not show off your credentials with a retro game cartridge business card holder.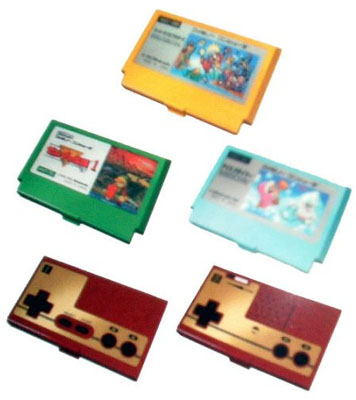 Business card holders inspired by Nintendo videogame cartridges
Online retailer Game Asylum is offering gaming nerds the opportunity to house their business cards in what, at first look, appears to be a videogame cartridge ripped out of the NES. The firm has several designs to choose from, including Mario Bros, Super Mario Bros and The Legend of Zelda.
But if you want to show clients who's in control, then you better opt for the holders that resemble various console controller designs.
Each business card holder is 4in wide, but their card capacity isn't stated. A Nintendo NES Business Card Holder will set you back around $9 (£4.50/€7) and can be bought online.
UPDATE:
Due to internal issues, Game Asylum has annouced that it isn't accepting any new orders. Shame, because we had an interview next week.