Original URL: http://www.theregister.co.uk/2008/06/30/review_dualit_dab_lite_radio/
Dualit DAB Lite radio
Howdy doodley dooo...
Posted in Personal Tech, 30th June 2008 13:18 GMT
Review This latest offering from Dualit is based on the iconic toaster products the company is better known for. Bored of knocking out breakfast, Dualit is now knocking out music to accompany your muesli.
Now before we go any further, a few words on DAB itself. There has been a lot of knife chucking of late, so let's just take stock for a minute. According to the latest Q1 RAJAR figures, nearly 11 per cent of everyone who listens to radio does so using a DAB radio. This compares to the 2.1 per cent who listen over the internet and 3.2 per cent through digital TV.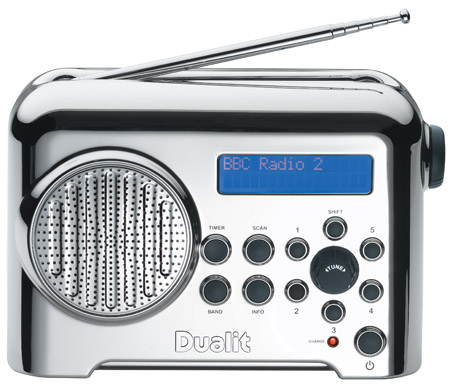 Dualit's Lite: DAB hand
According to market number-cruncher GfK, cumulative sales of DAB products stand at 7.05m at the end of Q1 following a record Christmas and growth of 28 per cent year-on-year. DAB radios are currently selling at more than 2m a year and can be found in more than a quarter of UK homes.
No one is saying it hasn't been a challenging time for DAB, but the current situation is most accurately seen as a sharp learning curve as broadcasters learn how to promote and get the most out of the new format. The continued commitment from the BBC - and, next year, Channel 4 - also ensures DAB will be around for a little while yet.
Now, back to the Dualit: measuring 225 x 155 x 90mm and weighing in at 1.15kg it certainly looks the part, with an ever-so-slight hint of art deco influence in its minimalist design. Its silver buttons and dials are quite attractive and have a decent click action to them. However, we did find that the main volume knob on the side of the review unit was a little loose fitting and could easily become detached.
There's a sensible recess area for the aerial to retract fully into, as many radios don't provide anything like this, and antennae often end up getting damaged if the product is carried around a lot. There are also some useful non-slip feet that do a good job anchoring the product even on challenging surfaces.
Despite these useful features, the overall appearance and feel of the product is still only good rather than great. It's not the most solid DAB radio we've ever tested.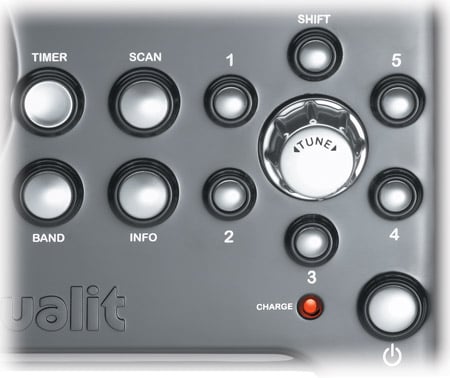 Navigation is uncomplicated and intuitive
FM - with RDS - and DAB are supported with an adequate number of 20 favorite stations - ten DAB and ten FM - which are easily programmable and accessible from the main numbered buttons on the front. The display is described as "oversized". We wouldn't necessarily go along with that description, but the white-on-blue window does provide a decent size of text and clarity for the various station info and broadcast status information available.
Start up is trouble free and quick. We got 29 stations right from the off, about average for the part of the country we were testing in. Navigation is uncomplicated and intuitive, with no need to refer to the manual. There is an alarm and a snooze function, but as this machine is heavily aimed at users in the kitchen, a special 'egg timer' function has been added to make sure you get the perfect boiled egg and soldiers to go with your sounds.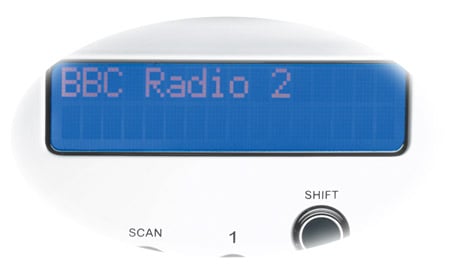 The white-on-blue window displays clear information
It's nice, quirky feature, but not something that we felt would add real value over time. Much better would have been an input for an MP3 player as so many of the radios in this price bracket do now. The unit can be powered by the mains or AA batteries. If you're using rechargeables, the radio has a built in charger so the batteries can be kept topped up and ready for use.
A special switch inside the battery compartment lets the user tell the product whether ordinary or rechargeable batteries are to being used and allows the unit to work at maximum efficiency. Still, we couldn't help thinking an internal rechargeable battery would have been a better choice. However, a very useful feature is the UK/EU plug adaptor that comes as standard, a really handy addition this that more manufacturers should take on-board.
The company makes a point of underlining the product's ability to project a room-filling sound even for relatively large spaces and at high volume. Back to that wobbly volume knob again, but giving a good tweak we found the claims to be mostly justified. This is where the product does come into its own.

Available in chrome, slick black and country cream
Choosing the BBC's Asian Nework and some bouncy and complex Bhangra sounds, we found that the unit proved itself versatile enough to cope. Going up a level, we switched to some Iron Maiden out of 'dad-rock' station Planet Rock and really cranked up the volume. Again, the unit coped well with a nice rich sound which does maintain clarity at high volume through its 3in, 6W down-ported driver.
Verdict
This is a great looking radio with a good sound. However, sensible additions - protection for the aerial and a European power adapter - are offset by the lack of an extra input for an MP3 player, although the unit does have a headphone socket.
The price tag of £85 feels a little on the heavy side too, and you do feel that you're paying for the styling of the product a little too much. Still, if the looks of the product are to your liking, then perhaps the Dualit might find a happy home next to your smoothie maker and those George Foreman grills that everyone has, but never uses.