Original URL: https://www.theregister.co.uk/2008/06/27/hdtv_in_the_uk/
HD TV in the UK
Time to buy a 1080p telly at last?
Posted in Personal Tech, 27th June 2008 11:18 GMT
Feature After a somewhat sluggish start, HD TV services are finally starting to take off here in the UK. It's about time too, as there are almost 10m HD TV sets currently in use here in the UK, yet Sky — the main provider of HD broadcasts in the UK — has barely half a million subscribers signed up to its Sky HD service.
However, the recent launch of Freesat — a joint venture between the BBC and ITV — is finally starting to stir things up a bit. Admittedly, Freesat's arrival was pretty low-key, but this new service has the potential to give millions of UK viewers access to free HD programmes for the first time. It's already prompted Sky to cut the price of its Sky+ HD set-top box by 50 per cent.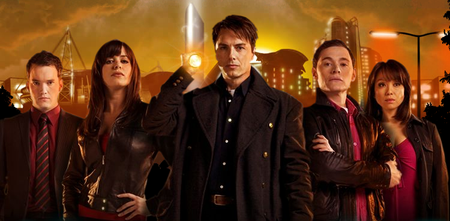 Torchwood on BBC HD: but no Doctor Who…
Virgin's getting in on the act too — as is Apple, which has finally got around to making a (somewhat limited) selection of HD films available for rent through its AppleTV set-top box. All this means that UK viewers now have a number of options for watching films, sport and other programmes that will really show off their expensive flat-panel TV sets in all their high-def glory.
Free For All
Freesat is similar to the popular Freeview service, which is now being used by half the homes in the UK. It offers around 80 TV channels and radio stations, including two HD channels — BBC HD and ITV HD. Its channels are broadcast via satellite rather than the terrestrial transmitters used by Freeview, which means that you'll need a satellite dish to receive the signals, and a new digital set-top box to link the satellite dish to your TV.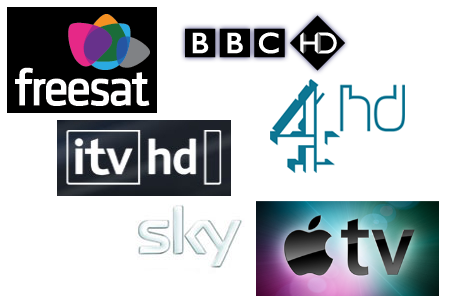 The satellite system gives Freesat better geographical coverage — around 98 per cent of UK homes should be able to receive it, whereas Freeview reception is still quite poor in many parts of the country. It also allows Freesat to broadcast more channels than Freeview — including, most importantly — more HD channels. Freeview is expected to start broadcasting HD programmes sometime next year, but will probably be limited to just two or three channels. At the moment, Freesat is only broadcasting two HD channels, but it has the capacity to add many more in the future, and you won't have to pay any extra for them.

Humax's Foxsat HD: Freesat set-top
It's not completely free of course — you'll need to pay a one-off fee to buy the set-top box and satellite dish that you need to receive the service. You'll need to cough up for a TV licence (and, obviously, an HD TV) too. However, once that's done there's no monthly subscription fee or any other charge for watching any of the Freesat channels.
There are actually two types of Freesat set-top boxes currently available. For about £50 you can get an standard-definition Freesat receiver. However, to receive HD channels you'll need to buy the more expensive Freesat HD box, which will push the total cost to around £150. Then there's around £100 worth of dish installation on top of that if you don't already own one. There are several manufacturers that make Freesat boxes, so the price will vary from model to model. See www.freesat.co.uk for the official list of Freesat-compatible boxes, or ring the Freesat Helpline on 0845 313 0049.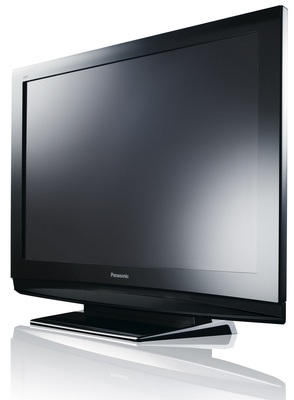 Panasonic's Freesat IDTV: HD ready
One thing that's worth mentioning is that most of the Freesat HD boxes that are currently on sale are just receivers — they let you watch Freesat channels, but they don't have any DVR features that will allow you to record Freesat channels. You might be able to hook your Freesat box to an existing VCR or DVR, but we expect that proper Freesat DVRs should start to appear in the shops later this year — just in time for Christmas.
And it may well be worth waiting until they do. BBC HD is only on for four hours a day, and the range of programmes available on BBC HD and ITV HD isn't that great as yet. There are a few popular programs that get repeated ad nauseam, such as Gavin and Stacey, and documentaries such as Planet Earth that really benefit from the HD treatment. However, the main emphasis right now is on sport.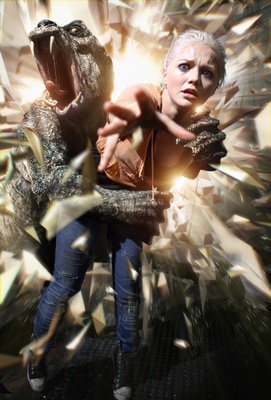 ITV HD: dinosaurs and sport
The BBC HD channel is showing Wimbledon at the moment, while ITV HD has Euro 2008, so Freesat is certainly worth considering if you want to see every blade of grass on the tennis courts and football pitches this summer. Interestingly, ITV HD is currently exclusive to Freesat, so that might well have swing a few sales as Euro 2008 progresses to its conclusion.
Full HD channel listings are available from the BBC's HD site and from ITV's own site too.
Sky High
In contrast, Sky's HD subscription service boasts more than a dozen different channels' worth of HD programming. Again, much of it is sport, but there are also a number of movie channels, as well as Sky One HD, which broadcasts HD versions of most — but not all — of the programmes that are available on the standard Sky One channel. You can also get BBC HD as part of your Sky HD service, along with Channel 4 HD — which is exclusive to Sky HD at the moment — and a number of documentary channels such as Discovery HD and National Geographic HD.
There's a full channel listing on Sky's web site.
Sky HD certainly outguns Freesat in terms of the number of channels and the range of HD programming that's on offer. And, since Sky announced its recent price cuts, the hardware that you need to buy now costs about the same as that for Freesat. From 1 July, Sky is cutting the price of its Sky+ HD set-top box to £150, down from a thumping £300, along with an installation fee of £30 for new customers or £60 for existing Sky subscribers — which doesn't strike us as a particularly good way of rewarding loyal customers.

Sky's Sky+ HD: more HD content than its rivals offer
And, of course, you also have to pay quite a large monthly subscription fee for the HD service. In addition to your existing Sky subscription, you also need to pay an extra £10 per month in order to get the HD versions of those channels. This means, for instance, that you'll need to subscribe to the Sky Sports channels and then pay an extra £10 per month on top of the standard subscription fee in order to receive the single Sky Sports HD channel. Sky subscriptions start at about £21 per month for a basic set of channels, but if you want the movie or sports channels you'll have to pay £38–45 per month, depending on the package you choose. Add on another £10 a month for the HD subscription and you're looking at £48–55 per month to watch HD television. That might seem expensive, but if you're already paying for the sports and movie channels then another £10 per month may not seem too much to upgrade to the HD service.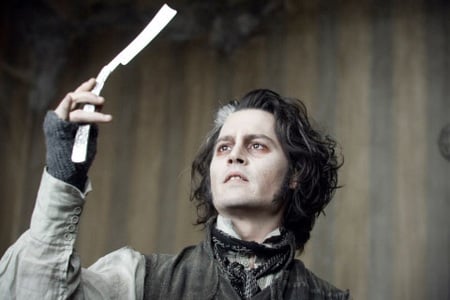 Blood'n'guts in hi-def: Sky offers HD new releases
Best of the Rest
Before we move on, there's one other Sky option that we need to mention. Sky has its own version of Freesat, which it calls "Freesat from Sky". This is very similar to the BBC/ITV Freesat service, as it provides you with a wide range of free channels for a one-off fee of £150 for the set-top box and satellite dish. However, Freesat From Sky doesn't offer any HD channels, and it's really just intended to tempt people away from the BBC/ITV Freesat so that they can try and flog you some of Sky's more expensive subscription services.
Another affordable option — though only if you live in an area that can receive the service — is the Virgin TV cable service. The V+ box that Virgin provides to its customers costs £150 and is capable of receiving both standard-definition and HD channels. However, when we rang them they offered to let us have it for £75 — obviously an attempt to lure us away from Sky and Freesat.
Virgin offers three packages of channels, called Small (free), Medium (£9 per month) and Large (£9.75), and for another £5 per month you can get the BBC HD channel added to the Small and Medium packages — there's no additional cost for the Large package. Virgin also has an 'on demand' option that includes pay-per-view films, some of which are in HD. However, Virgin were a bit vague about the HD films that are currently available, so Freesat looks like a better deal if you're looking for an affordable entry into the world of HD.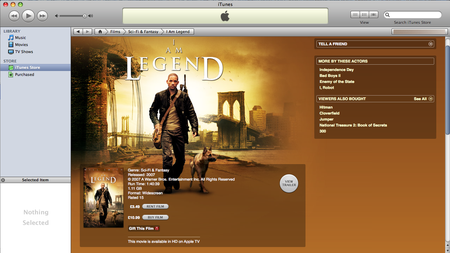 iTunes will sell and rent HD movies — but only to AppleTV owners
The final option that's worth mentioning is Apple's iTunes and AppleTV. After a long wait, the iTunes Store in the UK now sells and rents a range of films and TV programmes — some of which are available in HD. The HD films in the iTunes Store are only available for rent — you can't buy them and keep them — and can only be downloaded onto the AppleTV box, which costs £199 or £269 depending on the size of the built-in hard disk: 40GB or 160GB.
Unfortunately, the range of HD movies is pretty limited at the moment, and the recent price cut that Apple announced for the AppleTV in the US hasn't been passed on to UK customers, so AppleTV remains something of an underachiever here in the UK.
High Hopes
All these HD services will continue to expand in the future — though none of them has made any specific announcements about new content or channels that are likely to appear in the near term. You can also expect other services, such as BT's on-demand Vision service, to move into HD as well — "some point this year", they told us. Prices for the SD version currently available start at £6 a month and there's a one-off £30 connection fee, but the set-top box and installation are free.
The UK is still about five years behind the US in its adoption of HD technology, but we're hoping that the arrival of Freesat will finally kickstart HD over here, providing more choice and lower prices for the millions of people who have already invested in HD TV sets that are currently not being used to their full potential.
Update
Thanks to Register Hardware readers who reminded us that Xbox 360 owners can download HD movies. The service operates through Xbox Live!, though according to the website only 28 hi-def movies are currently available for download.