Original URL: https://www.theregister.co.uk/2008/06/27/garmin_dog_gps/
Garmin leads the way with pooch-pinpointing dog GPS
Posted in Science, 27th June 2008 08:22 GMT
Garmin is branching out from its traditional satnav business and has launched a new GPS system designed for man's best friend.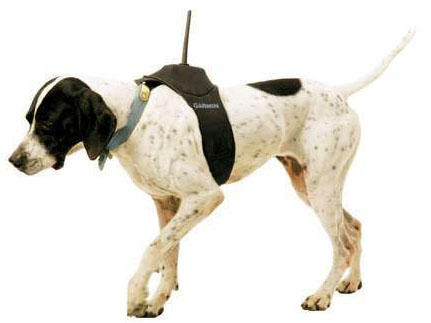 Garmin's GPS system keeps track of up to ten mutts simultaneously
Essentially, your dog wears an oversized GPS unit that beams out a signal to be picked-up by a handheld tracking unit.
The two-piece system consists of the waterproof DC30 collar and Astro 220 receiver. The DC30 collar's main housing is weighted to sit below the dog's neck and a GPS antenna is integrated into the collar strap positioned on top of the dog's neck.
Garmin's Astro 220 works just like any other handheld GPS tracker and the firm claims it can pinpoint your hound's location whether it's "running, pointing or treeing". As our upper-class readers may have deduced from that wording, the whole system is designed mainly for hunting dogs – or just really overprotective owners.
Astro can track up to ten dogs at once and has a map page to show where a mutt is and where it has been in relation to the hunter. Garmin has also loaded the handheld unit with hunting-specific icons to help mark and identify, say, bird flushes, treed raccoons and food plots.
Both units will be available in Q3, with Garmin's Astro 200 set to cost $650 (£325/€360) and the DC30 tracking collar priced at $200 (£100/€145). Sounds absolutely smashing, old chap.