Original URL: http://www.theregister.co.uk/2008/06/24/review_intel_atom_230/
Intel Atom 230 ultra low-power desktop CPU
Build your own Eee
Posted in The Channel, 24th June 2008 10:54 GMT
Review We recently reviewed Asus' Eee PC 901, which uses the new 1.6GHz Intel Atom N270 processor. Atom uses the same 45nm technology that you'll find in the latest 'Penryn' Core 2 CPUs and it packs in some nifty power-saving features that result in a TDP of a mere 2.5W which makes it a natural choice for Small, Cheap Computers.
But there's another side to Atom, as Intel also sells it in desktop form, the 230, which is likewise clocked at 1.6GHz. Atom processors are genreally soldered onto the motherboard so your choice of Atoms is limited to a single model. Buy an Intel D945GCLF motherboard - it was codenamed 'Little Falls' - and you get a 230 as part of the package.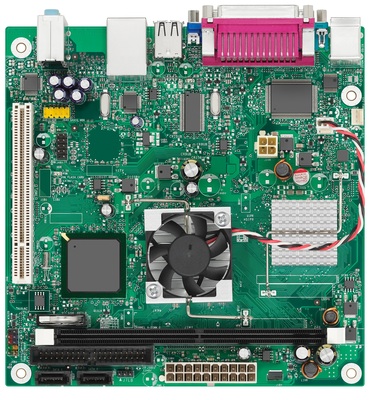 Intel's D945GCLF: Atom on board
Take a look at the photo and you'll see that the board's a Mini-ITX model that measures a mere 171 x 171mm. That's small. Take another look and you'll see that it's something of a strange Mini-ITX design as it uses desktop PC ATX power connections. There's a 20-pin power connector and a four-pin ATX 12V connection which seems like overkill as the power draw of Atom is tiny. The D945GCLF has a single PCI expansion slot, so there's no chance you'll be plugging in a beefy graphics card, and this makes the power connections even more of a puzzle.
When we requested a D945GCLF sample from Intel the response wasn't especially encouraging so we took the plunge and bought one. That's not quite as bold as it sounds as Atom is very cheap. Intel sells the Atom 230 for $29 per CPU in batches of 1000 and the board and chip arrived at our door for £57 including VAT and carriage.
Had we wished we could have paid an extra £3 for an enhanced version that has the ATX 12V connector wired to the main power block so you see, we're not the only ones who wonder what Intel was thinking.
Intel describes the Mini-ITX form-factor as backwards compatible with ATX and Micro-ATX which is true enough, but you know how silly a Micro-ATX motherboard looks in a tower case. Believe us when we say that this Mini-ITX board looks positively dwarfed when you install it in a small tower and hook it up to a desktop power supply.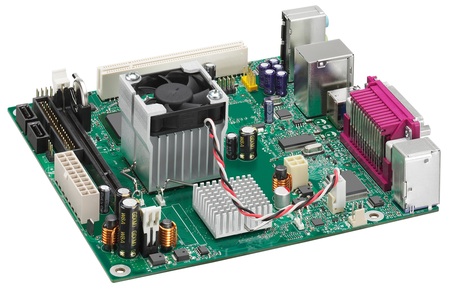 Cooling fan too tall?
It would be far better if you had the option of using a tiny Mini-ITX case and power supply so you could use the Atom in an appropriately small PC and end up with something not unlike Asus' upcoming Eee Box desktop.
Take another look at the photo and let's play 'spot the component'. The bare chip next to the white PCI slot is the ICH7 southbridge, and next to that we have an aluminium heatsink with a 40mm fan that spins away at 5000rpm. It's fairly quiet but the design of the cooler is rather crude, presumably to keep the price to a minimum. If the cooler was a little wider the fan could be bigger and slower and the cooler wouldn't need to be so tall.
You might think that the heatsink covers the Atom CPU but in fact that's the i945GC northbridge, which includes the GMA 950 graphics. It's the tiny passive cooler over to the right-hand side that keeps the Atom processor under control.

Old Skool backplane
Turning to the I/O panel we felt as though we were back in the Dark Ages. We've got no objections to two legacy PS/2 ports but the layout is dominated by parallel and serial portage. They'd take up an unwelcome amount of space on any motherboard but it's a real problem here as the D945GCLF is so tiny that it doesn't have any space to spare.
The GMA 950 graphics have a single VGA output so anyone with plans to connect a digital TFT is scuppered, and to add to the pain two of the four USB ports are so close to the VGA output that they are effectively useless.
There's a header on the board that supports two case-mounted USB ports so you can save the day but it looks like someone at Intel was having a bad day when they came up with this design.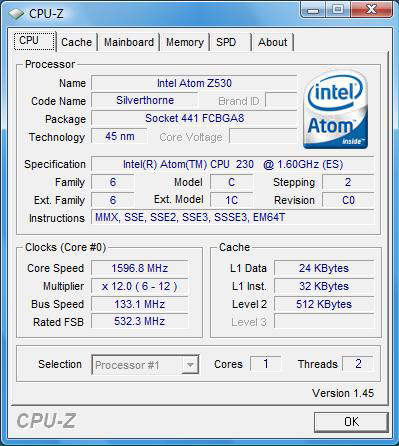 The Atom 230's CPU-Z read-out
The Realtek network connection is 10/100Mb/s instead of Gigabit, and the Realtek ALC662 audio is as rudimentary as you'll find on a motherboard these days.
It's worth repeating that your options for expansion are just about zero, so what you see is what you get.
Intel supports D945GCLF with a minimal selection of operating systems. According to the chip maker, you're limited to a choice of Windows XP, x64 XP and 32-bit Vista. That said, we're sure Linux fans could probably rustle up a suitable distro, thanks to Asus' work on the Eee PC.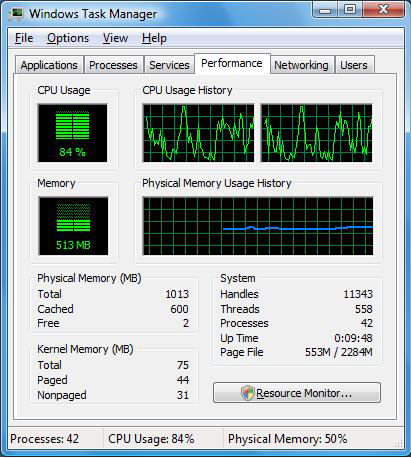 Yes, it HyperThreads
We plumped for 32-bit Vista Ultimate and found that it ran well enough, but as you might expect a single-cored 1.6GHz processor has to work hard even if it does have HyperThreading and displays two cores in Task Manager. We saw that Vista kept the Atom churning away at 10-25 per cent usage simply running the desktop and as you'll see from our benchmark tests the performance is truly pathetic.
Stick to XP, then, if Windows is your thing.
PCMark05 Results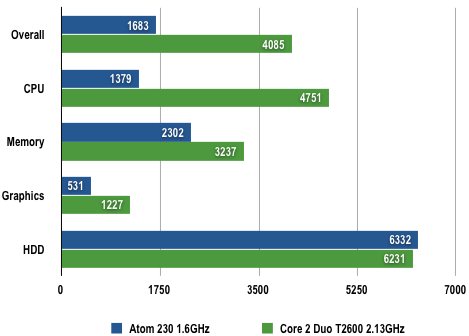 Longer bars are better
3DMark06 Results

Longer bars are better
POV-Ray Results

Time in Seconds
Shorter bars are better
Test Configurations
Intel D945GCLF motherboad, 1.6GHz Atom 230 CPU, Intel 945GD integrated chipset, 1GB 667MHz DDR 2 Ram.
Asus N4L-VM DH motherboard, 2.13GHz Core 2 Duo T2600 CPU, Intel 945GM integrated chipset, 2GB 533MHz DDR 2 Ram.
Gaming is out of the question but we were shocked to see that playing a Shrek DVD with CyberLink PowerDVD 7.2 brought the Atom to its knees with a CPU load of 80 per cent. The picture was jerky video and the audio stuttered. Again, you'd get better performance with XP on board instead of Vista.
For a laugh, we tried to watch a Blu-ray of Casino Royale but it wouldn't play as the Intel graphics driver is incompatible with Blu-ray playback but that's probably just as well.
As a comparison we tested another low-power Intel system that we've had on the shelf for some time. It's an Asus N4L-VM DH motherboard with 945G chipset that supports Socket 479 mobile processors. We plugged in a 2.13GHz Core 2 Duo T2600 processor.
System Power Consumption Results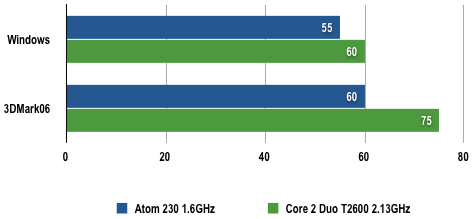 Power consumption in Watts
Thanks to the layout of the Asus we could use 2GB of DDR 2 in dual-channel instead of a single module a la Atom.
This isn't exactly an apples-to-apples comparison as the N4L-VM DH and T2600 cost £200 together but the result is a small, quiet, low-powered system that works like a proper PC. DVD playback is flawless and it only loads the CPU at 15-20 per cent.
Verdict
You can build an incredibly small and cheap PC around the D945GCLF, but the Atom CPU is a severe disappointment on the desktop as it doesn't have the grunt to do any useful work. The bizarre form-factor and layout of the I/O panel also reduce the options for finding a niche for this incredibly cheap motherboard and processor. Perhaps the next-gen, dual-core Atom will make a world of difference but for now this is one to avoid unless you're really keen to build an internet-oriented PC.